Read the stories of female entrepreneurs from around the world and get inspired and empowered to succeed in your own business. We've published stories on a wide range of women, from girls in their teens, to women in their sixties, from student entrepreneurs, to mum entrepreneurs! From women who quit their job to start a business, to women who were made redundant and so started a business. These women come from all over the world – from the UK, the USA, Canada, Australia, New Zealand, Nigeria, Ireland, the Netherlands, Russia, India and more! But despite all of their differences, these women do have a few things in common – they are all passionate, determined and committed to turning their ideas into a reality, building successful businesses and living a life the dream of and LOVE. I hope their stories inspire you and leave you feeling fired up, ready to achieve incredible things!
If you have an inspiring story you'd like to share, find out more here >>
---
Latest Stories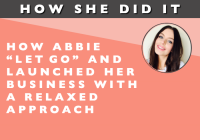 Read about how Abbie went from over-researching for "the right thing to do" to letting go and launching her business with a more relaxed approach. There are two element...
More