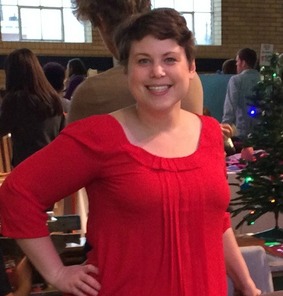 Steffanie stumbled upon a love for soap making while recovering from brain surgery. Today she has a successful business called Old Town Suds with products made from edible ingredients! She shares how she was able to get started in the marketplace and how she uses Pinterest to keep herself motivated. Read how she did it below…
Steffanie Housman // USA // Old Town Suds // Bath & Body // 30s
---
WHAT MOTIVATED & INSPIRED YOU TO START YOUR BUSINESS?
My story started with 10 little words: "You're probably having a stroke. Go to the ER now." The doctors didn't know what was going on. They only knew was that I wasn't having a stroke. My parent's swore it was just a pinched nerve – if they only knew. Three months and many tests later, I learned that I needed to have brain surgery because I have a Chiari 1 Malformation. Essentially my brain had outgrown my skull and it was crushing my spinal cord, causing all sorts problems. Since my brain was so big, which I never thought was a bad thing, I developed cysts in my spine which would be mostly alleviated with surgery, but as I am now learning, would cause me the most troubles later. That is how I came to start Old Town Suds. Directly after having surgery, I was so bored at home. I had 3 months before I would cleared to return to my full time job, so I started looking for classes to take. I tried knitting and that just wasn't working post surgery. Then I stumbled upon true soap making. I was already making my own laundry detergent because I am allergic to the "free & clear" commercial products. The next thing I knew, 3 months after returning to my full time job, I had my own side business.
TELL US ABOUT YOUR BUSINESS…
Old Town Suds originally was a green cleaning product business but we quickly learned that our customers demanded our cold processed soaps be the main focus. Currently, we strive to make our products with ingredients you can eat. From butters to oils to beer to wine to absinthe and avocados – our soap lines fully represent our customers' guilty pleasures. New soap ideas come from listening to popular culture, researching times gone by and lots of taste testings.
Each product is handmade in Warrenton, Virginia in our soap kitchen.
WHAT WERE THE FIRST FEW STEPS YOU TOOK TO GET YOUR BUSINESS UP AND RUNNING?
I researched all my potential competition. I looked for how they got started in the marketplace. I was looking for something that I could follow to get my foot in the door in the craft and farmers' market industry. What were they doing that seemed like something I could do better? What were they not doing that I feel the market may need? Then, I started surveying my target market to see if I was correct. I'm also glad I didn't listen to my husband and went with my instinct. He advised against bringing bar soap into the product line. He was worried about the expansion and additional cost. Now, the soap sells so quickly that I can hardly keep some lines in stock.
WHAT HAS BEEN THE MOST EFFECTIVE WAY OF RAISING AWARENESS OF YOUR BUSINESS AND GETTING NEW CUSTOMERS?
Networking has helped my business grow tremendously.  No matter where I go, I find that I am always talking about Old Town Suds and telling people how to order. It has gotten my products into different retail locations, markets and indie events that I wouldn't have otherwise known about.
WHAT HAVE BEEN YOUR BIGGEST CHALLENGES SO FAR WITH RUNNING YOUR BUSINESS?
Time. It's hard to manage your time when you are working a full-time job while trying to get your side business up and running.
HOW DID YOU OVERCOME THESE CHALLENGES?
I decided to switch positions to be closer to home and to a full time job that allows for an alternative work schedule. I get every other Friday off which is extremely helpful. It also allows me to see what running the business full time feels like. Part of my time issues was with production. We were cramped living in a condo and made the decision to relocate. I still make everything at home, but now I have a dedicated floor of our house to use. This has dramatically increased my output. I can easily make in 3 hours what used to take days in our small kitchen. This means I can focus on other items that grow Suds rather than just production.
WHAT DO YOU LOVE ABOUT RUNNING YOUR OWN BUSINESS?
I love that it is all me. The control. The decision making. It's me. I don't have any red tape because I just have to make a decision. Like many entrepreneurs, I don't always feel like I belong in the traditional workplace. The, "This is how we've always done it, so you have to do it this way" approach doesn't motivate me. Hitting goals and then creaming through them exceeding all expectations does. I crave hard work and tasks that seem impossible. Owning my own business fulfills that.
WHAT ADVICE WOULD YOU GIVE TO OTHER ENTREPRENEURS?
Find a group of entrepreneurs to network and mentor with. I have a small business group that I've met with for several years. We've been through a lot together. From businesses almost going under to births of babies to learning how to find a production factory – we've been there to support each other. It really helps to just have that shoulder to cry on, be comforted by to know you aren't alone and grow.
HOW DO YOU KEEP MOTIVATED THROUGH DIFFICULT TIMES?
Visualization. Pinterest is my go-to for helping me keep the end goal in mind. I curate my ideal store front. I find and pin everything possible so I can remember what the goal is. I find the items that make me feel like this can be real and start putting the feel, smell and touch of the store together. Plus – when I do get to the point where I can open up a brick and mortar, I have a fantastic image board to go to.
DO YOU HAVE A BUSINESS PHILOSOPHY?
I probably should, but I don't. I just try to do good work and make sure that I am happy doing it.
When I face a big challenge I…
figure out the baby steps needed to overcome it.
My greatest fear is…
fish. Really. I am scared to death of fish.
The most courageous thing I've ever done is…
run a half-marathon 342 days after brain surgery.
If I could go back in time to when I was 20 I would tell myself…
don't ever settle for anything.
I believe…
I can make a difference.
The biggest lesson I have ever learned is…
you already know the answers; you just have to listen to yourself.
My favourite business tool or resource is…
my small business group.
My favourite quote is…
"The finish line is just the start of the next race."
---