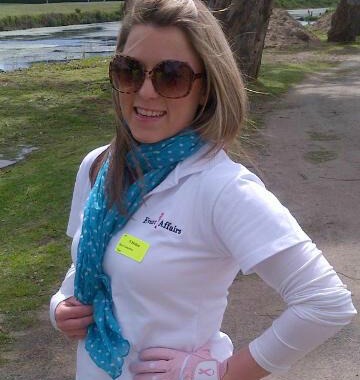 Megan wanted to create an Events Management company that is both friendly, personal and professional. She's achieved that with her business partner and has overcome the challenge of clients thinking that they were too young to be taken seriously. Read how she did it below…
Megan Buchanan // South Africa // Event Affairs // Events Management // 20s
---
WHAT MOTIVATED & INSPIRED YOU TO START YOUR BUSINESS?
After working in the Events Industry for a couple of years, it seemed like the real passion for events planning was missing and there was an incessant 'money-grabbing' nature to the industry. This inspired me, rather than disheartened me, to start a business that was full of passion which provided a friendly, personal yet professional, high-end service.
TELL US ABOUT YOUR BUSINESS…
Event Affairs is a distinctive Event Management Company with four strong divisions: Wedding Co-ordination, Corporate Events Management, Private Party Planning and Experiential Events. Our combined expertise and a full scale service offering have allowed Event Affairs to be considered one of the top events management companies in South Africa.
WHAT WERE THE FIRST FEW STEPS YOU TOOK TO GET YOUR BUSINESS UP AND RUNNING?
We first mapped out our service offerings and established what would make us different from the rest. We then spent weeks deciding on a name that would represent us adequately. And then we registered our business. From there, we started a website and spent months around Lindy, my business partner's fathers' dining room table, cold calling potential clients to get them on board.
WHAT HAS BEEN THE MOST EFFECTIVE WAY OF RAISING AWARENESS OF YOUR BUSINESS AND GETTING NEW CUSTOMERS?
The most effective means of raising awareness has most definitely been word of mouth – referrals from friends, previous clients and family.
WHAT HAVE BEEN YOUR BIGGEST CHALLENGES SO FAR WITH RUNNING YOUR BUSINESS?
The biggest challenge to running this business has been being a young female. Both of us started our company in our 20's and it was really difficult to get potential clients to take us seriously and peers in the industry to see us as a legitimate company and not some 'fly by night' one-hit wonders.
HOW DID YOU OVERCOME THESE CHALLENGES?
The proof was in the pudding as they say – we pursued clients and persisted. We didn't allow any negative comments, experiences or interactions to get us down. We both knew all along that we had a high-level service that was professional and personal. We are also very strong-minded individuals which helped overcome the 'patronising' nature of most interactions.
WHAT DO YOU LOVE ABOUT RUNNING YOUR OWN BUSINESS?
I love watching it grow – annual meetings with our accountants fill me with pride. They say you should disconnect emotionally from your business but it's difficult not to see your first business as your own child – growing and flourishing from a toddler to a teenager – and being filled with absolute pride.
WHAT ADVICE WOULD YOU GIVE TO OTHER ENTREPRENEURS?
I would advise two very important things: 1. Do not, for one second, think you know it all. The advice and knowledge from friends, families, colleagues and strangers on certain aspects is invaluable. Don't shy away from other people's opinions – even negative opinions. If you aren't ready to prove them wrong, then you are not ready to take on the challenge of starting your own business. 2. Don't go at it alone – find a partner to help you through the journey. Even if they are not financially invested, it is so important to have a sounding board and someone to challenge your thinking. You will also need someone to pick you up on the low days and celebrate with you on the high days. Starting and running your business is not for the faint hearted, so if there is someone you can be totally honest with you at all times, you are one above the rest.
HOW DO YOU KEEP MOTIVATED THROUGH DIFFICULT TIMES?
I keep motivated with entrepreneurial books and magazines and websites such as the Female Entrepreneurship Association. Reading, gaining knowledge or even being able to tick boxes on 'how-to' articles really ups the self-esteem and helps me regain my focus. If those don't help, I normally get myself out of the office and go for a run, go to ballet or go to the gym – just an hour or so to turn my mind off so I feel fresh to tackle the task at hand.
DO YOU HAVE A BUSINESS PHILOSOPHY?
Customer service, especially communication, is key. And you can never be too organised – keep focused on creating systems that make your business run efficiently and effectively in every area and you are half way there to success.
When I face a big challenge I…
take a deep breath and dive in.
My greatest fear is…
failure.
The most courageous thing I've ever done is…
start Event Affairs in the recession.
If I could go back in time to when I was 20 I would tell myself…
you are a lot stronger than you think you are.
I believe…
that unless you face your fears or attempt to improve your weaknesses, you will never truly live.
The biggest lesson I have ever learned is…
listen to your critics and then prove them wrong.
My favourite business tool or resource is…
communication and a smile.
My favourite quote is…
"Do what you feel in your heart to be right – for you'll be criticized anyway."
– Eleanor Roosevelt
---