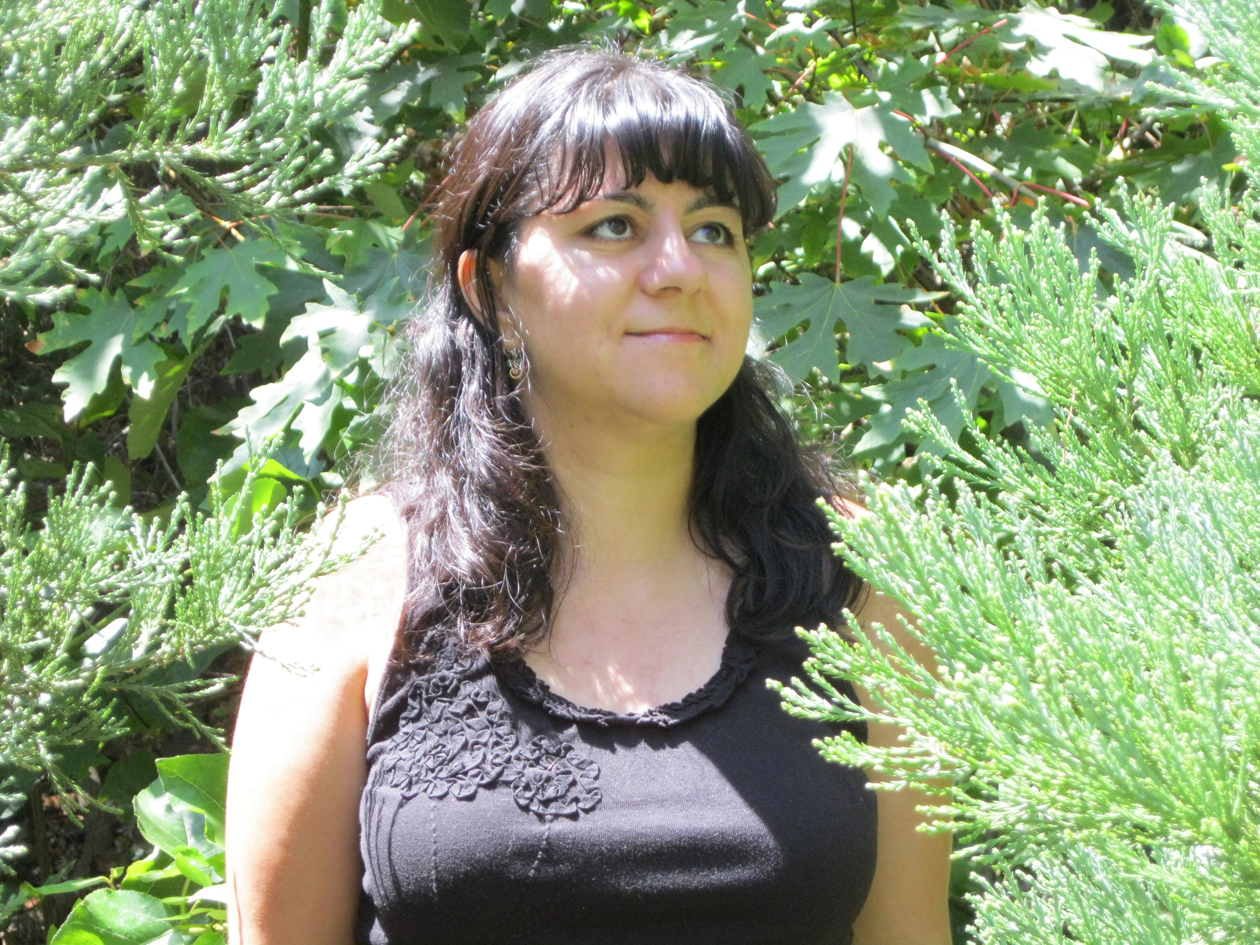 When Rama lost her 8-5 job, she had an epiphany – in addition to searching for a new job, she would maximize her chances at financial security by looking for clients for her business idea as well. Her efforts in developing a landscape design business paid off and she no longer needed to find a job – she is a full time entrepreneur! Read how she did it below…
Rama Nayeri // Creations Landscape Designs // Landscape Design // USA // 30s
---
WHAT MOTIVATED & INSPIRED YOU TO START YOUR BUSINESS?
It was mid 2007 and I had lost my 8-5 cube gig.  OMG, what am I going to do?  No second income to help me and that damn mortgage still exists.  So after weeks of trying to find another cube gig, I had a light bulb moment.  What if I spend a few hours a day canvassing for business as a self-employed landscape designer and then spend another few hours searching for that perfect cube?   One or the other would pay off.  Needless to say, I never found that cube because I was never meant to.
TELL US ABOUT YOUR BUSINESS…
I run a residential landscape design business specializing in native, drought tolerant budget friendly landscapes that reduce your energy bills while increasing your property value. My primary clientele are single family homeowners that want to beautify their landscape but don't have a lot of cash to spend.  Most tried to figure things out themselves but got stuck or had no clue where to begin.  That's when they call me.
WHAT WERE THE FIRST FEW STEPS YOU TOOK TO GET YOUR BUSINESS UP AND RUNNING?
I made thousands of postcards advertising my biz.  I spent 3-4 hours a day walking around neighborhoods passing out cards door to door.  At first, I thought, "Wow, this is really going to be exhausting."  Then two month later I had this moment of bliss.  It was awesome! I was getting leads and getting somewhere and losing weight in the process.  It was a win win.
WHAT HAS BEEN THE MOST EFFECTIVE WAY OF RAISING AWARENESS OF YOUR BUSINESS AND GETTING NEW CUSTOMERS?
Social media, referrals and nurseries.  It's an age old adage: Ask and you shall receive.  So I did that with each client.  A simple testimonial goes a long way in giving your business credibility.  I also leveraged family and friends who were more than willing to verbally sell my business to their friends or anyone they knew.  I also went to every nursery in my county and asked if they would be willing to display my business card.  Most did as they do with others as well.
WHAT HAVE BEEN YOUR BIGGEST CHALLENGES SO FAR WITH RUNNING YOUR BUSINESS?
Working on the business.  I had 7+ years of experience in the industry but I had no marketing clue.  How on earth was I going to get clients?  I struggled with this as I found my way in the path of being self-employed.
HOW DID YOU OVERCOME THESE CHALLENGES?
Networking, networking, and networking. I attended – I don't even remember how many – networking events.  "Oh, you are offering a free marketing webinar?  I am so there!" It was like having the full time job of working in the business and the other full time gig of working on the business. I also found that bartering works really well.  On another hand, I found that some people were more than willing to give me a few hours of their business (paid of course).
WHAT DO YOU LOVE ABOUT RUNNING YOUR OWN BUSINESS?
I have a passion and I get to live it every day till death.  I get to do the things I love and earn a living doing it. I also love not being chained to a cube or having someone to answer to on a daily basis.
WHAT ADVICE WOULD YOU GIVE TO OTHER ENTREPRENEURS?
There were two women named Jill and Jane.  They both sat on the couch and prayed for more business: "Dear God, oh Lord, give me one client."  Their prayers were answered as they each got a single client.  When the job was done, Jill sat back on the couch and prayed some more: "Oh dear Lord, I want more business."   That is all Jill ever did.  Jane on the other hand asked herself, "What can I do to get more business."  Can you guess which woman succeeded?
HOW DO YOU KEEP MOTIVATED THROUGH DIFFICULT TIMES?
I remind myself that negative thoughts result in negative outcomes while positive thoughts result in positive outcomes.   I remember that this difficult time is only there to bring awesomeness.
DO YOU HAVE A BUSINESS PHILOSOPHY?
My goal is to create a garden that suits your every lifestyle, meets your need and desire, and is soft on your budget and beneficial to the environment.
When I face a big challenge I…
breathe deep and leap forward.
My greatest fear is…
skydiving.
The most courageous thing I've ever done is…
spent two weeks in western Europe by myself.
If I could go back in time to when I was 20 I would tell myself…
the rest of your life is not going to be easy but it will be an awesome journey worth living.
I believe…
I can.
The biggest lesson I have ever learned is…
working in the business is not the same as working on the business.
My favourite business tool or resource is…
my competitors.
My favourite quote is…
"It's all about belivin cuz if you believe, it makes it real."
---