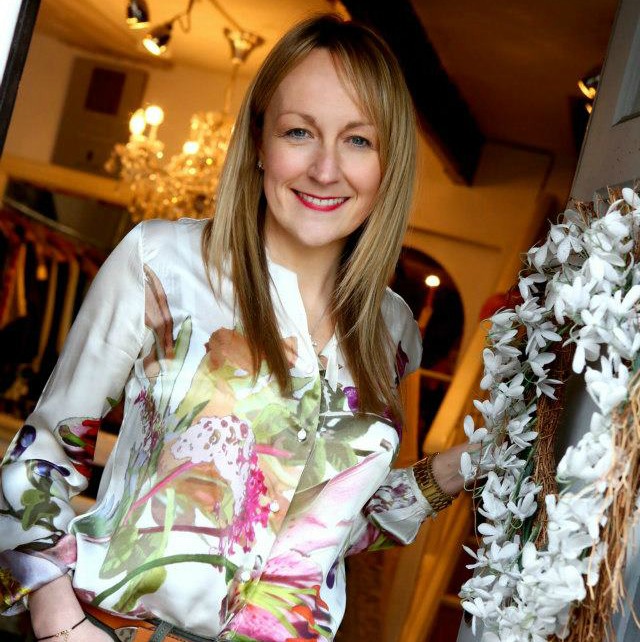 Paula left the finance world to start her own vintage fashion boutique. Making the business a true success was a real struggle for her, but she didn't give up. Her persistence paid off in the form of an idea that has not only up-leveled her business but is also helping other independent fashion businesses based in the UK. Paula's story shows how problems are always opportunities in disguise.
Paula Fry // Fashionseeker // Fashion Tech // UK // 40s
---
WHAT MOTIVATED & INSPIRED YOU TO START YOUR BUSINESS?
After 15 years as a currency trader in an investment bank, I left that world for a little while in 2009, deciding to use my savings to start my own vintage and pre-loved fashion boutique in Tunbridge Wells where I lived with my family. I loved fashion and working in a well-paid industry meant that I'd over-indulged for a number of years – designer handbags being my Achilles heel!   I loved the idea of recycling and reusing, plus vintage was just becoming main stream and we were teetering on the edge of recession.  Women were spending less on fast fashion and would rather buy quality than quantity.
I wanted to start a fabulous boutique that carefully edited its stock with the clients in mind.  My plan was to encourage women to sell their unworn/unwanted items and swap (or swish) them for something else, meaning that the boutique would have a constantly changing stock.  I told everyone what I was planning, did my business plan and a couple of business courses and then opened my shop in December 2009, less than 6 months after I left the city.
I have a strong work ethic so working long hours and not having holidays wasn't an issue.  When it's your baby, you don't care.  I networked my ass off, did social media, marketed myself and the boutique and was fortunate to land a monthly fashion column in Kent Life and lots of mentions in various glossy fashion magazines and daily newspapers.  But it just wasn't enough.  I opened my online business to complement the shop and broaden the demographics for my sales but soon realised that having a retail shop AND an online presence was harder than I ever imagined.  I paid my bills and my staff but there was never really anything for me after all those costs.
After 2 years, I went back to the city, keeping my business going, working weekends and evenings for the next two years to keep things ticking over. But getting my little business found on Google and keeping my clients engaged when I couldn't be in the shop was proving an impossible battle.   My light bulb moment came one evening when I was surfing the net and found an online dress agency that I had never heard of that was selling amazing pre-loved designer items. How could I not know about this place? The realisation that there were 1,000's of independent fashion shops all over the UK that were struggling to get themselves found kept me awake that night. The following day, the principle idea for Fashionseeker was born, although I sat on this for nearly six months before I put the wheels in motion to get going. I was still working in City full time and running the shop from a distance so the thought of starting another business was just too scary to comprehend.
TELL US ABOUT YOUR BUSINESS…
Fashionseeker (www.fashionseeker.co.uk) is a fashion portal for independent fashion businesses based in the UK.  We want to be the definitive site for fashion shoppers who want to support independent fashion businesses and find unusual and up and coming brands.   Through social media and PR, our business is to tell shoppers all about the independents who sign up to be on the site.  They are mostly companies that can't afford huge campaigns, expensive advertising and celebrity endorsements, so Fashionseeker enables these independents to be found in one place, whether they are a bricks and mortar business, an online-only business, or both.
Boutiques can upload stock and be in control of their page on Fashionseeker, redirecting shoppers to their products so they can purchase through their websites, with us taking zero commission for the referral.   Not charging commission to these businesses was important to me, making us unique in this space. My understanding of how hard independents have to work to make their businesses profitable, I know every bit of margin is essential for their survival.   We also have an exclusive fashion stylist directory, making it easier for you to find stylists near you.
WHAT WERE THE FIRST FEW STEPS YOU TOOK TO GET YOUR BUSINESS UP AND RUNNING?
I had to go get my idea sanity checked. Was this as good as an idea as I thought it was!?  I saw a friend of mine who owns a marketing and web design agency, Torpedo Juice, and we spent many hours specking out what Fashionseeker would/could look like and what it could do.  He had some great additional ideas and was a good and honest sounding board for me to bounce off of.   Torpedo Juice then set about building the site and I started doing some marketing and talking to people about going on the site – selling the dream at this stage.
My husband sold his small removals business to become the sales director and we found ourselves a fabulous, energetic PR girl to join us and take charge of social media and events.  The business has been boot-strapped from the start, running on teeny over-heads and zero salaries.  We signed all our businesses on for a three month trial to start, to encourage boutiques to come on board and see how hard we work. Then came the decision to sell my original business – running the two in tandem was just not a viable option.
WHAT HAS BEEN THE MOST EFFECTIVE WAY OF RAISING AWARENESS OF YOUR BUSINESS AND GETTING NEW CUSTOMERS?
Our BFF has been social media. Through Twitter and Facebook, we have raised awareness of our product, brand and ethos. We had sponsored a couple of national fashion events, run competitions with our boutiques and blogged and blogged and blogged again!   Our official launch party was in June 2014, and we had a fabulous turnout.  But there is no let up. You need to shout your name as loud as you can from the roof tops each and every day!
WHAT HAVE BEEN YOUR BIGGEST CHALLENGES SO FAR WITH RUNNING YOUR BUSINESS?
Getting independents to understand what we are trying to do.  Fashionseeker has two types of clients.  We have the businesses that we  brought on-board (the fashion boutiques, jewellers, stylists, dress agencies and vintage stores) and we have the clients that we want to come and shop with us and find these amazing places they never knew existed.   Successfully marketing to both sets of clients is a challenge but we are getting better at this as we grow.
HOW DID YOU OVERCOME THESE CHALLENGES?
There is always an answer.  It might not hit you straight away, but I'm a great one for going back to the drawing board if need be.  If you can't climb over that mountain, then you either need to go around it or build a bloody plane and fly over it!
WHAT DO YOU LOVE ABOUT RUNNING YOUR OWN BUSINESS?
Being in control of your own destiny is pretty powerful.  It's also scary.  That combination keeps you on your toes (and in the hairdresser covering up the grey hairs!).
WHAT ADVICE WOULD YOU GIVE TO OTHER ENTREPRENEURS?
Work your socks off. Network in your industry 'til it hurts. Do your homework.
HOW DO YOU KEEP MOTIVATED THROUGH DIFFICULT TIMES?
I am a very self-motivated person but every now and then I have to give myself a kick up the backside.  I do have some amazing friends and family though that are supportive and tell me I'm doing the right thing. Plus I am a stubborn cow – I will make it work if it kills me.
DO YOU HAVE A BUSINESS PHILOSOPHY?
You are not going to go anywhere unless you always work hard. Sometimes luck plays a part, but lazy people rarely get to where they want to be.
When I face a big challenge I…
Take a deep breath and roll up my sleeves.
My greatest fear is…
My kids not being happy.
The most courageous thing I've ever done is…
Jump from finance to fashion!
If I could go back in time to when I was 20 I would tell myself…
That I'm actually a lot braver and a tad smarter than I ever imagined.
I believe…
Everything happens for a reason.
The biggest lesson I have ever learned is…
You should always trust your gut instinct first and foremost.
My favourite business tool or resource is…
Twitter and Linkedin.
My favourite quote is…
Aquila non capit muscas – Eagles Don't Hunt for Flies – it's Latin and I have it tattooed on the back of my neck. It basically means don't sweat the small stuff. I had this done when a good friend was diagnosed with breast cancer. I felt I was stressing about all sorts of things that, in the grand scheme of life, actually didn't matter in comparison to what she was going through. She died 8 months later so it's a lasting reminder and an important lesson.
---