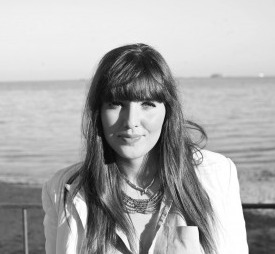 Natasha felt the entrepreneurial life calling her through the beauty of owning a photography business. She shares how she was able to plan and execute her transition out of her job and into a self-made career in "capturing life" through her camera. Read how she did it below…
Natasha Cadman // UK // Natasha Cadman Photography // Wedding Photography // 20s
---
WHAT MOTIVATED & INSPIRED YOU TO START YOUR BUSINESS?
A need for change. At first, I wasn't terribly unhappy in my job. I worked as a business travel advisor. The pay was okay and the team I worked with was fun, but something started to change in me. I fell in love and kind of obsessed with photography. I didn't even own a DSLR, but I spent every available minute pouring over blogs with beautiful imagery. My passion started to grow. Big time. I had got myself a camera and was using anyone who would let me as a model.
After being asked to shoot a very low budget photo shoot for my parent's friends, I realised that I loved the wedding world. I loved capturing life. When I was asked to document another wedding from that first wedding, things slowly started taking pace. Small bookings were coming in. Work seemed to become an inconvenience and I wanted to start owning my own time. I saw that others were actually doing this and creating a living from it – so why couldn't I?
TELL US ABOUT YOUR BUSINESS…
I own a wedding photography business.  It caters to the individuals who have a love for pretty natural light images. I run the business from start to finish on my own, and love every aspect of it.
WHAT WERE THE FIRST FEW STEPS YOU TOOK TO GET YOUR BUSINESS UP AND RUNNING?
Hatching a plan! I knew that I needed to be able to support myself in the early months as my wage would be changing dramatically and not be as consistent. During the autumn, I got a part time bar job to keep me afloat whilst I became established for when I quit. I advertised on a bridal website with a special offer to start building up the clients for the next year. This worked well. I had quite a few that booked, enabling me to be able to quit my 9-5 in April. The key was all in the planning.
WHAT HAS BEEN THE MOST EFFECTIVE WAY OF RAISING AWARENESS OF YOUR BUSINESS AND GETTING NEW CUSTOMERS?
Without a doubt, referrals. 80% of my business is word of mouth.  I leverage social media a lot, which allows old and new customers to see my work, and also allows people to easily refer me. From time to time, I also use google ad-word campaigns at specific times of the year.
WHAT HAVE BEEN YOUR BIGGEST CHALLENGES SO FAR WITH RUNNING YOUR BUSINESS?
Time management. Most people think working from home is a laid back affair. But it couldn't be further from the truth. You work longer hours, because your passion is always there, but in between all this, you still need to find the time for housework, cooking, socializing, and for yourself.
HOW DID YOU OVERCOME THESE CHALLENGES?
Organisation and limitations.  A big part of my business after the actual photography itself is the blogging – which is what helps attract clients and referrals. In the early days, I was finding this a struggle until I started to prepare. It's amazing how thorough planning and goal deadlines increases the efficiency and decreases the stress!
WHAT DO YOU LOVE ABOUT RUNNING YOUR OWN BUSINESS?
Owning my own time. I love that if the sun is out and I want to garden I can. Or read a book. Knowing that I can move my office hours around. I love the creativity of having to find solutions for everything about my business. But most of all, I love not being restricted as to how many holidays I can have! I am a big lover of travelling, so being able to take my office with me anywhere in the world is perfect!
WHAT ADVICE WOULD YOU GIVE TO OTHER ENTREPRENEURS?
Have faith in yourself and prepare. Plan out your goals so you know what you are aiming for.  And keep your passion going. People are doing amazing things every day and taking control of their own lives – why can't you?
HOW DO YOU KEEP MOTIVATED THROUGH DIFFICULT TIMES?
Websites like this one keeps me going; getting with a group of friends who encourage me; taking a little breather and evaluating. To me, I figured if everything failed with my business, the worst is just that – it failed.  I have my health and people that love me, and without sounding like a complete cliché, that's what really matters.
DO YOU HAVE A BUSINESS PHILOSOPHY?
Be genuine. Being helpful and kind to people, and trying your best goes a long way.
When I face a big challenge I…
tend to jump right in, rightly or wrongly.
My greatest fear is…
having regrets.
The most courageous thing I've ever done is…
a skydive.
If I could go back in time to when I was 20 I would tell myself…
challenge yourself more.
I believe…
that anything is possible.
The biggest lesson I have ever learned is…
don't let what you think people think of you stop you from going towards your goals.
My favourite business tool or resource is…
Creative Live and reading books and blogs.
My favourite quote is…
"She stood in the storm and when the wind did not blow her way, she adjusted her sails."
– Elizabeth Edwards
---