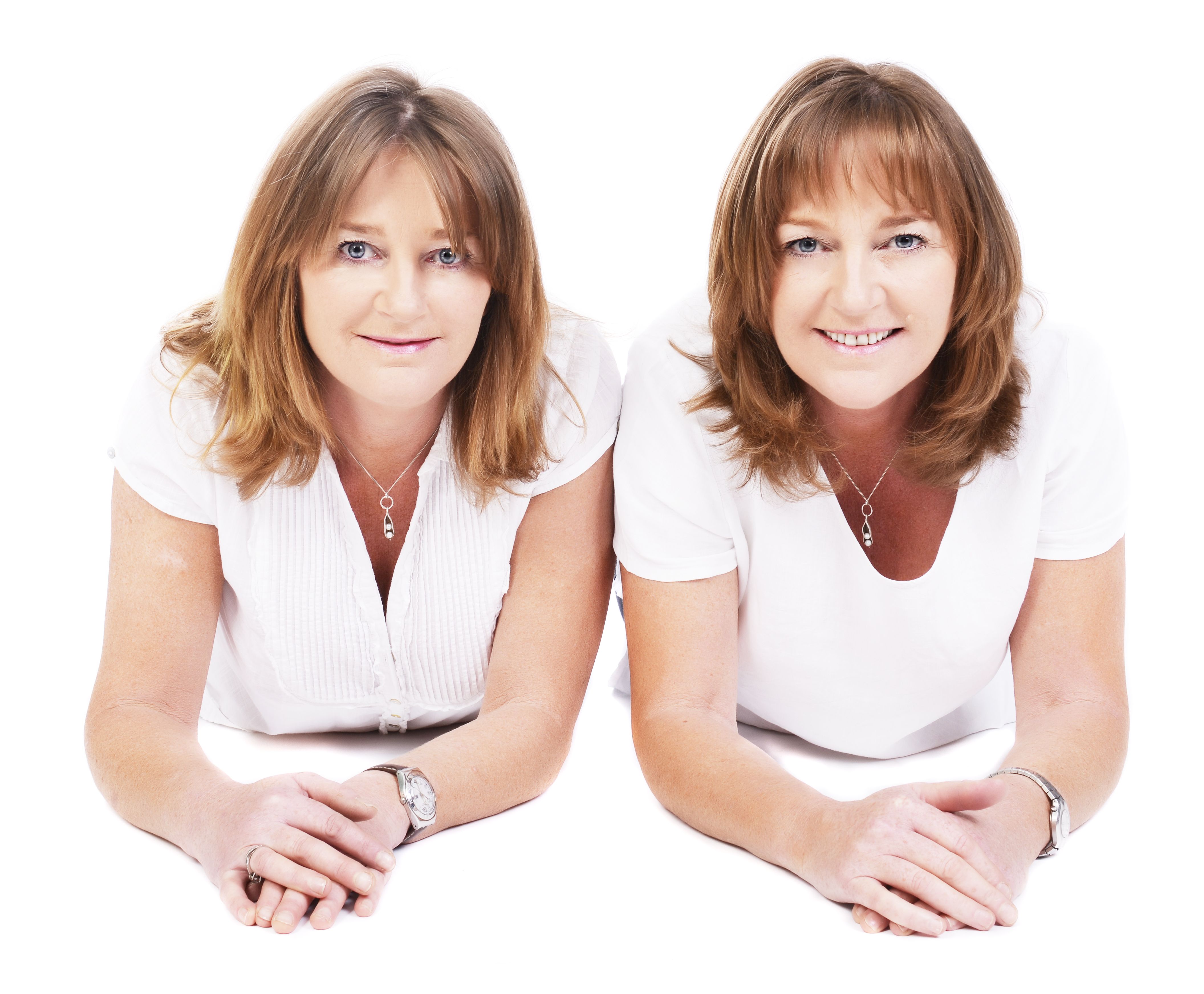 Karen Davidson and Lindsey Civil are twins and together they've built a business that offers gifts for other twins, triplets, and their families. They started completely from scratch, knowing very little about the world of online retail, but they didn't let that stop them. Read how they did it below…
Karen and Lindsey // The Twins Gift Company // Retail – Gifts // UK // 50s
---
WHAT MOTIVATED & INSPIRED YOU TO START YOUR BUSINESS?              
In reality, it is no surprise that Lindsey and I would have a business together – rather than being a dream there was more of an inevitability about it.  Being identical twins and the only children in our family, we had in effect worked together even before we left the womb. Research has confirmed that twins communicate in the womb at 14 weeks, and reach & touch each other from 20 weeks. We found being a twin, you really are part of a very small team, and we have contrasted, complimented and collaborated together all our lives.
Attributes we have since realized have enabled us to work together very closely and harmoniously. Without roles being discussed, we naturally fall into two very different areas, each one separate and questioning of the other.
This is one of the strengths of the business, the separation of the roles and the trust in the other one to complete that role to a standard that we would both be happy with.
Coming from a family of entrepreneurs and non-conformists, the belief that you can attempt anything is something we were born with. It is not until you get older that you realize that everyone does not have the same attitude. We certainly do not believe we can do everything or anything but we are not afraid of failure. An asset that we possess genetically, the reasons for having a go and attempting things far outweigh the reasons for not.
I think perhaps the knowledge that you have someone constantly beside you enables you to have a slightly less fearful attitude toward risk and failure.  What is the worst that can happen?  That's a favourite saying of ours.
Having officially worked together in our early twenties when we ran a fast food restaurant together, it was perhaps not surprising that having gotten married, raised our children, divorced and separated that we again joined up to start a business together.
TELL US ABOUT YOUR BUSINESS…
twinsgiftcompany.co.uk was launched in September 2011 with a party of 200 twins from the DTR.  From that day, orders started coming in for a relatively small product range of 40 gifts and cards designed for twins, triplets, and their families. The learning curve was steep, very steep – SEO, social media, Jpeg, PDF, Meta tag, etc. was initially Swahili but suddenly became very much an everyday language.  We acknowledged our ignorance and sought help everywhere. We researched on the web for every ounce of advice. We visited the The British Library where they offer courses and information for small businesses. We attended business networking courses on marketing. We told everyone we knew what we were doing and sought expert help by asking rather than paying. People are generally very kind and love to show off their knowledge, so we pleaded ignorant – well, I say pleaded in the loosest of the terms – we were completely ignorant and then we let people tell us how clever they were and how they resolved issues, found knowledge, gained useful insights, and bled them dry of information.
WHAT WERE THE FIRST FEW STEPS YOU TOOK TO GET YOUR BUSINESS UP AND RUNNING? 
As volunteers at The DTR, we were on our way to a day of tests at St Thomas Hospital, when I presented Lindsey with a peas in pod necklace, a poignant gift depicting the bond of twins. Lindsey loved it and it was from this day that the idea for The Twins Gift Company was born. Initially, the idea was to sell gifts on behalf of the DTR to raise money for their research. However, although this is something we very much still support, the business idea developed into a commercial enterprise.
WHAT HAS BEEN THE MOST EFFECTIVE WAY OF RAISING AWARENESS OF YOUR BUSINESS AND GETTING NEW CUSTOMERS?   
We have built up a loyal customer base and our website and Facebook page are the go-to pages for information, articles, jokes and experience sharing destinations. This has been done organically and without paying for Search Engine Optimization.  I believe this has given us an edge. We are authentic, we have a story, and customers like to know whom they are dealing with and we are credible and trustworthy. Through our work in this area, we have appeared on The One Show and a Radio 4 programme and although this is time consuming, it has definitely driven sales to the website.
WHAT HAVE BEEN YOUR BIGGEST CHALLENGES SO FAR WITH RUNNING YOUR BUSINESS?          
Our biggest challenge has been letting people know we exist – there isn't a company out there that specialises in gifts for twins, triplets and their families.
HOW DID YOU OVERCOME THESE CHALLENGES?   
We have engaged with the public through social media via Facebook, Twitter and Pinterest and have become the go-to site for information on twins and triplets – particularly by posting and writing relevant articles, jokes, tips on twins and raising multiples. We have engaged with the volunteers at The Department of Twin research. We have appeared on TV and radio when we held The National Twin Day UK event at Wicksteed Park, the first ever twin event open to all twins, triplets and multiples in the UK.
WHAT DO YOU LOVE ABOUT RUNNING YOUR OWN BUSINESSES?
We love working together. As twin sisters, being able to run the business together and create unique gifts and cards for other twins, triplets and their families is very rewarding. We enjoy every day and the journey we are on.
WHAT ADVICE WOULD YOU GIVE TO OTHER ENTREPRENEURS?
Our beliefs and mantras that have driven us to this point and kept the dream alive are:
Surround yourself with positive people and ignore the pessimists.
Don't be afraid to fail.
Ask for help.
Remember it is not easy.
There is no such thing as an overnight success.
Stay positive and believe.
Be adaptable.
Show your passion.
Be realistic.
Try your best, do you best – you can do no more.
HOW DO YOU KEEP MOTIVATED THROUGH DIFFICULT TIMES?
Surround yourselves with positive "can do" people.
DO YOU HAVE A BUSINESS PHILOSOPHY?   
Behind every successful person there's a lot of unsuccessful years.
When I face a big challenge I…
consult each other and remind ourselves there will be more challenges to overcome along the way.
My greatest fear is…
to have regrets.
The most courageous thing I've ever done is…
to follow our hearts.
If I could go back in time to when I was 20 I would tell myself…
you can do anything if you try.
I believe…
working hard will always pay off..
The biggest lesson I have ever learned is…
things are not always as they seem.
My favourite business tool or resource is…
each other, without a doubt. As twins so close we inspire one another, drive each other and encourage the other one every single day.
My favourite quote is…
"What's the worst that could happen?"
---