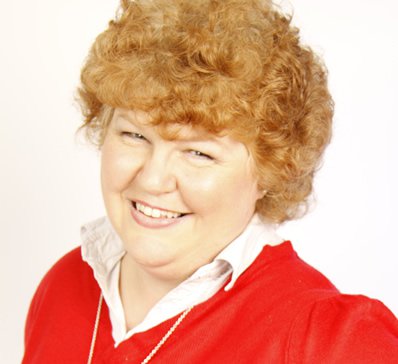 When her husband came home lamenting that he couldn't find a telemarketing agency for his client's needs, Caroline decided to lend a helping hand. That was the beginning of what turned out to be a full fledged marketing business going on 20 years. Caroline shares some vital tips throughout her story on how to be a happy and profitable entrepreneur. Read how she did it below…
Caroline Watson // Voucherline Ltd // Marketing and Rewards // UK // 50s
---
WHAT MOTIVATED & INSPIRED YOU TO START YOUR BUSINESS?
I loved my job of 7 years with a local newspaper, but had to give it up when my daughter would not settle at a childminders.  I reverted to my previous life as a Nanny and tried childminding for a while. My husband came home one day and lamented that no telemarketing agency would help him ring 100 companies to talk about incentives for a client of his. In those days, they only wanted big accounts. So I said I would help.  And I loved it!  I had forgotten how much fun I could have on the phone chatting away to grown ups.  I thought there must be other companies who need to make outbound phone calls, and cannot afford the big agencies. A friend of mine agreed, and we both decided to start our own telemarketing agency – Sound Solutions Marketing.  It's 20 years old next year!
TELL US ABOUT YOUR BUSINESS?
Sound Solutions Marketing is now a full marketing agency and employs ten staff.  We design websites, make outbound lead generation calls, take inbound calls and even have a pick, pack and dispatch facility for our clients.  We still work in the same village, although we have had three office moves, and our staff are all long serving.  My husband joined the company ten years ago and we have not looked back.  We have also designed several other brands including www.voucherline.com, which is one of only a handful of gift voucher and gift card resellers in the UK, utilising our expertise in incentives that started with our very first project, and continues today.  Its sister company www.thegiftcardcentre.co.uk started seven years ago, and we now turnover £3m in gift card and gift voucher sales, enabling you to send a gift card like M&S or Debenhams to a friend, colleague or relative anywhere in the UK.
WHAT WERE THE FIRST FEW STEPS YOU TOOK TO GET YOUR BUSINESS UP AND RUNNING?
Well we tried to make phone calls from home, but when my two year old son decided to wake up early, and scream his head off, I heard myself saying, "So sorry, one of the secretaries has bought their child to the office!" and relayed this story to my hairdresser one day.  "I would love an office but cannot afford one!" I moaned. "Upstairs is empty" she said.  "No-one is interested as you have to come through the salon to get upstairs."  Well we were on the phones all day, so that was no problem! We used the £400 we had earned from the telemarketing project Mike had given us, and spent it on phones, stationary, a logo and decorating the office (we were so naive we put a border up!). We then sat down and phoned everyone we knew in business to ask if they wanted us to make outbound sales calls.  By the end of the first day, we had two clients. The next day, we rang some companies from the yellow pages.  We spoke with a consultant who had eerily that day, lost his other telemarketing person so bit our hand off!  Eric became our largest client in our first year, bringing us fantastic clients to work on. By the end of the first year, we were employing three other mums from our local school part time to make calls with us, and were bursting out of our little offices in the hairdressers.
WHAT HAS BEEN THE MOST EFFECTIVE WAY OF RAISING AWARENESS OF YOUR BUSINESS AND GETTING NEW CUSTOMERS?
Word of mouth has always worked really well for us.  Most of our larger clients have come this way.  Exhibitions are also great, if worked properly!  Do not sit on a stand and expect people to talk to you – get up, stand straight and grab them whilst they walk past!
WHAT HAVE BEEN YOUR BIGGEST CHALLENGES SO FAR WITH RUNNING YOUR BUSINESS?
Managing customers expectations. Do not promise the earth and then fail to deliver. Be honest and up front about what pitfalls we may come across together. Competitors who undercut your services: Stick to your guns. If your price is well thought out, and you are making a profit that is good, but not taking advantage, then you are doing the right thing. We have seen many agencies come and go as they offered their services too cheaply to win quick business. Unfortunately their staff were also treated the same, and so usually the client returns to us for another quote after being bitten.  A company is allowed to make a profit!  Don't be worried about saying that in a meeting. They will understand this if they are good at business – and these are the clients you want.
HOW DID YOU OVERCOME THESE CHALLENGES?
By treating our customers as colleagues. By keeping them abreast of any changes in their projects, and by being brutally honest.  If a project is not going to work, you can tell immediately. Tell your customer. They will appreciate the honesty. Also support your staff.  Listen to their ideas – they usually know much more than you do as they are at the coal face!  If a project is amazing – tell your client!  They will be delighted if you and your staff are happy.
WHAT DO YOU LOVE ABOUT RUNNING YOUR OWN BUSINESS?
I love going to work. I love my team, we have such a good laugh, but we also know how to work very hard. I enjoy being a serial entrepreneur and inventing new sub brands or services.  I love seeing clients love us.
WHAT ADVICE WOULD YOU GIVE TO OTHER ENTREPRENEURS?
Research your market. If someone else does what you want to do – can you do it better? If no one is doing what you want to do, is it because it's not a great idea? Or been done and failed?  Test your ideas on your best friends and confidants. If they are true friends, they will give you honest opinions. Do not spend too much in the beginning. Learn your craft.  Do not be frightened to pace yourself.
HOW DO YOU KEEP MOTIVATED THROUGH DIFFICULT TIMES?
By remembering that I am responsible for the livelihoods of ten staff, including my husband and myself! I can't rely on his big salary from another company any more, so this means no time to waste. Difficult times usually means thinking times, learning more, re-inventing, and improving.
DO YOU HAVE A BUSINESS PHILOSOPHY?
Enjoy what you do and others will enjoy it too.
When I face a big challenge I…
make time to think, and strategise.
My greatest fear is…
it all ending and letting my staff down.
The most courageous thing I've ever done is…
pitched for a project for a blue chip against other agencies who were in the top 100. We won the pitch. I am not sure how!
If I could go back in time to when I was 20 I would tell myself…
stop worrying about the little things.
I believe…
in Karma.
The biggest lesson I have ever learned is…
never think you know it all.
My favourite business tool or resource is…
Outlook – its not just a calendar or email tool. Look and learn its dropdowns! there are loads of amazing things in it.
My favourite quote is…
"Do what you said you would do, when you said you would do it, the way you said you would do it."
– Larry Winget.
---