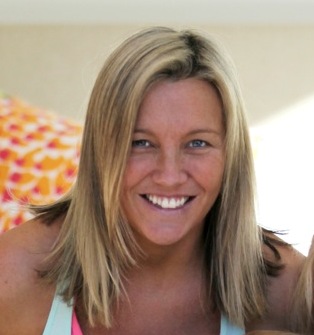 Fiona and her husband created a special app to help women take control of their well-being during and after pregnancy. In doing so, Fiona has been able to create the freedom to be a stay-at-home mom. Read how she did it below…
Fiona Trewhitt // Mumafit // Health and Wellness // Australia // 30s
---
WHAT MOTIVATED & INSPIRED YOU TO START YOUR BUSINESS?
I was inspired to start my own business out of a desire to help other women enjoy healthier lives during and post pregnancy and a desire to create a more flexible lifestyle for my growing family. I had three babies in four years and learnt so much along my journey. In my first pregnancy, I got HUGE and my recovery was hard! By the third one, I had truly mastered the art of enjoying a healthy, active complication-free pregnancy and a simplified post natal recovery. My husband, an exercise physiologist, had also worked with many pregnant women, and I was previously trained as a life coach following my exercise science degree. Together we decided to combine all of our experiences and knowledge to create an app that could assist guide women through pregnancy and post natal exercise.
TELL US ABOUT YOUR BUSINESS…
Mumafit is a wellness hub for pre and post natal women. The mumafit blog provides regular content which educates and inspires women to eat healthier, exercise safely and learn to manage the juggling act of early motherhood. The Mumafit app for iPhone is a holistic wellness app for pre and post natal women offering video demonstrations of safe exercises for each trimester and after the baby is born, plus loads of other features. I also offer personal health coaching for pre and post natal women to holistically assist them in creating healthier habits in their busy family life.
WHAT WERE THE FIRST FEW STEPS YOU TOOK TO GET YOUR BUSINESS UP AND RUNNING?
I started by filming exercises during each stage of my pregnancy and developing the app content over the course of my pregnancy. I also started an instagram account to start attracting an audience of like-minded interested women – this account grew so rapidly that I knew we had a real audience and there was a clear demand for this product. From there, the momentum just gathered.
WHAT HAS BEEN THE MOST EFFECTIVE WAY OF RAISING AWARENESS OF YOUR BUSINESS AND GETTING NEW CUSTOMERS?
Social media has been my most successful avenue thus far. Celebrity endorsement has also been very powerful for me – although luckily this has happened organically, so I can't really claim credit for that! I have tried so many different avenues for marketing and some fail and some fly. Marketing the app internationally is very different from marketing my personalised coaching locally, so it's an ongoing learning curve.
WHAT HAVE BEEN YOUR BIGGEST CHALLENGES SO FAR WITH RUNNING YOUR BUSINESS?
First and foremost, it has been very challenging developing a business whilst raising 3 very young children, including a newborn.  Having my app developed offshore has also been a challenge, and maintaining sales momentum and not being bamboozled by the competition is always challenging.
HOW DID YOU OVERCOME THESE CHALLENGES?
I engaged people to help me with childcare so that I could have time during the day to work on the business and not always be working late at night. The challenge with my app developers is a work in progress! Paying less attention to my competition and just sticking true to 'my way' has been invaluable to me. It's easy to get caught up in what everyone else is doing and start to think that you should do things a certain way – when really that 'way' didn't always sit comfortably with me.
WHAT DO YOU LOVE ABOUT RUNNING YOUR OWN BUSINESS?
It's rewarding beyond measure. I feel such deep satisfaction from assisting other women and I love the flexibility I have now got in my life. I was able to leave my regular job and now spend more time with my children plus get to be as creative as I like in my business.
WHAT ADVICE WOULD YOU GIVE TO OTHER ENTREPRENEURS?
Believe in yourself. There will always be moments or days of self-doubt and people who say your idea might not work. Perseverance is key.
HOW DO YOU KEEP MOTIVATED THROUGH DIFFICULT TIMES?
I'm lucky to have a very supportive husband, so I bounce my feelings off him. In moments where I have doubts, I focus on the wonderful feedback I gain from my clients – this is always the best reminder of why I started this business.
DO YOU HAVE A BUSINESS PHILOSOPHY?
Not much comes too easily – you have to be prepared to work hard, so make sure your area of work is something that deeply satisfies you.
When I face a big challenge I…
seriously…I run away to yoga or try to meditate on it and see what happens.
My greatest fear is…
fear of failure.
The most courageous thing I've ever done is…
natural drug free delivery!
If I could go back in time to when I was 20 I would tell myself…
start sooner…
I believe…
that love, family and health are the most important things in life.
The biggest lesson I have ever learned is…
trust your instincts.
My favourite business tool or resource is…
my iPhone.
My favourite quote is…
"If it is to be, it's up to me."
---