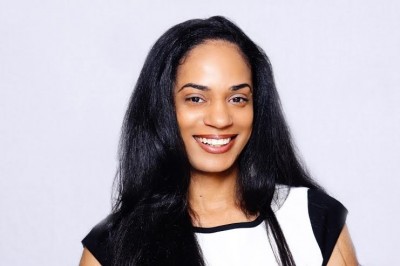 Janelle is passionate about providing fashionable apparel choices for women with dwarfism after enduring frustration over the lack of options for her own daughter who was born with the condition. She started with zero knowledge beyond the fact that she loved fashion and now Janelle operates a growing business that is serving people all over the world and adding meaning to her life. Read how she did it below…
Janelle McLeod // USA // World of Little Fashion // Fashion // 30s
---
WHAT MOTIVATED & INSPIRED YOU TO START YOUR BUSINESS?
My business was inspired by my eldest daughter who was born in 2007 with special needs. She is diagnosed with Achondroplasia Dwarfism. My motivation was due to overwhelm and frustration over the lack of clothing options for little people carrying achondroplasia dwarfism. I said one day, "If I am struggling like this to find clothes to fit my daughter and she's just a kid, then I am sure ALL of the little people who are actually adults are struggling really bad just the same?! God, I have got to do something about this!" It was then, in 2008, that I got down to the work of building the brand online since little people are all over the world.
TELL US ABOUT YOUR BUSINESS…
World of Little Fashion is a clothing line for Little People adults women's wear, ages 25-45, with height between 3-4'10. My primary objective is to provide the latest fashion forward styles for adult women with dwarfism so that can be able to shop adults wear without having to, for once, shop inside the kids section to find fitting clothes. And since little people are all over the world, this business is an online shopping site catered to achondroplasia short stature.
WHAT WERE THE FIRST FEW STEPS YOU TOOK TO GET YOUR BUSINESS UP AND RUNNING?
In 2008, I searched and researched to discover there are over 200 different types of dwarfism with the most common known kind called "achondroplasia" – this mean normal torso but short limbs, tiny fat fingers, prominent forehead, and so forth. Although I had absolutely no background, training, or even any type of fashion education, I quickly sought out industry experts to help me develop my vision and craft my styles. This was truly my first step. Second, I purchased a book from Amazon called, How to Start a Fashion Line – Terminology for Dummies and literally this is what educated me on the fancy and catchy apparel lingo such as prototypes, patterns, and sketch boards. I'm like "Really?! I have NO clue what all this stuff means!" LOL.
So my 3rd step was investing into myself to properly learn what I felt was most imperative to know in order to get up and go as far I could. I do not sew, draw, or sketch. I do, however, have a clear vision in my head and a passion driven heart to make this line for adult little people because I knew the frustration I was facing daily and I felt that very same frustration for all of the other little people around the world.
So, in 2009, I launched kids wear with a few pants for little girls. In 2011, I shift gears and started talking with little people adult women. I did lots of surveys and really went deep and really found out what their needs are and how I can better assist with their overall apparel needs. And boii oh boii doing this was the best decision ever.
WHAT HAS BEEN THE MOST EFFECTVICE WAY OF RAISING AWARENESS OF YOUR BUSINESS AND GETTING NEW CUSTOMERS?
I raise awareness exclusively online because, again, little people are all over the world. I network in tons of groups for Dwarfism. I am also an advocate and raising awareness within the LPA (Little People of America) Community. I also network offline and in-person participating in monthly meetings, group activities, and I host "fit parties" for little people. I promote using my blog very heavily which drives the most traffic to my site. I am also working on getting National Dwarfism Awareness Month Declared in my home town for the month of October. So raising awareness comes in many different avenues.
Lastly, I attend the National and Regional Conventions that are held by LPA (Little People of America) throughout the states once a year. This is a super great way to network, re-connect, and get to mingle a bit. I can honestly say that I really don't focus much on "making money." I am just more excited to get the job done and network within the community. By me shifting my gears, the universe works right back for me and I always get sales and customers rolling in. All of this gives me brand recognition for my online world and, thanks to the good old social media, it has truly been a blessed and phenomenal experience.
WHAT HAVE BEEN YOUR BIGGEST CHALLENGES SO FAR WITH RUNNING YOUR BUSINESS?
Raising a child with special needs. Constantly having to go to hospital visits getting MRI, CT Scans, Xrays, and so forth, kind of slows my world down a bit with the hands-on duties and responsibilities as far as when it comes to business. This is why I built World of Little Fashion exclusively online to be hands free. It runs for me instead of me running for it.
HOW DID YOU OVERCOME THESE CHALLENGES?
By building my business online to be hands free. I brought on what I call my "dream team."  I got interns and a sweet VA. They all take care of my day stuff and I handle the night stuff. This was honestly my way of working smarter, not harder. At nights, I am able to sit down and handle business, emails, orders, customer requests, social media, and communicate with my interns and my VA. I only schedule things for weekends and if there's something for a weekday, I stick to a 2 hour minimum rule. I do not go past 2 hours nor do I do less than 2 hours for business.
WHAT DO YOU LOVE ABOUT RUNNING YOUR OWN BUSINESS?
Brutal honesty – the simple fact that I call the shots. I am the boss. It feels so darn good to do something I truly I love because, at this point, it does not feel like work or a job. It feels so much more like a hobby with passion. Being able to come and go as I please and have moments of opportunities to give back as a volunteer. I love to encourage and mentor other women or busy moms in business, to empower them to hold onto their dreams and be inspired.
WHAT ADVICE WOULD YOU GIVE TO OTHER ENTREPRENEURS?
Plant the seed and focus. Business building and branding is not always easy and definitely does not happen overnight. Mistakes will be made along the way. So, yes, you will struggle. It's part of the game to rise up! DO NOT get upset or angry. Instead, embrace the errors. They are "learning lessons" to help you never make that mistake again right? Use these lessons to strive high and overcome the next obstacle and remain focused. Help someone else learn from your personal mistakes. Consistency is truly the key to your ultimate success. And just remember, take things slow! You have that special gift, talent, passion, hobby deep inside within, so use that and run with it. Stay away from shiny objects. You can do and be anything you desire and don't believe the hype. Don't think you cannot do something due to lack of experiences or education. I've mentioned before that I have absolutely no background in fashion other than I love stylish clothing. This alone gave me proof that anything is possible. DO NOT EVER GIVE UP! Be unique because the world needs your originality.
HOW DO YOU KEEP MOTIVATED THROUGH DIFFICULT TIMES?
Oh, this is my favorite part. I keep motivated because of my "WHY." My why is so deep. It goes way beyond my personal issues or feelings because I have little people counting on me. I cannot and will not let them down. I refuse. Yes, I've hit some road blocks along the way but I hurried up and climbed over those walls that were blocking me to remain focused on what's truly meant for me to accomplish here on this planet.
DO YOU HAVE A BUSINESS PHILOSOPHY?
We're not just fashion. I am standing TALL for the SMALL! Education is truly the key to success and always striving high to better improve whether it's business or personal life. Educate yourself daily on how to be a better you.
When I face a big challenge I…
do what I have to do to get over the struggles AND FAST!
My greatest fear is…
another setback. But hey, it's part of life. Don't like it though.
The most courageous thing I've ever done is…
quit my job at the hospital
If I could go back in time to when I was 20 I would tell myself…
good credit is serious, girl!
I believe…
everyone has that entrepreneur inside of their DNA to be that boss the world needs.
The biggest lesson I have ever learned is…
keep your heart and grind in the right place. Doors will open up way beyond what you possibly imagine.
My favourite business tool or resource is…
My blog, I've gained so much success because of it. I've met awesome people and built trust as an expert because of blogging.
My favourite quote is…
"If it doesn't challenge you, it doesn't change you."
---