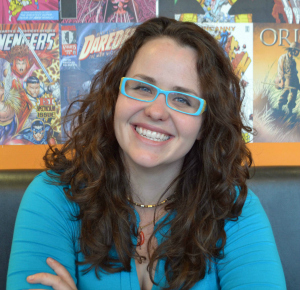 Halley Gray knows from intimate experience that life is too short to play it safe. She left her office job and embraced the adventure of being an entrepreneur. Through different twists and turns, she discovered her unique ability – being a marketing strategist for creative entrepreneurs and freelancers. Read how she did it below…
Halley Gray // Evolve & Succeed // Small Business Marketing // American living in New Zealand // 20s
---
WHAT MOTIVATED & INSPIRED YOU TO START YOUR BUSINESS?
I suck at being an office employee. I'm too loud, happy, and irreverent. There are so many rules and I love breaking them (much to my then-employer's chagrin), but I did try to make it work. Then one day, the call came – my mom had stage 4 cancer and I saw first-hand how short life is. I realized playing it safe was not living. I signed up to work with a career coach and didn't look back.
TELL US ABOUT YOUR BUSINESS…
I work with creative entrepreneurs and freelancers to get them booked out in their service and booming in their sales. I'm a marketing strategist that uses content, sales and experimentation techniques to figure out your business' unique marketing strategies.
WHAT WERE THE FIRST FEW STEPS YOU TOOK TO GET YOUR BUSINESS UP AND RUNNING?
I invested in a career coach because I didn't know what I wanted to do (besides running a business). This took me thru a hilarious progression of wrong-fit businesses – breaking my back sewing handbags from vintage kimonos, hearing crickets when I tried being an Adventure Coach, and then gut-wrenching agony at being a copywriter. This experiment of working in different industries and starting different businesses was invaluable to the advice I give today. It was totally worth it. Once I figured out that the friends I was giving (free) marketing advice to where going from $0 to $4,000 per month I realized I had found my quiet talent.
WHAT HAS BEEN THE MOST EFFECTIVE WAY OF RAISING AWARENESS OG YOUR BUSINESS AND GETTING NEW CUSTOMERS?
The best way to attract new customers is talk to them – in Facebook groups, on Twitter, in Google + communities – as real people not as potential customers. People remember you if you give great advice and connect with them as a human and not as a selling machine.
WHAT HAVE BEEN YOUR BIGGEST CHALLENGES SO FAR WITH RUNNING YOUR BUSINESS?
I'm finishing up my first year and it's been full of challenges. The biggest one is the self-doubt. I went into December thinking I could sell services…LIES. I should have put 2 + 2 together and realized my target market spends all their money on presents (and not business development) at that time. It kept me up at night thinking that I would NEVER sell anything again, and that I made a mistake. You live, you learn, you live off your Visa (for a short time). I'm now booked out six months in advance. Suck it, Self-Doubt!
HOW DID YOU OVERCOME THESE CHALLENGES?
I have a strong network that includes mentors, peers, and clients that help keep me on track. When I doubt if I'm doing well, I talk to my mentors. When I doubt if I'm good at what I do, I read my client reviews. And if I need support, I talk to my peers.
WHAT DO YOU LOVE ABOUT RUNNING YOUR OWN BUSINESS?
I love how on a whim I have started a podcast, launched a new set of services and created new e-courses. It's so responsive and flexible and I love the challenge and adrenaline that comes with being self-reliant.
WHAT ADVICE WOULD YOU GIVE TO OTHER ENTREPRENEURS?
Talk to everyone! Don't limit yourself to trying to find clients and instead broaden your search for like-minded individuals. Launch now. That awesome product/service you're sitting on? Launch it now because that's the only way you'll find out if it works. Focus on getting booked in advance (if you sell services) – it'll keep you sane. For realz.
HOW DO YOU KEEP MOTIVATED THROUGH DIFFICULT TIMES?
I write a lot of content around my next launch. I'm also ok with not being motivated all the time (the flip-side of working 14 hour days).
DO YOU HAVE A BUSINESS PHILOSOPHY?
Stay classy. Not in language (I'm a proponent of swearing like a sailor) but in how you treat people. People remember how you make them feel over what you've said so make them feel heard & good (even the haters).
When I face a big challenge I…
experiment, learn, and keep moving forward.
My greatest fear is…
being stuck in a corporate cubicle.
The most courageous thing I've ever done is…
move to a new country half-way across the world by myself at 20.
If I could go back in time to when I was 20 I would tell myself…
call your mom and tell her you love her.
I believe…
life is too short to be comfortable.
The biggest lesson I have ever learned is…
if I put my mind to it, I'll make it happen because I'm super stubborn.
My favourite business tool or resource is…
it changes but the main runner is The Middle Finger Project.
My favourite quote is…
"A ship is safe in harbor, but that's not what ships are for."
― William G.T. Shedd
---