For more inspiration and support to build a successful business come and join us here & we'll send you our Make It Happen Workbook & Guided Visualisation >>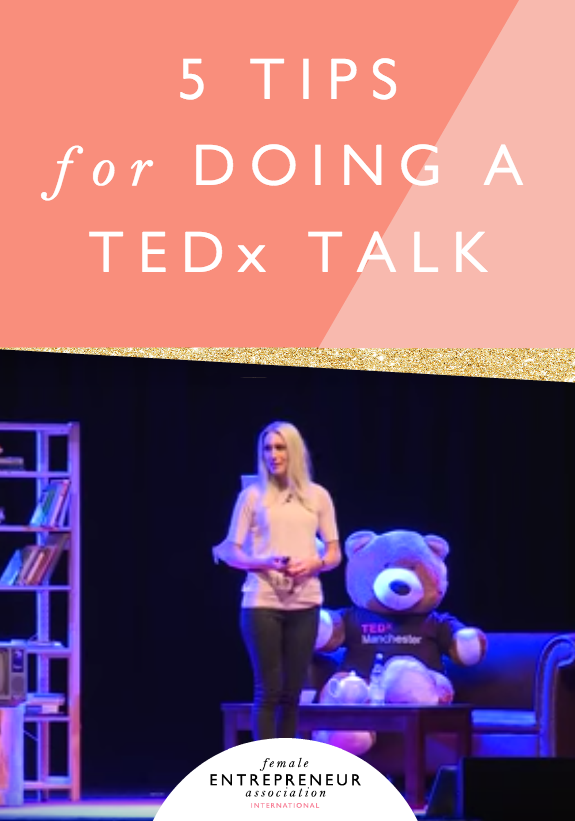 It was the 2nd March, 2014 and I stood nervously backstage with a gummy bear sweet  in my hand, waiting to be introduced.
Then I heard, "Please welcome to the stage Carrie Green".
I put the gummy bear in my mouth and carefully nestled it between my gum and cheek and walked out onto the stage.
The lights were blinding, so I could barely see the 800+ people staring at me. I placed my bottle of water on the table and then I began my TEDx Talk.
Fast forward 18 months and my talk has had over 1 million views on YouTube (it blows my mind!!) and has helped to bring so many people to the Female Entrepreneur Association.
So I've made this post (and video) to share with you…
How I managed to do a TEDx Talk
How I made it a talk that's had a lot of views!
5 actions you MUST take, so that you can do the same.
Doing a TEDx Talk is one of the most amazing things I've ever done, because it's helped me to spread my message to so many more people. So if you have a message to share (I know you do!) then you HAVE to get yourself on a TEDx (or TED) stage.
(If you already have then share a link below to your talk)
I hope you enjoy this video – if you just want to hear the tips, then skip to 17.45.


PUT YOURSELF OUT THERE
If you want to be discovered by TED Talk organisers then you need to get yourself and your message out there to be discovered. I've done two TEDx Talks and both times the organisers found me through my videos on my website and on YouTube.
Also, most people organising TEDx events will set up fan pages, Twitter accounts and so on… so connect with them, develop relationships with the organisers and see if your message would be a good fit for their event. A lot of organisers do multiple TED events.

CREATE AN AMAZING TALK
Go above and beyond to create a talk that will be worth sharing. Don't just think about the day itself, think about the video on YouTube and create something that people will connect with, be inspired or empowered by and will want to share. Like I mentioned in the video, I always prepare by thinking of the audience, writing out a script and then breaking it all down.
Go and watch other talks and work out what makes the good ones good. How did they speaker connect with you, captivate you, have an impact on you? Did they tell a story? Did they take you on a journey? Did they do an experiment? Did they share really interesting facts? Were they funny? How could you incorporate elements into your talk?

PRACTICE LIKE A CRAZY PERSON
Practice in front of the mirror, practice in front of friends and family, practice in your car. Practice, practice, practice. Like I always say, success is NOT an accident, you have to create it on purpose… so prepare for it.

GIVE IT YOUR ALL
When you walk out onto that stage, no matter how terrified you are, you've got to own it. Leave your nerves backstage and give the audience the best you've got, because they deserve it. Set your sights on wowing them.
Visualise yourself doing the talk and giving it your all, feel how it will feel to be the best you can be.

COME UP WITH A GOOD NAME FOR YOUR TALK
Do not let the TEDx organise name your talk for you, you MUST name it yourself and make it a good one!
My talk was originally named Learn, Do, Achieve – not exactly something very compelling. So I asked them to change it to Programming Your Mind For Success. You want your talk to be called something that intrigues people to click and watch, so think carefully and come up with something good!
~
I'm excited for you to do a TEDx Talk. You're going to be amazing and your message will impact so many people :)
Sending you lots of love and luck for your talk!
Carrie xx
P.s. leave a comment below and share your favourite TEDx Talk with us, so we can all get inspired!