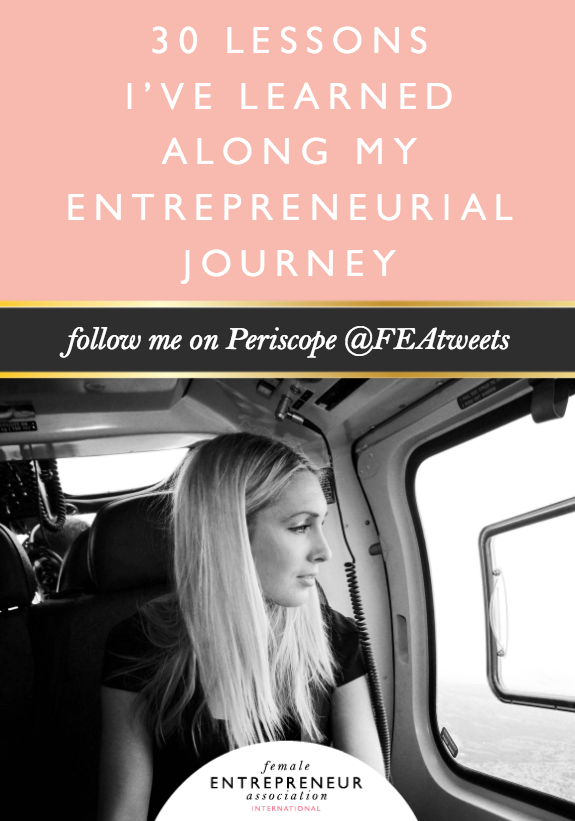 Hey lovelies, so recently I've been celebrating because I turned 30 (I'm still flabbergasted that I got here so quickly, anyone else feel like that?!).
Anyway, in the week leading up to my birthday I spent a lot of time reflecting on my twenties and all of the things I'd experienced – the achievements, the challenges, the highs, the lows. Reflecting on it all made me realise how much of an adventure it's been! There have been moments of pure joy and moments where I crawled into my bed and cried about my decision to be an entrepreneur, because it felt impossible!
In the end I wrote down 30 lessons I've learned over the past 10 years and a few days ago I decided to make a Periscope to share them (if we're not connected yet on Periscope, come and join me @FEAtweets and let's hang out).
At the end of the Periscope (which you can find below) lots of people asked me to write up my lessons in a blog, so here they are for you :)
If you're reading this and you're running your own business or about to start you'll know what I mean when I say that being an entrepreneur can often make you feel like you're crazy! We come up with an idea and then basically have zero clue how to actually turn it into a reality, but we try any way and I think that makes us pretty awesome people.
I've learned sooooo much over the past 10 years and I love that I get to share my experiences with you, but I would LOVE to read about your experiences too, so make sure you leave a comment and let us know the biggest lesson(s) you've learned.
Thank you for reading this and thank you for being part of my journey, I'm so grateful to have you here.

LESSON 1 // SUCCESS IS NOT AN ACCIDENT
Probably one of the biggest lessons I've ever learned. If you want to be successful you have to do it on purpose. I've build two really successful businesses over the past 10 years and I've realised that the reason they became successful is because I was taking action to make them successful.
LESSON 2 // CONDITION YOURSELF FOR SUCCESS
Make a conscious effort to train your brain for success :) that means focusing on the positives, rather than dwelling on the negatives. It means making the commitment to yourself to become the person you need to be in order to succeed.
LESSON 3 // TUNE INTO YOURSELF
When we pay attention and listen to ourselves the most magical things can begin to happen. Deep down you know what you need to do, you know what the right thing to do is, so listen up. The more I stay aligned with myself the more I stay in the flow and manifest what I want. Things happen more easily.
LESSON 4 // GET CLEAR ON WHAT YOU WANT AND FOLLOW THE FEELING
Don't let your logical brain get in the way of a feeling or sense about something. If something fills you with joy and excitement but your logical brain tells you it's not possible, don't listen to your brain follow the feeling!
LESSON 5 // DON'T WORRY ABOUT NOT HAVING IT ALL FIGURED OUT…
No one does!! Lean into knowing that you'll never have all the answers and that's ok!
LESSON 6 // ADD VALUE
Add insane amounts of value all the time.
LESSON 7 // CREATE AMAZING EXPERIENCES
For yourself, your team, your followers, and people will love hanging out with you.
LESSON 8 // GET CLEAR ON YOUR MISSION, YOUR WHY AND BUILD YOUR BRAND ON IT
It doesn't have to be complicated – just get clarity and stay connected with your why.
LESSON 9 // DON'T BE AFRAID TO BE YOU, BE AFRAID NOT TO BE YOU
We live in a time where people can see when you're not being yourself, even if it's scary just find the courage to fully be yourself!
LESSON 10 // BUILD YOUR LIST
Likeminded people who resonate with your message and what you have to share.  Don't be afraid to share your message with the world because the right people will find you.
LESSON 11 // IT WILL (PROBABLY) TAKE LONGER THAN YOU THINK
No one has overnight success. Realising it will take longer and just accepting it will help you relax and know that it's a journey and you'll get there :)
LESSON 12 // KEEP THE FAITH & TRUST THAT IT WILL WORK OUT
When you're trying to turn your idea into a reality and doing things you have never done before you just have to dig deep an find that place of trust and faith that it will all work.
LESSON 13 // LISTEN TO GUIDED VISUALISATIONS
Guided visualisations are something I've been doing since I was  child and I love them, they really help me to connect and tune in with myself. I've often used them to help me breakthrough blocks and get on with achieving what I wanted. If you're interested I've got  Make It Happen Guided Visualisation you can download here >>

LESSON 14 // NETWORK LIKE CRAZY
One of the most important things for building momentum in your business is networking.  Just get out there!
LESSON 15 // GET SOME BUSINESS BESTIES
Business can be lonely, find some other business friends you can connect with and bounce ideas off, it makes such a big difference!
LESSON 16 // LISTEN, LEARN & GROW
Always keep learning and growing.  There is so much out there to learn, take the bits that resonate with you and always be open to learning.
LESSON 17 // ACKNOWLEDGE YOUR ACHIEVEMENTS
This is so easy to forget to do, yet so important.  Take a few minutes to reflect and think about all the things that you've achieved this year.
LESSON 18 // BE GRATEFUL DAILY
Take a moment every day to be grateful for the gifts you have been blessed with.
LESSON 19 // KNOW THAT CONFUSION IS PART OF THE JOURNEY
Everyone is confused.  Even the most successful entrepreneurs feel confused sometimes, it's okay! :) Take the pressure off yourself – you don't have to be perfect.
LESSON 20 // BE KIND & CARE MORE
It's so easy to be kind and care for people.  This is so powerful and easy to do because everyone one of us can be kind.
LESSON 21 // VALUE YOURSELF
Remind yourself of how great you truly are.  Be kind to yourself and remind yourself that you have amazing value.
LESSON 22 // DON'T COMPARE YOURSELF TO ANYONE ELSE
Comparing will derail you from success!  You're not on the same journey as anyone else, so don't compare yourself to someone else ever.
LESSON 23 // BE CONSISTENT
Even when you don't want to, just keep going and keep putting value and content out there consistently and it will pay off.
LESSON 24 // PUT YOURSELF OUT THERE
You have an amazing message and people need to hear it so don't be afraid to put yourself out there.  Even when it's scary, because people need to hear it.
LESSON 25 // MAKE GOOD DECISIONS
Make the decision to not listen to the negative committee in your head that says you can't do something. Have the courage to not let fear hold you back.
LESSON 26 // CREATE A BUSINESS TIMETABLE/SCHEDULE 
As an entrepreneur theres no one there telling you what to do so you have to have a schedule/timetable to keep yourself in check, on track and be more productive.
LESSON 27 // ALLOW YOURSELF TO CHILL OUT & TAKE A BREAK
Things aren't going to fall apart if you take a break!  It's important to chill out and put yourself first sometimes.
LESSON 28 // DREAM BIG
We all have one life, and it's really important that we spend it doing things we want and love and dream big!
LESSON 29 // HAVE PATIENCE
Things don't happen overnight, they take time, and you have to learn to be okay with it.
LESSON 30 // REMEMBER IT'S ALL JUST ONE BIG ADVENTURE & EXPERIMENT
If you do something and it doesn't work, then you just try something else!  Look at everything in life as one big adventure and experiment.
There are so many lessons I've learned, these are just 30 of them. I'm excited to see what your lessons are :)
Here's the Periscope I made all about these lessons if want to see:
Come hang out with my on Periscope here:@FEAtweets

See you next week.
Lots of love,
Carrie xx