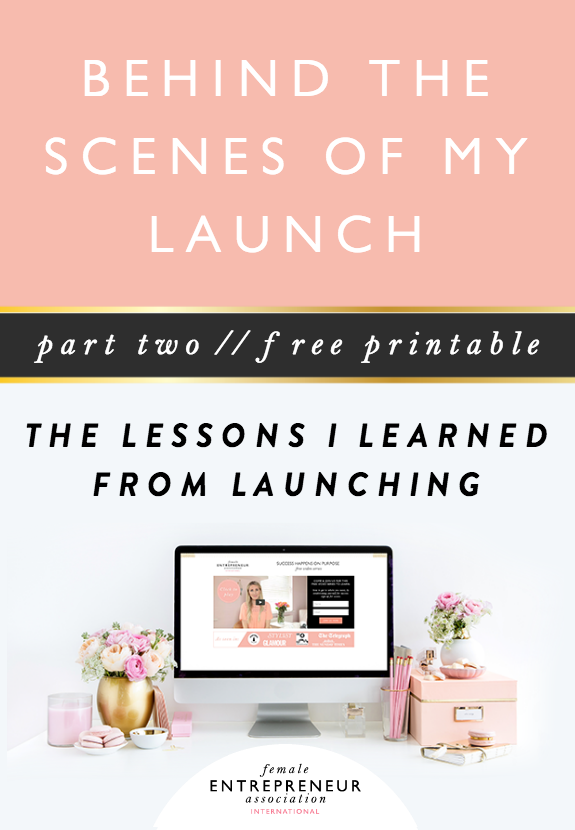 I'm so excited to share this post and video with you – it's part two of a mini series I'm doing about a launch I recently did. In part one I shared an overview of my launch and the marketing strategy I used, so if you haven't seen it yet, definitely check it out now and then come back and watch this video.
So in this video I'm going to share the mistakes I made, the lessons I learned and my 8 top tips for launching with you.
So here goes…
I hope you enjoy this video – make sure you leave a comment and share your launching stories, fears, challenges and wins. We're going to be picking someone to win our 10-Step Launch Workbook from inside the Members' Club :)
+ as always, I made a little something for you to go along with this video – it's a Launch Plan for you to use whenever you have a launch coming up :) download it here >>
(if you're already on our mailing list you don't need to sign up again, because we've already emailed this to you, along with the video.)


Here's a quick breakdown of what I covered in the video…

SET A CLEAR TARGET AND DEADLINE
Make sure that whenever you do a launch you set a clear target for yourself and deadline for when you want to hit it by. This might sound obvious, but it's so easy to forget to do it!  Doing this is a must, because if you don't know what you want you won't make it happen.Remember, success happens on purpose and it all starts by knowing what you want and then taking the actions to make it happen.

MAKE SURE YOUR WEBSITE CAN HANDLE MORE TRAFFIC 
Make sure your website server is going to be ok if you start getting more traffic to your site. This was a big lesson I learned… I forgot to tell my hosting company that I was launching and so when my launch got started the website crashed and was down for quite awhile, which was so stressful. So if you know you're going to have more activity than normal, make sure your server is good to go.

BE MOBILE RESPONSIVE 
50% of the traffic to my launch was from mobile.  Everything you create online needs to be mobile responsive because more and more people are using their phones to browse and buy things.

ALWAYS SPLIT TEST
Sometimes what you think will work or what people tell you will work, doesn't.  Split testing gives you an opportunity to try out an alternative if things aren't working as well as you thought they would. If you find yourself in that situation, don't just accept it, try something else and split test to see what works the best.

SCARCITY WORKS
You need to have some kind of scarcity when you launch, because like it or not it scarcity works. If you're doing a launch let people know when it ends. Human nature is driven to action by deadlines.

HAVE A SUPPORT SYSTEM IN PLACE
Have the support people in place and on the ready to deal with any challenges throughout your launch.  And save yourself tons of stress by testing everything thoroughly well ahead of the launch.

REMEMBER IT'S ALL PART OF THE JOURNEY
There will be setbacks, the key is to not let them get you down. They're part of the adventure. Having people to turn to for support and encouragement and helping you keep things in perspective is key.  Make yourself laugh out loud at the challenges and never stop believing you will get where you want to go. Like my favourite quote says, "I can and I will, watch me" don't let anything stop you.

TRY NEW THINGS
Don't be afraid to try new things. Take big action and raise your game next time you launch – make sure you push yourself outside of your comfort zone.
There are so many other lessons and tips I could share, but we'd be here all day! So I might do a workshop on it all – let me know if you'd be up for that in the comments.
I hope it's been helpful to hear about the lessons I learned from my launch. Get out there, try new things and create amazing launches… you can do it.
If you've enjoyed this video, but you're not a subscriber then sign up below and we'll send you lots of goodness, also hit like and share it if you know others who might like to watch this video.
WIN OUR 10-STEP LAUNCH WORKBOOK…
Leave a comment below and share your launch stories and tips or ask any questions you have… we're going to be picking someone from the comments to win our 10-Step Launch Workbook from inside the Members' Club  :)
See you next week,
Carrie xx