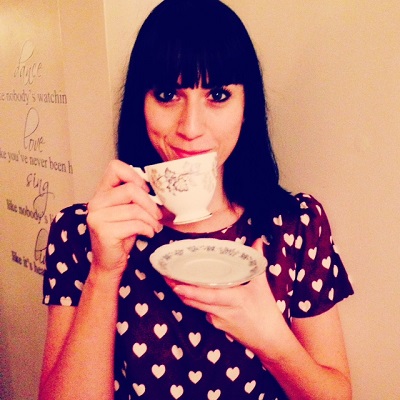 Claire knew she wanted more control over her career so she made the decision to start her own business. Her story shows the importance of being able to pivot according to the needs of the marketplace and now she has a successful vintage hen party/bridal shower company that has allowed her to walk away from her job as a police officer. Read how she did it below…
Claire Hearn // The Vintage Hen House // Event Planning // UK // 30s
---
WHAT MOTIVATED & INSPIRED YOU TO START YOUR BUSINESS?   
If you had said to me 6 years ago  that I would be running my own business, I would have laughed. Sure, I loved watching TV shows that showcased businesses such as Dragon's Den, but I had no drive or motivation to run my own. That all changed in late 2011. There were a few changes at work which meant people were moved around – I was one of them and really didn't like where I was put – not least because it was not what I had spent months in training to do. So the seed was sown – I started to yearn for more control over my working life and wanted to achieve more of a work/life balance, something which years of shift work had meant was impossible. So it was whilst on Honeymoon in Mauritius looking out at the clear, blue sea that I made a decision – I was going to run my own business.
TELL US ABOUT YOUR BUSINESS…   
I own and run The Vintage Hen House which specialises in planning vintage inspired hen parties across the UK and which also sells handmade hen party accessories. The Vintage Hen House offers those planning a hen party/bridal shower a stylish alternative from the usual L plate filled 'do, instead focusing on the glamour of a bygone era – afternoon tea, victory rolls, red lippy and a Charleston dance class – are a part of just some of the hen parties that I plan.
WHAT WERE THE FIRST FEW STEPS YOU TOOK TO GET YOUR BUSINESS UP AND RUNNING?
Behind every business there's a story and mine is no different. When I made the decision to run my own business, it was to be in wedding planning, which seemed the obvious first step as I loved planning my own big day and have always been a bit of an organiser. This didn't take off though and I learnt my first big business lesson right there – that it doesn't matter how pretty your website may be or how good your business cards are, if there isn't really a market for what you do, it simply won't get off the starting block.
So rather than throw the towel in and give up, I started to look at how I could expand what my business covered and decided to offer planning for other events too. It was through doing this that I discovered a tweet on Twitter from a lady called Abbie who ran The Vintage Hen House, but due to family commitments was winding it down. She was willing to hand it over to someone suitable and so I got in touch. In December 2012, I took over as owner of The Vintage Hen House. There was a website and one hen party collection in place and so I spent the next three months putting my stamp on it – expanding my hen party collections to cover even more of the UK, increasing my presence on social media and opening the online Hen Shop in conjunction with a fabulous crafter Katrina who handmakes all of our gorgeous hen party accessories exclusively for us. I relaunched at a vintage wedding fair in March 2013.
WHAT HAS BEEN THE MOST EFFECTIVE WAY OF RAISING AWARENESS OF YOUR BUSINESS AND GETTING NEW CUSTOMERS?   
Social media by far. Prior to owning my business I had no social media accounts but now I'm hooked! I connected with Twitter first and networked, took part in the group chats and started to raise awareness of what it was I was doing. Through this I was contacted by BBC Radio Gloucestershire to take part in a radio discussion on the changing face of hen parties as well as being contacted by various bridal publications that have since gone on to feature what we do. I love the conversational feel of Twitter and this has even brought hen bookings my way.
I am now getting the hang of Facebook too. I've found this to be a great tool to visually promote what I do and it has brought bookings my way also. The downside? Social media can be quite distracting and time draining, so I would say approach it with a goal in mind – be it to raise awareness or network – that way you'll get the most out of it.
WHAT HAVE BEEN YOUR BIGGEST CHALLENGES SO FAR WITH RUNNING YOUR BUSINESS?
The biggest challenge I've faced so far in running my business involves that little thing we call time. All throughout my first year of business, I held down my full time job, working shifts, and as my business started to get busy, I began to feel like there just wasn't enough hours in the day. At 2am, I'd be replying back to enquiries – goodness knows how that must have looked – but it just felt like I didn't have a choice.
When I was working night duties, the emails would pile up and then it would be back to the crazy hour email replies again – it felt like I was constantly chasing my tail. I began to feel increasingly frustrated that I was only just able to keep on top of what I was doing, let alone find the time to try new things and grow. On top of all of this, I started to feel increasingly guilty – every moment of my days off were spent on my business. My daughter and hubby were so supportive, but deep down I knew something had to give.
HOW DID YOU OVERCOME THESE CHALLENGES?       
Two weeks ago, I took a huge leap in faith. I decided to give up my career as a police officer and become a fully-fledged business woman. Not an easy decision to make, not least because I was walking away from something I had trained so hard to do but the reality was my passion is no longer for the police but in my business. Freeing up the time now to really grow my business fills me with excitement, but there is a part of me that is like shizzle pops have I really just done that? It's one of the most exciting and scary decisions to make.
WHAT DO YOU LOVE ABOUT RUNNING YOUR OWN BUSINESS?
Where to begin? I love having the freedom to work when you want to, in what you want to! I love meeting new people and the satisfaction when a hen group are thrilled with how their day went – knowing that I planned it all for them. I love the fact that I can now do the simple things that many take for granted – the school run, making sports day, being home on a weekend. I love the buzz of knowing that it's my hard work and my hard work alone that will get me to where I want to go and ultimately pay the bills!
WHAT ADVICE WOULD YOU GIVE TO OTHER ENTREPRENEURS?
Be prepared to work hard – every waking minute – especially in the early stages of setting up your business. Don't give up – if you have a viable business and the passion to succeed, don't let anyone take that away from you. Don't compare your business journey to others. It's so easy to do but everyone has started from somewhere. It's what you do in your journey that matters.
HOW DO YOU KEEP MOTIVATED THROUGH  DIFFICULT TIMES?   
Remembering the reason why I wanted to start my own business keeps me focused on days when I'm feeling a little meh. It's not an easy ride. Let's face it, everyone would be an entrepreneur if it was – but remembering what drove me to make that decision to run my own business reignites the fire in me.
DO YOU HAVE A BUSINESS PHILOSOPHY?         
Don't be a busy fool – allow some time out for yourself and when you are working on your business. Stay focused and be productive.
When I face a big challenge I…
pop the kettle on and then start working out how I'm going to deal with it- I try not to lose my head.
My greatest fear is…
that I wake up one day and wonder what on earth I've done with my life.
The most courageous thing I've ever done is…
taking the leap of faith and becoming a fully-fledged business woman.
If I could go back in time to when I was 20 I would tell myself…
to not worry about what other people think – life's just too short.
I believe…
you create your own destiny
the biggest lesson I have ever learned is…
Learn to adapt, but never give up.
My favourite business tool or resource is…
FEA – I mean that too!
My favourite quote is…
"Everything happens for a reason – it really does!"
---