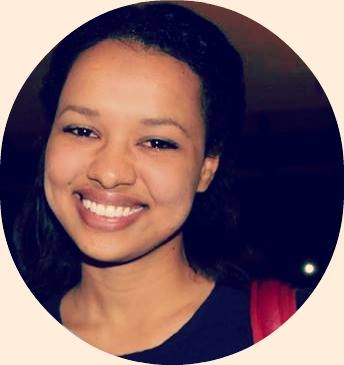 Michelle believes in taking 100% responsibility for the life and business she is creating. She has accomplished this with her company, Simply Clean, by staying true to her priorities and infusing her personal values into her business' brand and services. Read how she did it below…
Michelle Rohr // Guam // Simply Clean // Domestic Cleaning // 20s
---
WHAT MOTIVATED & INSPIRED YOU TO START YOUR BUSINESS?
I had just closed down a coffee shop I had been operating (it was time to move on!) and needed to do something to make alot of money quickly since I had decided out of the blue to attend a conference in Florida in a matter of months (and I live in far away Guam)! Running a cafe taught me alot about how to run a traditional business, but the most important thing I learned was the importance of building a business that is true to my personal values! Before starting my cleaning business, I knew 3 things about myself: I like keeping things simple, minimal, and streamlined. So I started my simple, minimal, and streamlined cleaning business – Simply Clean!
TELL US ABOUT YOUR BUSINESS…
Simply Clean is a house cleaning service and we use all organic products. My team of cleaners is made up mainly of 3 of my sisters and a few close friends. We all have multiple businesses that we are working on and cleaning is something we do on the side very easily because the work is simple, straightforward, and it's fun to work to work together!
WHAT WERE THE FIRST FEW STEPS YOU TOOK TO GET YOUR BUSINESS UP AND RUNNING?
Starting my business was incredibly simple (and I've done my best to keep my business simple since then). First, I called up the 2 clients that one of my sisters had been cleaning for before she had left for college. I told them I was taking her place and they booked me for cleaning their homes right away.
The business built up quickly from there, referral by referral and without advertising. Through Carrie's This Girl Means Business magazine, I learned of another cleaning company based in the UK and I took a look at their website. Looking at what other people were doing helped me realize how much bigger I could be thinking about my own business.
I made some mistakes along the way – sometimes intentionally! I'm always reading personal development/business books and I was guided by something Seth Godin said: "This may not work…Let's try it!"
Another step that helped was I reached out to another girl who had her own cleaning business and we went out for coffee and discussed the idea of working together. We didn't end up working together, but she ended up moving away and giving me her clients! It helps to open your mouth and tell people what you're doing. Self-promotion can be hard in the beginning, but I had already learned how to do it because I had spent the past couple of years already telling people about another project I have going – The Secret OWL Society.
WHAT HAS BEEN THE MOST EFFECTIVE WAY OF RAISING AWARENESS OF YOUR BUSINESS AND GETTING NEW CUSTOMERS?
Doing a good job in the first place! I got this tip from a business coach named Dan Sullivan: Be on time to appointments, keep your promises (and if you can't, then call and explain why not), and say please and thank you. Following these simple tips has made it extremely easy for people to refer my company to their friends. Every week I get a call from a potential client who learned about me from another person. It's a nice way to live and do business.
WHAT HAVE BEEN YOUR BIGGEST CHALLENGES SO FAR WITH RUNNING YOUR BUSINESS?
The biggest challenge is dealing with customers who aren't a good fit for my company. This situation doesn't happen often, but the challenge really lies in me. I have to learn how to step into my big girl shoes and realize that this is my business and I operate it according to my values. It's easier to go down the path of least resistance and not do the hard thinking and actions associated with chiseling and carving my business to be how I want it to be.
HOW DID YOU OVERCOME THESE CHALLENGES?
I get really clear on my values and why I started this company. I wanted to create a business that is simple, minimalist, and streamlined. I wanted to create an opportunity for someone working on my team to learn how to be an entrepreneur, make good money in a short amount of time, and be able to take that extra money and time to build up the next level of their life by creating a business or project of their own. I really care about my clients and the people who work on my team.
The cleaning company has helped me take care of my own bills and have the time and energy and money to focus on other things – which is crucial to me. The minute things start getting complicated and time-consuming is when I know I'm getting away from my values for the company. Something I need to do next is put together a list of non-negotiable values and points to stick to for myself and the team. This will mean being better at communicating with potential clients that come our way.
I keep remembering something that Steve Jobs did when Apple was about to go bankrupt: He slashed the number of products that Apple offered down dramatically…and then business went up. Steve Jobs knew that being everything to everybody is a death wish for business. All I have to do is remember the name of my company: Simply Clean. If something is complicating my business or my life, I find a way to make it simple. Business and morale always goes up when I keep things simple.
WHAT DO YOU LOVE ABOUT RUNNING YOUR OWN BUSINESS?
I LOVE how it allows me to do other things. I've delegated nearly all the cleaning to my team, but even while I was the one doing most of the cleaning, I STILL had all the time, money, and energy I needed to build up other business and projects in the past year. In addition to owning the cleaning company, I own a network marketing business, I blog and create printables for my personal development project – the Secret OWL Society, I'm a part-time nanny, I'm helping open a Women's Resource Center here on our island, and I edit the How She Did It stories for Carrie here at the Female Entrepreneur Association! I'm just living my life!
WHAT ADVICE WOULD YOU GIVE TO OTHER ENTREPRENEURS?
Believe you are capable of doing more. I used to feel tired out all the time when I worked in the food and beverage industry. I didn't think I could take on anything else. But then I started looking at high-achieving people – the kind you read about in success type magazines – and saw how they seem to accomplish so much more than the average person in so many different areas. I realized that the solution for me was not to do less, but to do things differently and according to my values and priorities. When I made this shift, it was like I unlocked the energy within myself that I've been looking for. I started looking for opportunities to get out of my routine: I co-hosted a weekly business radio show, held personal development workshops, started a blog…it was the beginning of me taking 100% responsibility for the life I am creating.
So my advice is to find that mix of projects and opportunities that light your fire and bring them into your life and use all your gifts as much possible and you'll discover abilities and energy that you didn't know you had. And get on a plane and take a trip at least once a year. I'm still buzzing with the creative energy that a 3 week trip in Paris gave me 5 years ago!!!
HOW DO YOU KEEP MOTIVATED THROUGH DIFFICULT TIMES?
I go on Pinterest! Staying in tune with how I want my life to be is motivation enough. Difficulties melt away when you know how to stay inspired.
DO YOU HAVE A BUSINESS PHILOSOPHY?
Keep it simple. It doesn't matter what works – if it can't be duplicated, don't do it.
When I face a big challenge I…
I do what I can to MAKE things happen, but I try to maintain peace within myself knowing that half of the process is LETTING things happen.
My greatest fear is…
something happening to one of my parents or siblings.
The most courageous thing I've ever done is…
Spent 3 weeks in Paris with no solid plans as to where I was going to stay or how I was going to make my money last. Best. Trip. Ever.
If I could go back in time to when I was 20 I would tell myself…
"You're going to love Paris."
I believe…
that people need to choose themselves and be entrepreneurs.
The biggest lesson I have ever learned is…
living in gratitude and in alignment with my values is the key to a thriving life no matter what I'm going through.
My favourite business tool or resource is…
My Life Binder – it's how I keep everything going on in my life in one simple system that keeps me on top of things.
My favourite quote is…
"You're greatest life is on the other side of your greatest fear."
– Robin Sharma
---