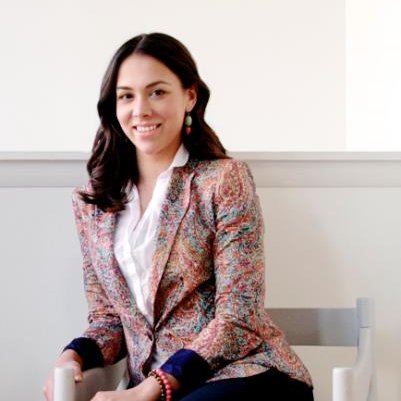 When Antoinette Marie Johnson and her husband realized that they could provide a branding and advertising service superior to that of the local traditional agency, they started to do freelance work on the side. Their business took off and now they work full time in their company and are passionate about how they are combining art and technology and bringing value to the marketplace. Read how she did it below…
Antoinette Marie Johnson // USA // At Media // Branding // 30s
---
WHAT MOTIVATED & INSPIRED YOU TO START YOUR BUSINESS?
My husband and I were professionals in the branding and advertising world. We saw agencies charging a fortune for very mediocre work. On his last straw in 2007, my husband designed a flash based website for a very prominent restaurateur in Philadelphia under the direction of the agency he worked for at the time. We both knew that flash development was a very poor recommendation for the brand, since mobile devices were beginning to block it, and search engine algorithms couldn't read it. Furthermore, the agency was charging upwards of $90,000.00 for this website that would need to be re-done in less than a year. We both agreed that our work was more valuable and sustainable to clients, and started freelancing for them on the side. Soon we were disrupting the local traditional agency marketplace by providing top level branding and advertising work, and charging consistently 1/4th of the amounts. Word spread, and we opened our full-time company in 2009.
TELL US ABOUT YOUR BUSINESS…
At Media is a boutique branding firm with the mission to disrupt the traditional agency model by being rebels who do more with our clients' brands for less. At Media stands for the merger of "Art" + "Technology", and the two schools of thought run deep in our core values. We treat art and technology as though they are one in the same, because, to us, form is nothing without function. People love good design, but great design can change perspectives, and paired with the right technology, we can reach them easier and engage them longer.
Every piece of our work should be pixel perfect, with the highest level of attention to even the smallest detail. Our clients expect touch-points that engage their users at every level. We serve Comcast NBC Universal, Campbell's Soup, Duane Morris LLP and other corporations, while working with smaller projects with big potential as well.
WHAT WERE THE FIRST FEW STEPS YOU TOOK TO GET YOUR BUSINESS UP AND RUNNING?
It was important for us to have clients and cash flow prior to becoming a full-time business. We see entrepreneurs who are so anxious to get started with a website, office and employees, that they often neglect the service or product they are creating a demand for. My husband worked full-time until we were able to create enough income that I could quit my corporate job and work At Media too. In 2009, we were at 2 employees in our spare bedroom. Now, we have an office in Philadelphia with 9 full-time employees and many independent contractors.
WHAT HAS BEEN THE MOST EFFECTIVE WAY OF RAISING AWARENESS OF YOUR BUSINESS AND GETTING NEW CUSTOMERS?
The most effective way of gaining new business is through current clients and positive PR opportunities. We learned very early that keeping our clients happy was the best way to continue getting more work from them and referrals from their friends. But as we grow, organic referrals are not the absolute best way to find our ideal clients. So we have adopted a content marketing angle to speak directly to our most favorite clients; courageous marketing department people who are desperately trying to inspire change in their organization's brand. These people find us through our blog posts, social media and PR efforts. They come to us already educated about the process, and trust our expertise. We've found the most perfect partnerships in these amazing people! We are in the process of developing a series of workshops and programs to speak directly with these people or aspiring clients who don't yet have the budget or ability to engage our firm. This fuels my desire to educate and inspire, while also giving us the opportunity to help others.
WHAT HAVE BEEN YOUR BIGGEST CHALLENGES SO FAR WITH RUNNING YOUR BUSINESS?
Often you'll hear from start-ups that the most challenging aspect of running and growing a business is the employees. We would agree with this completely. Most of the time, founders of a business are experts at their craft, NOT at managing people. I have experience in management, but my time is often filled with new business and managing projects, so unfortunately managing staff is always at the back of our minds. We have experienced a great deal of stress from employees who need to be trained, mentored, or, in worst cases, are unfaithful, waste time and money or dishonest. The lessons have been difficult, from an employee who claimed that we unlawfully fired her to a former employee who stole clients from us. But equally, we've had successes. Like landing our first Fortune50 client, or employees who excelled and surprised us.
HOW DID YOU OVERCOME THESE CHALLENGES?
From every challenge, we find a lesson to help avoid repeating the mistakes again. From the poor workplace culture mistakes, we developed an award-winning employee handbook, performance evaluations and super fun bonus opportunities. Our business consultant has helped us identify challenges before they blow up, which is a huge help. I recommend always building a community of people you can trust and talk with about your struggles.
WHAT DO YOU LOVE ABOUT RUNNING YOUR OWN BUSINESS?
For me, I absolutely love the ability to have direct influence on something that I want to see change in. Most employees spend decades at a company without having a direct influence on anything but maybe the projects they work on. Not only am I able to directly change At Media, grow our business and help employees achieve their career goals – but for my clients, I am able to help them re-brand organizations, redesign websites, launch exciting projects and make a stronger influence than they were able to do without us.
WHAT ADVICE WOULD YOU GIVE TO OTHER ENTREPRENEURS?
My advice to other entrepreneurs: Read a lot – all of the books and articles you can fit into your spare time. Skip TV. You're a leader now and should retain knowledge and inspiration on a regular basis. Form an advisor committee. Make it informal even. Choose 4-5 people who have run their own gig, who you admire, etc. Make them your go-to people when you need to vent or learn lessons. Strike a balance. It's too easy to become completely obsessed with your work. Remember that EVERYONE has a job, even housewives. Would you want to be friends with someone who spoke ONLY about their work day in and day out? No!
HOW DO YOU KEEP MOTIVATED THROUGH DIFFICULT TIMES?
Travel. 3 day weekends. Gardening and painting. These are the things that remind me that I am a normal person with a living, breathing life!
DO YOU HAVE A BUSINESS PHILOSOPHY?
We do work that is, first and foremost, intrinsically rewarding. But, when we make an impact, we expect extrinsic validation: We don't create solely for ourselves, we want to make a real and lasting impact in the world around us. We demand freedom, whether we work within companies or on our own, to run experiments, participate in multiple projects at once, and move our ideas forward. We thrive on flexibility and are most productive when we feel fully engaged.
When I face a big challenge I…
remain confident and rely on the people who can help me achieve my goals.
My greatest fear is…
failure and being alone.
The most courageous thing I've ever done is…
marry my soul mate.
If I could go back in time to when I was 20 I would tell myself…
to have more fun and remember that it's a process and nothing happens over night.
I believe…
that women will become more influential leaders and inspire change in the world that we've been waiting on for centuries.
The biggest lesson I have ever learned is…
to always have things documented and a second person present when you're making human resource decisions.
My favourite business tool or resource is…
99u.com
My favourite quote is…
When Thomas Edison failed at 200 attempts to make the first light bulb he said "It was not failure, I simply learned 200 ways not to make a light bulb."
---