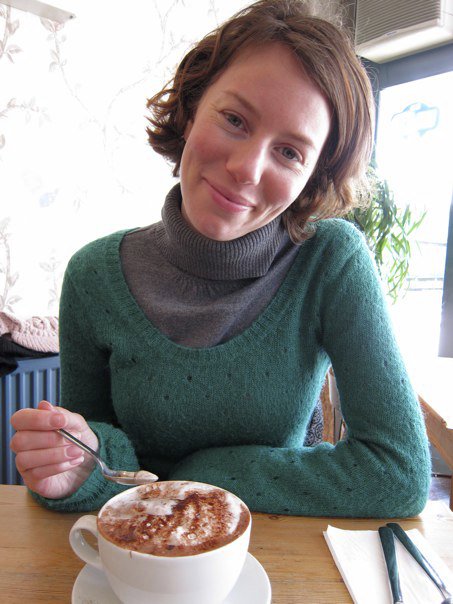 Inspired by Susan Cain's TED talk, "The Power of Introverts," Kathryn Hall created an online space to support introverts who want more freedom, creativity and solitude in their careers. Read how she did it below…
Kathryn Hall // UK // The Business of Introverts // Business Coaching // 30s
---
WHAT MOTIVATED & INSPIRED YOU TO START YOUR BUSINESS?
A few years ago, I was miserable in my career. Having never found my 'perfect' job, I was desperate to leave the open plan offices and busy schedules that were out of balance with my naturally introverted personality. After a while, I realized that starting something of my own was the only answer and I soon started exploring ideas and making money outside of a job.
The Business of Introverts is my second business and was initially inspired by the amazing TED talk by Susan Cain 'The Power of Introverts' (which made me cry the first time I watched it!). I realized that there were thousands of introverts around the world who were stuck in jobs that just didn't fulfill or energize them and it was then that I made the decision to share my own personal journey and to help others.
TELL US ABOUT YOUR BUSINESS…
The Business of Introverts is an online support hub for introverts who want more freedom, creativity and solitude in their careers. Through the blog and my Quiet Creations: Kick-Start course, I share lessons learnt, practical information, and inspiring stories to help introverts take control of their destinies and create a business that they love.
WHAT WERE THE FIRST FEW STEPS YOU TOOK TO GET YOUR BUSINESS UP AND RUNNING?
I'll let you into a little secret – I didn't have a clue what I was doing when I first launched the site! It was actually a bit of an experiment. I knew that I wanted to help introverts who felt stuck in their careers and so I started a blog. I had no idea how I'd make money from it but then I started receiving all these amazing emails and messages from people telling me how comforting and inspiring they'd found the blog and I knew I was onto something. It's just grown from there!
WHAT HAS BEEN THE MOST EFFECTIVE WAY OF RAISING AWARENESS OF YOUR BUSINESS AND GETTING NEW CUSTOMERS?
Without a doubt it's been guest blogging. Writing articles for some high profile websites has allowed me to get in front of other audiences and raise awareness of what I do. I also use social media on a daily basis. However, guest blogging has been the most effective way to increase my sign-ups.
WHAT HAVE BEEN YOUR BIGGEST CHALLENGES SO FAR WITH RUNNING YOUR BUSINESS?
Through The Business of Introverts website, I speak very openly and honestly about my experience both as an introvert and as someone who was very unsettled in her career. Though I knew it was important to talk about my own experiences in order for others to relate to me, the process has really made me face my fears and push myself out of my comfort zone – it's raised lots of emotions!
HOW DID YOU OVERCOME THESE CHALLENGES?
Taking lots of deep breaths and giving myself pep talks before hitting publish always helps! But actually, if I'm honest, it's my readers that keep me going. I was overwhelmed by the initial response to the website and it really gave me the motivation and courage I needed to continue wearing my heart on my sleeve.
WHAT DO YOU LOVE ABOUT RUNNING YOUR OWN BUSINESS?
I love the freedom and creative control that I have with running my own thing. Being able to make all my decisions and drive my business in whichever direction I choose has been incredibly liberating – I can't imagine ever going back to the confines of a full time job.
WHAT ADVICE WOULD YOU GIVE TO OTHER ENTREPRENEURS?
Don't be afraid to try things out and make mistakes. If things don't work out the first time, try not to think of these as failures but rather as crucial lessons that will allow you to move onward and upwards. It can be hard sometimes, but to succeed in business, I've found you really need to develop a 'glass half full' mentality. When things don't go your way, just stand up, dust yourself down and try a different way! You'll get there eventually; it's just a case of experimenting.
HOW DO YOU KEEP MOTIVATED THROUGH DIFFICULT TIMES?
If my motivation dwindles, it usually means I need a break and so that's what I do – I take myself away from the computer, go for a walk, grab myself a coffee and read a book. It's taken me a while to get to a point where I feel like it's ok to do that, but if you don't look after yourself then you can soon find yourself running on empty (which is only ever going to be bad news for your business).
DO YOU HAVE A BUSINESS PHILOSOPHY?
I'm a big believer in running a business in a way that's true to who you are. Authenticity is key.
When I face a big challenge I…
allow myself some alone time, make a list, and then just get stuck in!
My greatest fear is…
being unhappy in life.
The most courageous thing I've ever done is…
talk to the world about being an introvert.
If I could go back in time to when I was 20 I would tell myself…
Not to doubt my decisions – following my heart would always be the right way to go.
I believe…
that everyone has the capacity to create the life of their dreams – you just have to have the determination.
The biggest lesson I have ever learned is…
that introversion is something to be proud of.
My favourite business tool or resource is…
WordPress for website management (my business would be nothing without it!)
My favourite quote is…
"Solitude matters, and for some people, it's the air they breathe."
– Susan Cain
---