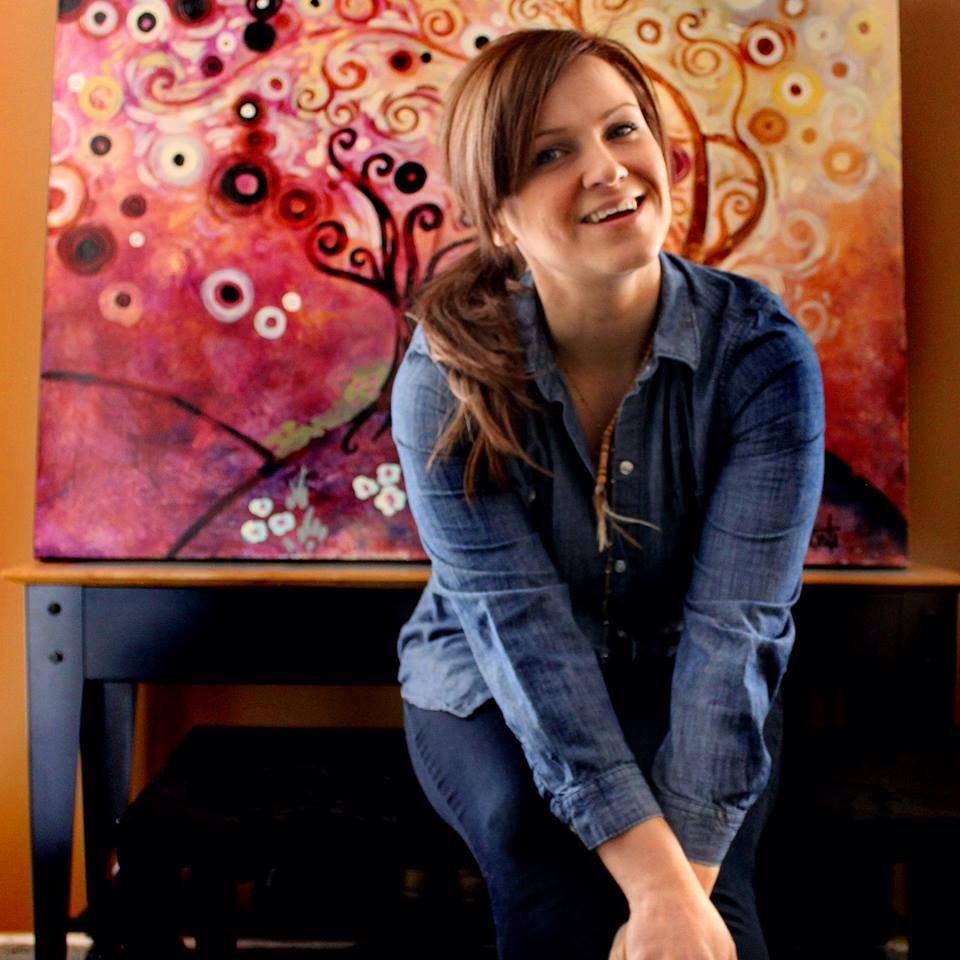 Natasha Westcoat has combined her skills in marketing and art to create a very successful business as an artist. Her story shows just how possible it is to be a full-time artist – a goal she's achieved with two young children in tow! Read how she did it below…
Natasha Wescoat // USA // Art Career Academy // Art // 30s
---
WHAT MOTIVATED & INSPIRED YOU TO START YOUR BUSINESS?
I was always very entrepreneurial as a child, but was highly motivated to make a name from my Art. My goal was to be a full-time Artist and independent business owner. I was just 22, with 2 young sons (under the age of 2!) when I began my venture into the art industry. I was tired of the lack of opportunity living in a small town and no degree under my belt yet. This was my immediate need to start right then.
TELL US ABOUT YOUR BUSINESS…
I started in 2004, selling and licensing my original artwork to private and corporate collections worldwide. Since then, I've taught workshops to child and adult students and had my work taught in classrooms from Kindergarten to University level. Since then, I've worked for companies like Ford, Mashable, MySpace and Mahalo sharing my expertise in social media, community management and web marketing. It's given me the opportunity to speak/share my art at conferences and events like SXSW, Blogworld and TEDx.
WHAT WERE THE FIRST FEW STEPS YOU TOOK TO GET YOUR BUSINESS UP AND RUNNING?
I took a few hundred dollars from my tax refund and invested in supplies and launching my first website. I researched all that I could online from other creative freelancers and independent artists who were making it work on the web. I put my first original painting on eBay auction site to draw traffic to my site.
WHAT HAS BEEN THE MOST EFFECTIVE WAY OF RAISING AWARENESS OF YOUR BUSINESS AND GETTING NEW CUSTOMERS?
Social media, hands down. It has been my most profitable tool and where I've made my most valued friendships and business contacts. Since I began, I've been able to use it in ways most people never fathomed. In one year, I had made $50k from selling my art ON Facebook, alone. Not kidding. This is just an example. Word of mouth from former customers is also a very valuable asset that I've found as well, online or offline.
WHAT HAVE BEEN YOUR BIGGEST CHALLENGES SO FAR WITH RUNNING YOUR BUSINESS?
Remaining consistent in my marketing, my art production and my sales. I've diversified my income with the various opportunities that are possible for artists. I had to learn how to pitch to potential clients and expand my business – which were two of my biggest challenges, running the company completely alone.
HOW DID YOU OVERCOME THESE CHALLENGES?
I found mentors who coached me, researched the stories of others who have come across the same issues and trial and error. I learned how to implement systems to improve my business and allow it to expand, which is tough when you're an artist. But it can be done!
WHAT DO YOU LOVE ABOUT RUNNING YOUR OWN BUSINESS?
The freedom to do whatever I want, when I want. The potential of unlimited income and possibilities. That I can make it bigger if I work for it. That's something you can't get from a regular job. I love that I can make it whatever I want it to be!
WHAT ADVICE WOULD YOU WOULD GIVE TO OTHER ENTREPRENEURS?
Face your challenges head on with a plan. Know what you want. Set deadlines for every goal so it gets done. Make every move count. Baby steps are better than not stepping at all!
HOW DO YOU KEEP MOTIVATED THROUGH DIFFICULT TIMES?
My family and friends. Without them, I wouldn't be as happy or motivated to keep working hard or trying when things get tough. They remind me of my work and the value of my work too. That's priceless.
DO YOU HAVE A BUSINESS PHILOSOPHY?
Start now and worry about perfection later! Keep true to your values and approach every opportunity with the question, "Does this align with my values? The values of my business?" That can make or break your entire career if you don't think about that.
When I face a big challenge I…
take a step back and look at everything. Am I doing everything I need to do? Do I see every angle of the situation?
My greatest fear is…
losing the plot in my business. I must keep my mission in the front of my mind in all that I do, to keep my integrity. If I lose that, I've failed at my business. I never want to just become A BUSINESS.
The most courageous thing I've ever done is…
taken a risk to help someone out in their career, even if it meant at the detriment of my own. I love helping people and giving them support – even if it doesn't benefit me at all.
If I could go back in time to when I was 20 I would tell myself…
you don't have to be perfect! Stop worrying about that darn website design, woman!
I believe…
in purpose. In living life with purpose and meaning. In adding value to the lives of others in everything I do.
The biggest lesson I have ever learned is…
it's okay to fail. I've had to sit back and realize that not everything is going to go my way and not everyone is going to LOVE my work.
My favourite business tool or resource is…
Hootsuite. When it comes to promoting and social networking this tool saved my life. Hours and hours of work has been given back to me to work in the studio now since I started using it!
My favourite quote is…
"Anything that gets your blood racing is probably worth doing."
– Hunter S. Thompson
---