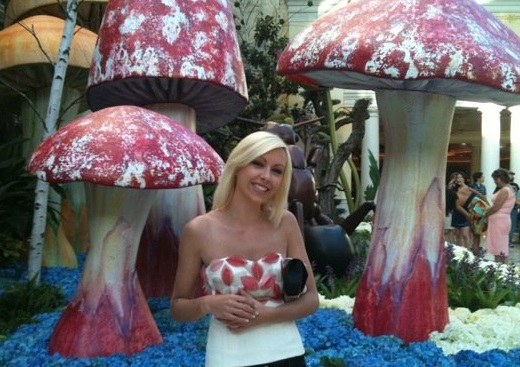 Joanna Potts had an epiphany while working at a cafe for minimum wage and feeling a bit off track with her life purpose. She realized that she could create a career path for herself through her own business! Today she owns her own fashion boutique. Read how she did it below…
Joanna Potts // Scotland // Lady JoJo's Boutique // Fashion // 20s
---
WHAT MOTIVATED & INSPIRED YOU TO START YOUR BUSINESS?
Having my own business had never entered my head for a single second. To be honest, I had no idea what I wanted to do with my professional life.  Then one day, as a 24 year old graduate just returned from backpacking, I found myself managing a small cafe and ideas began to creep into my mind saying that if I can do this for someone else, I could do it for myself.  Then one day whilst pondering the bigger picture on holiday, I had my light bulb moment. I knew instantly that this was my path and within 6 months, my work-alcoholic nature and lack of patience meant I had a shop. It combined my true love of dresses (I am an unapologetic dress addict) and love of hard work. This has taught me to trust the path that you are on. I slaved away managing a cafe for minimum wage and was in a deep depression feeling lost and that I was not achieving what I had hoped for. Little did I know that this was the most important experience of my life and it would set me on a beautiful journey.
TELL US ABOUT YOUR BUSINESS…
My business began as a straight forward fashion retail boutique which has evolved into a brand with its own clothing line, e-shop, and custom dress service. I also have an off-shoot business which offers made-to-order wedding and bridesmaid dresses. I specialised in vintage inspired clothing because this is what I personally love and I knew there was nothing like it throughout Scotland.
At the end of the first year, I saw a big problem. The profit margins on the products were small and getting smaller. I pondered this problem for months and did what I could, but I knew that although these small measures might make my business survive temporarily, it would not grow into the business that I wanted. Enter light bulb moment number two. Why don't I cut out the middle man and have some dresses made for the shop?
So in order to implement my new business venture I put in a whole load of time and hard work like never before. After researching and dabbling with hundreds of different ideas, I eventually bought some industrial equipment, hired a seamstress and voila – I had small scale manufacturing! One thing led to another, I learned some expensive and difficult lessons, but eventually it all worked out.
WHAT WERE THE FIRST FEW STEPS YOU TOOK TO GET YOUR BUSINESS UP AND RUNNING?
Firstly, I told my Dad. He is my measure of sanity and when he seemed to like the idea, I knew I wasn't being absolutely ridiculous. I quit my job and spent 4 weeks researching the idea full time. I was so in love, as every new entrepreneur is, and spent as close to 24 hours a day learning as much as I could about the business world. Once I had formulated the idea and I felt confident, it was a waiting game for premises. I went back to work for a temporary employment agency whilst I viewed properties until I found 'the one'. I deliberately signed the lease before I could think about the enormity of this decision. I knew if I thought about it doubts would begin and I didn't want any negativity holding me back.
WHAT HAS BEEN THE MOST EFFECTIVE WAY OF RAISING AWARENESS OF YOUR BUSINESS AND GETTING NEW CUSTOMERS?
Social media has played a huge role. It is undoubtedly the best way of marketing on a budget. Facebook adverts have done well for my business, the secret for us was to create very niche adverts to target our audience. It is better to create three niche adverts for different parts of your target audience than one vague one which will not engage anybody.
Word of mouth is undoubtedly the most effective advertising. Keep your customers happy at all costs. It is much cheaper to resolve an issue with a customer even if it costs you a little bit of money rather than have to pay for crisis PR management. You can't keep everybody happy though and if you are in the right (for example people are always trying to return items they bought months ago), stand your ground.
WHAT HAVE BEEN YOUR BIGGEST CHALLENGES SO FAR WITH RUNNING YOUR BUSINESS?
Where to start?! Every day there is a new challenge. My biggest challenge recently was finding motivation. At the end of third year, I was severely disheartened because everything was still a struggle and a fight and I felt that every obstacle I overcame just lead onto three new obstacles. It was no longer a novelty to work 6 days a week with no holidays and it had worn me down. Going to work felt like a struggle and this began to show in the brand.
HOW DID YOU OVERCOME THESE CHALLENGES?
I made a conscious choice to be positive about my business and it was that simple. Sometimes simply identifying the problem is half the battle. I subsequently gave myself a firm kick up the bum and started to do the things that I loved again. I attended trade fairs and watched fashion shows, I went back to Business Gateway events to learn new things, I dreamed up exciting window displays and planned photoshoots.
WHAT DO YOU LOVE ABOUT RUNNING YOUR OWN BUSINESS?
Knowing that my dresses and boutique make people happy. Normal women come through the door and 10 minutes later they are swishing around in petticoats, giggling and playing like children. A little slice of the world where you will not be judged and don't have to be serious – wearing a cupcake dress with a pink petticoat and sparkly headband is the norm here. So many women also tell me about the abundance of compliments they receive when wearing our dresses. Knowing that my products give these women confidence and happiness is the icing on the cake.
WHAT ADVICE WOULD YOU GIVE TO OTHER ENTREPRENEURS?
Persevere. Persevere. Persevere. See nothing as a challenge and everything as an opportunity. My original problem of poor profit margins made me start my own brand and has turned my business into something wonderful.
HOW DO YOU KEEP MOTIVATED THROUGH DIFFICULT TIMES?
The longer you are in business, the more of a challenge this can be. Usually, I try to think of where I would work if I closed my shop and the thought of being in a office and answering to somebody else usually puts me right back on track!
DO YOU HAVE A BUSINESS PHILOSOPHY?
My philosophy is to try and keep everything in perspective. Don't waste time worrying, if you can change it, then change it. If not, put it behind you and accept the lesson. In the bubble of your business, small issues can escalate into something huge.
When I face a big challenge I…
ask for help. Never be ashamed of this.
My greatest fear is…
missing out on life experiences and adventures because of fear.
The most courageous thing I've ever done is…
put myself out there. As a terribly shy person with self esteem issues, it is a challenge to front a business.
If I could go back in time to when I was 20 I would tell myself…
you will never change the person that you are, so learn to love this person rather than fight them.
I believe…
that your life is your creation, make it beautiful.
The biggest lesson I have ever learned is…
trust your intuition.
My favourite business tool or resource is…
my fellow entrepreneurs who have become good friends.
My favourite quote is…
"Be kind, for everyone you meet is fighting a hard battle."
---