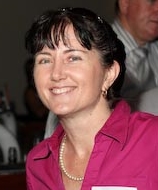 Anna James grabbed the opportunity of a voluntary redundancy so that she could pursue her dream of being an entrepreneur and opened a serviced office business. Today she gets to help other small business owners become successful in their own right. Read how she did it below…
Anna James // Australia // ABS Office // Business Services // 40s
---
WHAT MOTIVATED & INSPIRED YOU TO START YOUR BUSINESS?
I come from a family of small business owners. I guess I just always assumed that one day I would run my own business.  I married at a very young age, started a family straight away and did an accounting degree while I worked full-time. I eventually moved up the corporate ladder into executive management. It was during this period that I toyed with the idea of having serviced offices. When the opportunity for a voluntary redundancy presented itself, I grabbed it with both hands and ran. I now had the chance to follow my dream.
I tried starting a bookkeeping business with very limited success. I set up an online store selling handmade jewellery and didn't sell one piece. Then a small ad in the local newspaper told me that a local serviced office business was up for sale. I bought it in late 2006. Six months later, another small serviced office business (this time close to the city) was up for sale, so I bought that. In the words of one of my clients, I had bitten off more than I could chew and I had to start chewing like mad! That was in 2007.
TELL US ABOUT YOUR BUSINESS…
ABS Office provides serviced office space and virtual receptionist services to other small and large businesses. We're located in Toowong and Cleveland in Queensland, Australia. Serviced offices differ from traditional leased space in that your office comes completely furnished and generally with all utilities connected. A serviced office client doesn't have to worry about organising phone or internet connections, nor do they have to arrange cleaning or getting someone to man the receptionist desk, or even answer the phone. It's all done for them. Our virtual receptionist service is like the old "telephone answering service" but we do it differently by getting "inside" our clients' business. Because we're a small business, we get to know the regular callers so the service is that little bit more personal.
WHAT WERE THE FIRST FEW STEPS TO GET YOUR BUSINESS UP AND RUNNING?
My businesses were already up and running, but they were two separate businesses with two different names and two different ways of doing business. I had to rebrand them into one business. I also had to standardise processes and equipment between the two centres. Both businesses were run by owner/operators, which I obviously couldn't do, so I had to find staff to manage the centres. My final challenge was to get the team to work as "one business, in multiple locations".
WHAT HAS BEEN THE MOST EFFECTIVE WAY OF RAISING AWARENESS OF YOUR BUSINESS AND GETTING NEW CUSTOMERS?
Thus far, it has been by networking. Pure and simple. Just getting out there and talking to people and building relationships. Initially, it's a huge investment of your time for what seems like very little return, in a financial sense anyway. I have focused on creating strong friendships and being generous with my time to help other businesses. I have found that for me, there is a certain tipping point where people start to trust you and they then give you work and thereafter they are an advocate for your business.
Even though most of my business relationships are based on friendship and the "fellowship" of being small business owners, they still need nurturing and social media is perfect for doing that. The other effective way of raising awareness is our online presence. We have had a topsy turvy time of it in this respect and I've made 2014 the year to get this under control and keep it there. Our online presence has given us many of our clients who have found us with a simple Google search. Again, by building a personal relationship with these clients, we have been able to work through any challenges because they trust us.
WHAT HAVE BEEN YOUR BIGGEST CHALLENGES SO FAR WITH RUNNING YOUR BUSINESS?
CASH. By far, this is the main thing that has kept me awake at night. My generosity has earned me many friends and helped some of them through some very rough patches. But there have been others who have left me high and dry, without a backwards look. This has led to criticism from family, telling me I'm too soft for business. I have chosen to take some of that criticism on board and toughen up, without becoming a hard-nosed b….
My other big challenge over the last 2 and a half years has been distance. My husband and I made a decision to relocate out of the city to a regional area, primarily for his career and to be closer to my parents. Living 3 hours from the office makes for one heck of a commute! And when money was really tight I had to spend 3 days a week in Brisbane, so I had to find somewhere to live while I was there. Getting there and back each week was also a logistical challenge. The other challenge is training my team. I can't do it all, so I have to have a great team to do it for me. And trying to train people who work different shifts in locations up to 3 hours drive away is a huge challenge, especially when money is tight. Some of our clients change their requirements two or three times in a week. I always say that we must be doing it right if they think that they are our only client! But that presents a challenge because one of the team may not be working on the day that a requirement changes, so we had to figure out a way to communicate those requirement changes to the whole team.
HOW DID YOU OVERCOME THESE CHALLENGES?
The cash situation has been alleviated by employing a lovely lady who gently chases the clients each week until the bills are paid. She has been worth her weight in gold. My relocation did have an impact on my business because it was combined with a renovation on our house, so my attention was not on the business for a good few months. I definitely lost my mojo and the business suffered as a result. I was terrified for a few weeks, but eventually I "put on my big girl pants" and just got on with it. Spending half my time in Brisbane and half my time at home ended up being an ideal way to transition everyone – the team, the clients and me – into a "long distance relationship". The team connects each day on Skype. I connect with clients via social media, Skype, Google Hangouts and of course, by phone. And the team is now more confident about dealing with the clients directly on almost all issues, thus relieving me of some of the responsibility of meeting with clients. The training situation is an evolving solution. Currently we are using documented processes, a team bulletin board and continuous Skype chat to reinforce the processes. We're always on the lookout for effective methods of keeping the team up to date. And training can be subjective too, because different people learn in different ways, so we have to be flexible in how we deliver training.
WHAT DO YOU LOVE ABOUT RUNNING YOUR OWN BUSINESS?
I love helping other businesses to be successful. I really, really do. Most of our clients outgrow us and either move into their own premises, in the case of our serviced office clients, or they take the processes we've helped them set up for their receptionist service and they employ their own full-time administration team. It gives me a real buzz to talk to former clients, many of whom are still friends, and see how their businesses are tracking.
WHAT ADVICE WOULD YOU GIVE TO OTHER ENTREPRENEURS?
Business is about relationships. People refer people to people they trust, so your reputation is possibly the most valuable thing you have. Act with integrity. If you make a mistake, put your hand up, apologise and make damn sure it doesn't happen again. If you find someone taking advantage of you, either restore the balance to the relationship or extricate yourself as quickly and as cleanly as you can. And sometimes you just have to go with your 'gut'. If the person/product/price doesn't feel like a good fit, it generally isn't and you may expend an awful lot of energy trying to fit the old square peg in the round hole. Again, extricate yourself quickly and cleanly and move on to something that is a good fit.
HOW DO YOU KEEP MOTIVATED THROUGH DIFFICULT TIMES?
I keep my eye on the bigger picture and where I want the business to go. I am prone to "catastrophising" but I work hard on staying calm and forcing myself to change my focus. I try to find something that will give me even a small win so I can rebuild my confidence. I also rely on my friends, most of whom are in business too. I have more than one or two to whom I can go and I know they will give me good advice or support.  I also have some motivational videos on YouTube and audiobooks that I use to get my mojo back.
DO YOU HAVE A BUSINESS PHILOSOPHY?
People refer people to people they trust. Be a person that other people can trust.
When I face a big challenge I…
draw on past successes, break the challenge down into manageable chunks and just chip away.
My greatest fear is…
running out of things to do (YES I am a workaholic).
The most courageous thing I've ever done is…
When I was 12, I was away at a school camp (no, NOT band camp) and halfway through the disco on the last night, I went back to the dorm room. I changed out of the corduroy pinafore my mother had chosen for me and put on a pair of jeans. I went back to the hall and I started dancing like no-one was watching. It was an empowering moment.
If I could go back in time to when I was 20 I would tell myself…
Remember when you were 12 and for one night, you didn't give a hoot what other people thought of you… be that person from now on – you'll get where you want to go, much faster.
I believe…
where I am now is solely because of the choices I have made.
The biggest lesson I have ever learned is…
that good things happen when I choose to be happy and grateful.
My favourite business tool or resource is…
Zoho Creator – I am a nerd. Ask anyone who knows me knows I would marry it if I could.
My favourite quote is…
A ship is safe in harbor, but that's not what ships are for.
---