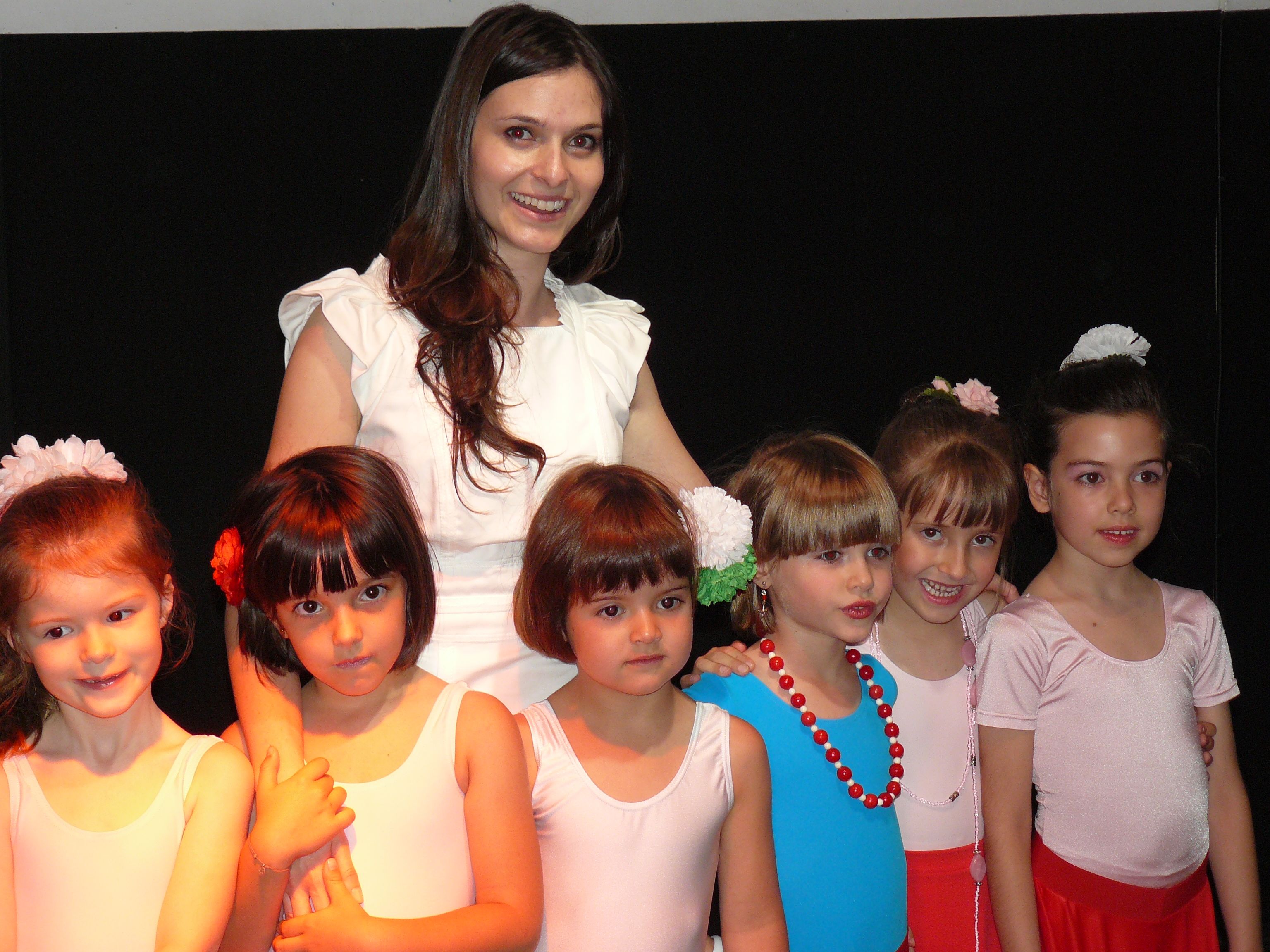 Michele Goldin took her skills and experiences as a dance educator and started her own dance company in Spain with just 3 children in her class. Today, her business has grown to offer classes for more than 400 students! Read how she did it below…
Michele Goldin // Spain // Hello! Creative Movement in English // Early Childhood Dance Education // 30s
---
WHAT MOTIVATED & INSPIRED YOU TO START YOUR BUSINESS?
I grew up in a bilingual home in the US, had been a dancer and dance educator in the US for many years and when I moved to Madrid, Spain in 2008, I discovered that there were hardly any activities at all for children under 5.  I combined all of my experiences and areas of expertise and created a new and original series of programs for young children to practice and improve their foreign language skills through dance and movement.  I began in 2008 by myself with just 3 children.  With lots of hard work, the classes caught on quickly and grew rapidly.  I am now proud to have a team of nearly 10 teachers, a business director, a programs director, and over 400 students as my business offers classes and events in collaboration with schools, nurseries, academies, studios, play centers, foundations, organizations, festivals, and charities all across Madrid.  We are even looking to expand more as we increasingly receive interest from other educators and families around Spain.  It is so exciting. :)
TELL US ABOUT YOUR BUSINESS…
Hello! Creative Movement in English is a dance and movement school for children aged 1+ and their families.  We offer a series of unique and exciting classes that provide foreign language immersion and education (in this case English) through dance and movement.
WHAT WERE THE FIRST FEW STEPS YOU TOOK TO GET YOUR BUSINESS UP AND RUNNING?
I started giving classes in my neighborhood in Madrid by renting out a dance studio space once a week and putting up flyers in local shops.  I started with just 3 students who came to know me through the flyers.
WHAT HAS BEEN THE MOST EFFECTIVE WAY OF RAISING AWARENESS OF YOUR BUSINESS AND GETTING NEW CUSTOMERS?
My business really started to grow when I got my website up and running.  I have been very lucky to have great SEO and a beautiful website that makes a strong first impression.  The other most effective way of raising awareness has always been word of mouth and the recommendations of the parents of my students to their friends, family and peers.  With simply a fantastic and easily found website (in my opinion, very important), as well as the support and recommendations of the community of parents, I get new customers all the time.
WHAT HAVE BEEN YOUR BIGGEST CHALLENGES SO FAR WITH RUNNING YOUR BUSINESS?
My biggest challenge was making the leap from being a 'one woman show' to hiring employees.  It was very hard for me to let go of some of my responsibilities at the start.  When it was just me, I knew exactly what I was doing and how to do it; there was no need to explain anything to anyone or worry that something wouldn't be done right.  But the business started to grow and I couldn't keep doing everything myself.  So I had to learn to trust and rely on the abilities of others, to pass on my knowledge and ideas to others, and I'm so glad I broke through the initial inhibitions I had.
HOW DID YOU OVERCOME THESE CHALLENGES?
As I said, my biggest challenge has been letting go.  When it first became necessary to hire other teachers, I was very lucky to take on 2 fantastic young women who were just the right people for the job and they never let me down.  It made the transition so much easier.  I worked closely with them at the start and was probably a little overbearing, but after several weeks, I saw that they were teaching my classes very well (naturally with their own personal touch but overall the way I would have done it myself) and I felt confident leaving them in charge on their own.  That was the first step.  After that, it just got easier and easier to place trust in any teachers that I hired.
WHAT DO YOU LOVE ABOUT RUNNING YOUR OWN BUSINESS?
I absolutely love running my own business.  I'm very passionate about providing an excellent service to families and I wake up every day excited to 'go to work'.  I'd say my favorite part is the thrill of having a new student register for classes because they are so happy when come to see us every week, or, even more, I love when I start a new collaboration with another school or organization.  It means they've heard great things about me and trust me to provide a great service.  I also love when those organizations see that our classes are successful, popular and have waiting lists at their locations.  It means everyone is happy.
WHAT ADVICE WOULD YOU GIVE TO OTHER ENTREPRENEURS?
Be prepared to work tirelessly but know that if you have a vision, drive and passion, the hard work will all be worthwhile.  'Earn enough for your need and not your greed.'  If you love your work, feel happy/satisfied with what you do, and can earn a decent living, then money should not be your motivation.
HOW DO YOU KEEP MOTIVATED THROUGH DIFFICULT TIMES?
I have definitely had moments when I thought my business was doomed, because, for example, a teacher failed me and gave my classes a bad impression, or because a school didn't want to work with me anymore.  There have been lots of little bumps along the way that seemed so large at the time, but, in the grand scheme of things, weren't that serious and have only made me stronger.  In those low moments, I stay positive and believe in myself and what I have to offer, knowing that I have created something special no matter what.  I believe everything in life happens for a reason and there is always something bigger and better waiting around the corner.
DO YOU HAVE A BUSINESS PHILOSOPHY?
Several years ago, on a trip to San Francisco, I picked up a poster entitled 'How to be an Entrepreneur' in a small, local art gallery shop.  The message on this poster has always inspired me to build a business that I am passionate about, that brings out the best in me, that is good for people, the community and our environment, that makes myself and others happy and to build something that will leave a legacy when I'm gone.
When I face a big challenge I…
stay focused, motivated and positive.
My greatest fear is…
getting hurt by the people (employees, colleagues, collaborators) I put my trust in.
The most courageous thing I've ever done is…
never give up even when I was exhausted.
If I could go back in time to when I was 20 I would tell myself…
the best is yet to come.
I believe…
that everything happens for a reason.
The biggest lesson I have ever learned is…
to take risks but always be true to myself.
My favourite business tool or resource is…
Facebook and my website.
My favourite quote is…
"Earn enough for your need but not your greed."
---