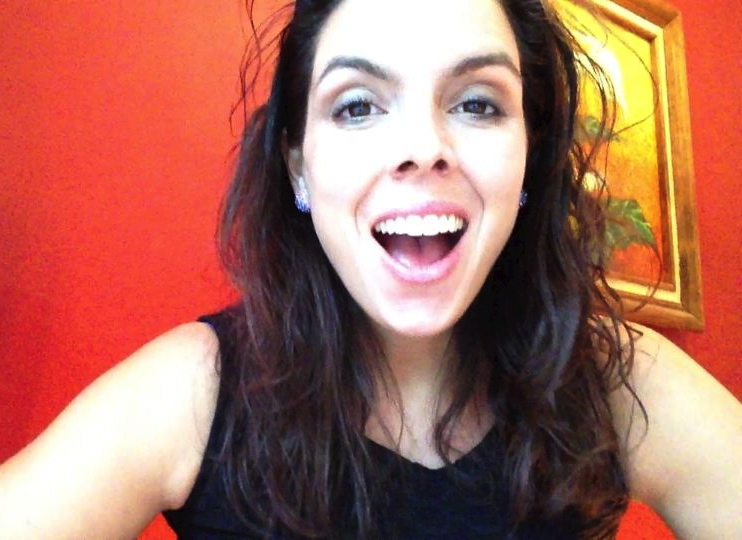 Gina Silvestri has an incredible story about how she has taken the leap into self-transformation, living by her intuition, creating her best life, being her best self, and believing that she is worth it!  Now she helps others believe that they deserve whatever goodness they desire too.  Read how she did it below…
Gina Silvestri // Canada // Life Coach Gina // Life-Coaching // 30s
---
WHAT MOTIVATED & INSPIRED YOU TO START YOUR BUSINESS?
Seven years ago, I weighed 300 pounds and had 17 official medical diagnoses on my doctor's record. I was literally on my death bed and needed to re-connect with my True Passion in order to stay alive.
TELL US ABOUT YOUR BUSINESS…
I guide people in training themselves to step into their Authentic Power + Keep their Spirits High creatively + consistently, so that they can manifest anything they want in life – more money, bodies they are happier with, more energy, less doctor visits, finding and keeping careers or starting/expanding their own businesses in which they are doing what they love, and loving what they do. I infuse all that I learned from serving the community for 18 years as a counselor into this and it brings me the most JOY I have ever known, and it just keeps getting better and better every day.
WHAT WERE THE FIRST FEW STEPS YOU TOOK TO GET YOUR BUSINESS UP AND RUNNING?
First was healing my body so my Spirit could shine through! Not everybody needs to lose weight or has physical ailments to heal, but if you do, it's helpful to take this step first. I learned how to make healthy food delicious and trained as a Raw Vegan Living Food Chef to support that intention. While I support all diets and lifestyles in my work, this really worked for me, so I offer this expertise to interested clients and followers too! The next step was learning the mindset strategies and energetic keys to really take my own life, and the lives of others around me, to the next level. To support this, I became certified in Reiki, an ancient Japanese healing modality that can be used even when the person is not physically present in front of you – we call these Distance Healing Sessions.
WHAT HAS BEEN THE MOST EFFECTIVE WAY OF RAISING AWARENESS OF YOUR BUSINESS AND GETTING NEW CUSTOMERS?
Social media, hands down. My Facebook following alone is over 10,000 (that I know of!). A blog helps people to connect more deeply to my work and gives people a sense of who I am too. When I lost 150 pounds in the first year, I started sharing everything I learned on a free WordPress blog site that grew in popularity very quickly. Videos are another great way to connect with and call in your "tribe" – the people you were meant to work with. I see client attraction as putting magnets out there everywhere – I like to think of them as pretty, swirling spirals in vibrant colours because this gets me (and my business clients) excited to get out there and create more of them! The magic secret? Be your True Self and let your light shine no matter what you are doing to get new customers.
WHAT HAVE BEEN YOUR BIGGEST CHALLENGES SO FAR WITH RUNNING YOUR BUSINESS?
Believing I was worth it. Worth the freedom. Worth feeling amazing all day long as I "work." Worth shining my talents. Worth investing in myself at every level – emotional, spiritual, financial, mental, social + physical – and providing the most luxurious life for myself possible, so I can then offer the BEST, most well-nourished ME to everyone in my personal and professional life.
HOW DID YOU OVERCOME THESE CHALLENGES?
You know when those little doors open in life, the ones that give you the feeling that you want to FLY right over all of your blocks and take a giant leap to act on creating your dreams right now? It was following those. I committed whole-heartedly to first uncovering and clearing anything standing in the way of me hearing my intuition, then I committed to doing *whatever it takes* to honour it. When it told me to stop the traditional way of working (the only way I knew how to start my business in) and go visit a certain cafe or call a certain woman I had met at a networking event, I did it, without questioning. This helped me embody authentic confidence. As soon as I believed I was worthy, the rest of the world did too. Then I opened to receive the nurturing, security, and abundance that is available to all of us in life, when we just allow it. My business tripled in the first 18 months, and continues to grow at the speed of light, which allows me to live a life that reflects the ABUNDANT, JOYFUL, CREATIVE, LUXURIOUS life that has always been, and will always be, my birthright – just as it is yours!
WHAT DO YOU LOVE ABOUT RUNNING YOUR OWN BUSINESS?
I love that it is an expression of who I truly am. I feel so humbled, honoured, and blessed to be able to ignite JOY, EMPOWERMENT, + INSPIRATION  in people every single day, and watch them spread, seed. and blossom them in their own lives too. Is there a greater gift in life?
WHAT ADVICE WOULD YOU GIVE TO OTHER ENTREPRENEURS?
Whatever you do, do it from a place of JOYFUL APPRECIATION. I would ONLY take action from this place, and invest the rest of my time ensuring I am in that INSPIRED vibration first. It's where the most amazing creations + relationships + effortless, healing of wounds takes place. I would also learn to shift out of vibrations that are anything but joyful appreciation quickly – I mean in under 10 minutes. The sign of a Master is not *whether* we are triggered or not in our daily lives – we are all human!- but how much time we spend in the trigger that has the potential to debilitate us. I used to spend years stuck in limiting vibrations that didn't reflect my true potential + worth before I learned the tools, strategies + techniques to shift out of triggers, + QUICK! Now, I'm proud to call myself a Master at it all, because I am consistently connected to the empowering Spirit inside each and every one of us. Activating + seeding inspired confidence, value + worth around to women everywhere across the planet is exactly what I was born to do.
HOW DO YOU KEEP MOTIVATED THROUGH DIFFICULT TIMES?
I connect to nature. Jump up and down on a trampoline until I am giggling. Draw hearts all over a piece of paper in pretty colors. Burn sage and scent the room with my favorite aromatherapy. Dip into the box I keep filling with testimonials and beautiful things people have said about me and written to me over the years. I reach out to my amazing team of mentors, coaches, and women I network with. I keep my cat close by (he purrs a lot!). I tune into the beautiful images, stones, and precious items in my surroundings. Most of all, I take a deep breath and remind myself that this is all temporary. That all is exactly as it is supposed to be in the now. That even "difficult" is an illusion, and I can choose to shift out of that perspective and into a new one immediately, so that I can give myself the comfort, nurturing, and exquisite self-care that I really need during those times.
DO YOU HAVE A BUSINESS PHILOSOPHY?
If not now, when?
When I face a big challenge I…
breathe, deeply.
My greatest fear is…
forgetting my True Brilliance.
The most courageous thing I've ever done is…
start my own Radio Show.
If I could go back in time to when I was 20 I would tell myself…
You are beautiful, exactly as you are – visit nature to have your beauty reflected back to you, to remind you, during times you can't see it.
I believe…
we all have infinite potential to live out any desire we can imagine and conjure up.
The biggest lesson I have ever learned is…
every moment holds a choice, an opportunity to make this the best life EVER!
My favourite business tool or resource is…
Skyping with my clients!
My favourite quote is…
"The wound is the place where the Light enters you."
-Rumi
---