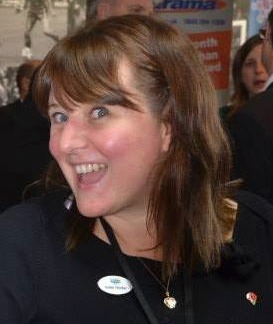 Katie Trinder and her sister Lucy overcame extraordinary hardships with a firm resolve to create a business that would bring joy into their lives. Read how they did it below…
Katie Trinder // England // Lucas at Work // Social Media / Training / Events // 30s
---
WHAT MOTIVATED & INSPIRED YOU TO START YOUR BUSINESS?
LuKas at Work is a business run by me and my sister Lucy. Our inspiration came from a desire to live our lives to the fullest. We both had jobs where we felt we were stagnating. Lucy had no real chance of progressing further and I found myself in a situation where I was becoming increasingly miserable, my workplace was not a happy or a constructive one. Our Mum died suddenly in 2010 and the impact it had on our lives was massive. In the space of 4 years, our Mum, Gran and 2 best friends had died and we'd both been the victims of two separate incidents of stalking. I think we just thought it was time we took control of our lives and did something that made us happy! We wanted to create a business that was fun to work in, that we were passionate about and where there were no limits!
TELL US ABOUT YOUR BUSINESS…
LuKas at Work is really always evolving and there are different strands. The main strand is social media – we manage accounts for clients, write blogs on their behalf and generally help them maintain an online presence in the most effective way for them. We also carry out social media training sessions, helping everyone from an old lady set up a Facebook account to businesses come to terms with why Pinterest may be of benefit.
LuKas at Play is just beginning to flourish. We have a vintage sweet cart that we rent out to events and we are also in the process of developing the event planning side of the business. Then there's a property side to the business. We currently have a couple of houses we rent out and have recently purchased a holiday rental. It's very much a portfolio business – no two days are the same and that's exactly what we wanted!
WHAT WERE THE FIRST FEW STEPS TO GET YOUR BUSINESS UP AND RUNNING?
The first few steps we took were deciding exactly what we wanted to do. We spent hours walking the dog planning exactly what we wanted to do. We then conducted some market research and started developing our website and lining up potential clients.
WHAT HAS BEEN THE MOST EFFECTIVE WAY OF RAISING AWARENESS OF YOUR BUSINESS AND GETTING NEW CUSTOMERS?
Well obviously we make full use of social media and blogging (practise what you preach!) Our blogs have attracted a huge amount of interest. In addition to writing the business blog, we also write our own and one of them has made the shortlist for the National Blogging Awards. We've also found word of mouth has helped us too. Lucy and I are always out chatting to people about what we do and word is gradually starting to spread. Doing a good job for clients speaks volumes too.
WHAT HAVE BEEN YOUR BIGGEST CHALLENGES SO FAR WITH RUNNING YOUR BUSINESS?
The biggest challenge is it just being the two of us, I am in the business full time and Lucy still works part-time in her other job. I think managing everything between us is difficult. I think a lesser relationship would have suffered, but Lucy and I can carry each other through when we have "down" moments.
HOW DID YOU OVERCOME THESE CHALLENGES?
Building a new business is tough and sometimes it's hard not to get too close to everything. If ever things feel like they're getting to be too much, an hour out the office with the dog helps clear the mind! Lucy and I talk constantly and if anything is bothering us, or we have a problem with something, we sort it out. Sounds really cliché, but honesty is the best policy!
WHAT DO YOU LOVE ABOUT RUNNING YOUR BUSINESS?
I love the freedom, the creativity and the unknown! As Del Boy once said, "I'll be happy if I can earn a penny more than I can spend." If LuKas at Work goes on to become a multi-million pound corporation, then brilliant, but if it just allows me to live a happy life doing what I love, then that's fine by me. I love being able to make my own decisions and see a project come to life. I also enjoy seeing clients reap the benefits of what we've helped them with. The training side of the business is important to us too – seeing people get their heads around the joys and benefits of social media and realising that no matter what they're age is, they can use it too!
WHAT ADVICE WOULD YOU GIVE TO OTHER ENTREPRENEURS?
My advice is don't just talk about it, do it! You'll know in your gut if it's the right thing for you to do. The worst thing that can happen is you fail and if that happens, you try again. You only need something to go right once!
HOW DO YOU KEEP MOTIVATED THROUGH DIFFICULT TIMES?
Lucy and I talk about any issues we have, we also make sure that we have fun in what we are doing, so once every 3 months, we take a total day off, go shopping, out for dinner, drinks and turn our phones off! Personally, getting out and walking the dog, going to the gym, or just watching my favourite film puts things into perspective.
DO YOU HAVE A BUSINESS PHILOSOPHY?
"If you do what you've always done, you'll get what you always got."
When I face a big challenge I…
smile and welcome it!
My greatest fear is…
being alone.
The most courageous thing I've ever done is…
quit my job!
If I could go back in time to when I was 20 I would tell myself…
you're stronger than you think.
I believe…
in what I'm doing.
The biggest lesson I have ever learned is…
don't let anyone ever make you feel bad for being you and my accent is just fine!
My favourite business tool or resource is…
social media.
My favourite quote is…
"Rules are there to be broken!"
---