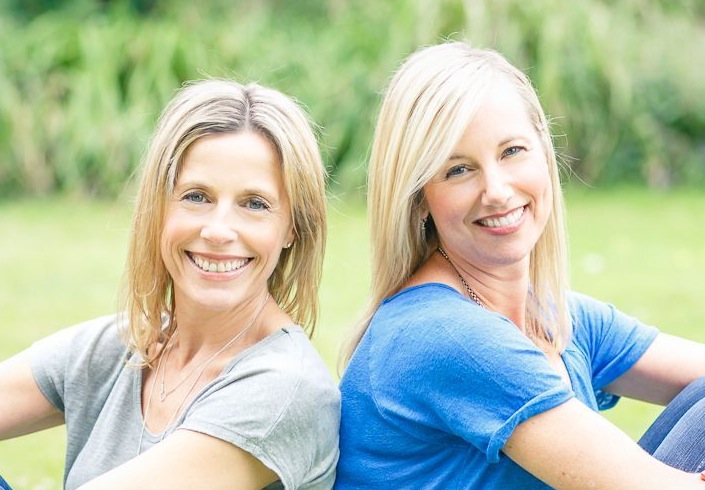 Two friends, Kelly and Suzie, teamed up to create a powerful website designed specifically for helping busy moms gain control and live more happy, fulfilled lives. Read how they did it below…
Kelly Pietrangeli & Suzie Shpaizer // UK & Spain // Project Me for Busy Mothers // Online Motivation // 40s
---
WHAT MOTIVATED & INSPIRED YOU TO START YOUR BUSINESS?
The concept of Project Me had been brewing for many years without us even realising it! We were living on the same street in London, meeting up regularly to support and motivate each other through the struggles of juggling motherhood with 'everything else.'  Five years ago, we did a Life Coaching for Mums course and life really turned around. We set goals, became organised, started to prioritise and got to the bottom of problems before they had time to fester and grow. We wanted to share our tools and resources with other mums and began writing a book called Project Me for Busy Mothers.
TELL US ABOUT YOUR BUSINESS…
Our website, Project Me, helps mothers navigate their way around obstacles that stand in the way of happiness and fulfilment. It's easy to put so much focus on some parts of your life that you completely drop the ball on other things. Project Me is a destination where mothers can go straight to the life area where they need some inspiration and then print out an Action Sheet to get clear about what they need to do first. We have a Life Wheel Tool for finding focus fast and everything is designed especially for busy mothers. Soon we'll be creating paid products and courses based on the specific feedback we're getting on common struggles.
WHAT WERE THE FIRST FEW STEPS YOU TOOK TO GET YOUR BUSINESS UP AND RUNNING?
In March 2013 we made the decision to scrap our book idea and turn it into a website. We enrolled in Marie Forleo's B School for a 6 week crash course in running an online business. From there, it was full steam ahead – hiring someone to build our website, setting up our Facebook page and building a pre-launch buzz. At the same time we had a massive amount of work to do in chunking our book down into helpful blogs so they could fit into 8 Key Life Areas. We were finally ready for launch in September 2013.
WHAT HAS BEEN THE MOST EFFECTIVE WAY OF RAISING AWARENESS OF YOUR BUSINESS AND GETTING NEW CUSTOMERS?
We've always viewed Project Me globally. Kelly's American and Suzie's British. Rather than printing leaflets or buying advertising, we hang out online where our ideal customers hang out. We build genuine relationships with other online businesses aimed at mothers, sharing each other's posts, guest blogging and giving each other shout-outs on social media. It's been amazingly effective for getting the Project Me word out and, although we're based in Europe, we have loyal visitors from all over the world.
WHAT HAVE BEEN YOUR BIGGEST CHALLENGES SO FAR WITH RUNNING YOUR BUSINESS? 
Because Project Me is aimed at busy mothers, it's sad to see women who are just too busy to press the pause button and use all of the great resources we've designed especially for them. Too many women are so deep in firefighting mode that they're unable to step back and figure out ways to make it all easier. We want to scream 'That's what Project Me is here for!' It's hard sometimes to reach the very women who would benefit the most from what we're offering.
HOW DID YOU OVERCOME THESE CHALLENGES?
We haven't yet! Sometimes people have to reach breaking point before they realise they need to do things differently. We hope women find Project Me well before that point. It's like preventative medicine. Getting into good habits, creating fresh mindsets and sorting out niggles before they fester and spread into other areas of life.
WHAT DO YOU LOVE ABOUT RUNNING YOUR OWN BUSINESS?
Not having a boss. Taking time off whenever we want. Flexibility around all of our other commitments and goals. Since the core of our business is about keeping a happy balance across all areas of life, we are forced to walk the talk! The wonderful news now is that a top London literary agent loves Project Me and wants to make it into a book. We've come full circle!
WHAT ADVICE WOULD YOU GIVE TO OTHER ENTREPRENEURS?
Never try to figure stuff out in your head. Write it down and switch your brain into problem solving or planning mode. When you feel stuck, seek help and inspiration online – it's an infinite source of information. Tap into it! Never be shy about picking brains either. People are happy to help and there's always someone who had to overcome the same hurdle you're trying to get over.
HOW DO YOU KEEP MOTIVATED THROUGH DIFFICULT TIMES?
We've created a 'Buzz File' of the wonderful feedback we get from mothers all over the world. We get amazing emails about our Life Wheel Tool which gives them the perspective they need to get into the drivers seat and start making changes to make themselves happier. Reading through the Buzz File is hugely motivating! We're also lucky that we have each other. Our business was built on our supportive friendship and we remain each other's greatest support system. Sometimes a work meeting morphs into personal counselling session- and that's ok!
DO YOU HAVE A BUSINESS PHILOSOPHY?
To be approachable, friendly and hugely motivational. Like two great girlfriends who are here to cheer you on with your personal goals. We're all about inspiring mothers to stop complaining about it and DO something about it.
When I face a big challenge I…
Kelly: Put on my big girl panties and figure it out!
Suzie: Call Kelly. ;)
My greatest fear is…
Kelly: Numbers! I have number dyslexia and they really freak me out.
Suzie: Sleeping in an empty house at night – I still have to check behind doors and in cupboards….
The most courageous thing I've ever done is…
Kelly: Having a home birth when I was outrageously frightened of childbirth and had wanted a caesarean. (It turned out beautifully.) Suzie: Call it a day on my first marriage when I had two very young children.
If I could go back in time to when I was 20 I would tell myself…
Kelly: Don't listen to the mean girls! Peace, not drama.
Suzie: Do what YOU want to do!
I believe…
Suzie: That the most important thing is love.
The biggest lesson I have ever learned is…
Kelly: The power of having clear written goals, knowing where I want to go and steering myself there.
My favourite business tool or resource is…
Kelly: Evernote (or Trello or Google Drive or Facebook….).
Suzie: Trello (or Skype or Evernote or Google Drive….)
My favourite quote is…
Kelly: "If you can't be kind, be quiet." – unknown
Suzie: "The point of life is happiness." – Dalai Lama
---