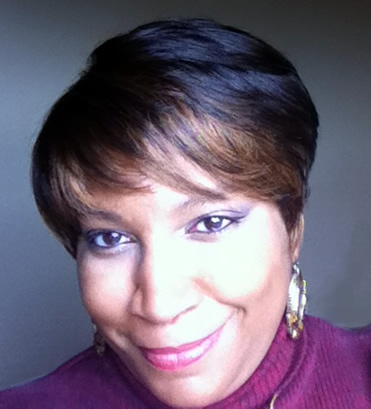 Y'von Hawkins wanted to be a stay-at-home mother for her daughter instead of sending her to daycare. She's accomplished this goal by building a successful AVON business . Now she's free to live life on her own terms and be with her family while she helps others on her team brand themselves and create more freedom in their own lives as well.
Y'von Hawkins // USA // Embrace Your Tomorrow // Beauty // 40s
---
WHAT MOTIVATED & INSPIRED YOU TO START YOUR BUSINESS?
After serving as a non-commissioned officer in the U.S. Army during Desert Storm, I came home and began working in different companies. I've held positions ranging from Admin Assistant to Department Manager for Target before my family and I finally settled in N.C. I took a position as an Executive Assistant to a prominent doctor who was Vice-President of Medical Education in the area. I enjoyed the job very much but just never felt satisfied. I began my business in 2009 as a hobby. Six weeks later, I found out I was pregnant. A year after her birth, my daughter became ill from an illness that had taken over her daycare—RSV or Respiratory syncytial virus. My then hobby became my savior enabling me to work from home and care for my daughter instead of sending her back to daycare.
TELL US ABOUT YOUR BUSINESS…
To be honest I started my business because I had a bad experience with another representative. I figured I could do what she did and obtain a discount on my mascara and eyeliner, while selling to the occasional friend or co-worker. I've been in business now as an Independent AVON Representative for four years and a member of the Leadership team for two years. I spend my days party planning, working with clients one-on-one providing for their beauty needs, and coaching other representatives in the art of creating and maintaining their own successful business. I also participate in business expos – networking with other female small business owners to raise awareness of the possibilities of entrepreneurship. I recently created the brand, "Embrace Your Tomorrow". Even though I represent AVON as an independent representative, I run my business through self-branding and teach my team the importance of branding oneself to further their business.
WHAT WERE THE FIRST FEW STEPS YOU TOOK TO GET YOUR BUSINESS UP AND RUNNING?
One of the first things I did was get my name out to the masses by any means necessary. I did mass mailings, brochure tossing, and a massive amount of tailgating. I marketing my business anywhere I was allowed. Then, I embraced social media. No matter what business you're in, you need an online presence. I realized that all the hard work I was doing on foot, I could easily do from the comfort of my home. I could gain access to potential clients all over the globe, not just in my backyard.
WHAT HAS BEEN THE MOST EFFECTIVE WAY OF RAISING AWARENESS OF YOUR BUSINESS AND GETTING NEW CUSTOMERS?
As mentioned prior, social media has been one of the main assets to my business. However, in the past year, my business has grown simply through networking with other small business owners. I have managed to  connect with business I may otherwise never had the chance. Networking with others in brainstorming sessions and business building also assist with exposure to a larger array of clientele.
WHAT HAVE BEEN YOUR BIGGEST CHALLENGES SO FAR WITH RUNNING YOUR BUSINESS?
The economy. Being a part of the sales industry, you have to roll with the punches. There are highs around the holidays, and lows at the beginning of the year. The same clients do not buy from me with every campaign, so you have to learn how to supplement the down-time with other ventures. You have to know your clientele and their needs in order to be successful in this business.
HOW DID YOU OVERCOME THESE CHALLENGES?
If the economy is the challenge, then I offer a fix to the issue. I've helped members of my team to supplement their present revenue stream by creating their own business. The thing to remember when working this way is to help them get what they need. What I need is irrelevant. I team up with my team to put together events that will cause no extra strain to our pockets during the down-time. Building an online clientele takes a big bite out of the challenge. Having income coming in online, while working my business locally, is an immense asset.
WHAT DO YOU LOVE ABOUT RUNNING YOUR OWN BUSINESS?
What I love most about my business is the fact that my child hasn't had a sick day other than the common cold in two years. I have the time to do what I wish to do with my family when we want to do it. I don't have to ask or submit a request for time off. I also love being able to give this power to others. Empowerment and confidence is a wonderful thing to have, but unfortunately not everyone I meet possess these qualities. Nothing pleases me more than to meet someone who's favorite words are, "I can't" and see those words turn into, "I can. I will, and no one is going to stop me!" As an U.S. Army vet, I accept no less for myself, and will work to achieve the same in anyone who desires it!
WHAT ADVICE WOULD YOU GIVE TO OTHER ENTREPRENEURS?
Have a dream, and don't let anyone tell you it isn't possible. Realize you don't have to settle because they did. Surround yourself with strong people who possess the same drive and potential as yourself. I mean people who don't and won't except excuses. People who will push and support you when needed. Never give up on getting the success you want and deserve.
HOW DO YOU KEEP MOTIVATED THROUGH DIFFICULT TIMES?
I visit my thoughts on why I do what I do—my family. I also have a great business support team that keeps me going. I set a rule for myself. I get 24hrs to have my pity party. The next day, it's business as usual with an even more determined drive. I don't allow myself to quit. I'm the mother of three daughters and the wife of an indomitable man. There is no way in this world I'd give up and be seen as a quitter in their eyes. Outside of that, I have a team that looks to me for guidance. As part of my military leadership I was trained to lead by example and I continue to live by that same creed in my civilian life.
DO YOU HAVE A BUSINESS PHILOSOPHY?
I have many philosophies I live by, but one of my favorite quotes from Bruce Lee pretty much sums up my business and personal philosophy: "Always be yourself, express yourself, have faith in yourself, do not go out and look for a successful personality and duplicate it." I will be successful in my own right. I don't measure my success by other's achievements. What I accomplish, and share with others is what is important, and in their success, I will see my own.
When I face a big challenge I…
face it head on!
My greatest fear is…
failure in my daughters' eyes.
The most courageous thing I've ever done is…
serve my country as a U.S. soldier.
If I could go back in time to when I was 20 I would tell myself…
stand up on your own. You can do better by yourself.
I believe…
that when the road gets tough, you should kick it in the teeth, and drive on.
The biggest lesson I have ever learned is…
the more you listen, the more you learn, and the more you learn the more you listen.
My favourite business tool or resource is…
The WORLD WIDE WEB and Linkedin!
My favourite quote is…
"No one can make you feel inferior without your consent." Eleanor Roosevelt
---