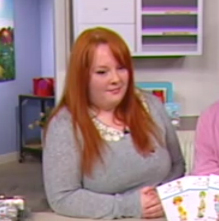 After being made redundant, Sarah Hurley decided to do what she loved and launched her own range of craft products that she distributes worldwide. Read how she did it below.
Sarah Hurley // UK // Sarah Hurley // Creative // 30s
---
WHAT MOTIVATED & INSPIRED YOU TO START YOUR BUSINESS?
I had recently been made redundant, had fallen ill, suffering with depression and was feeling very sorry for myself. I had no idea what I wanted to do next but I knew that I wanted to love it and I wanted to wake up every morning excited for the day ahead. I knew I didn't want my life to be the way it was and that I had to take a positive step to get things moving in the right direction!
TELL US ABOUT YOUR BUSINESS…
I'm lucky enough to have my hobby as my business. I design craft and gift products for others and for my own brand of products. I illustrate for lots of different things, present on a shopping channel, and I'm writing a book – it keeps me very busy!
WHAT WERE THE FIRST FEW STEPS YOU TOOK TO GET YOUR BUSINESS UP AND RUNNING?
I started my business with just £40 in the bank, I had nothing to lose – a huge benefit I didn't appreciate at the time! I had previously illustrated some papers to use in my craft projects and one Friday afternoon, in a bout of courage, I sent them off to the shopping channel to see if they had any interest in me selling my products (not yet designed!) on there. The following Monday morning I had a phone call from the channel who saw some potential in my designs and wanted to discuss things further, within 2 weeks I was in to meet with buyers and screen test and, within a month, I was on live TV having designed my first two products!
WHAT HAS BEEN THE MOST EFFECTIVE WAY OF RAISING AWARENESS OF YOUR BUSINESS AND GETTING NEW CUSTOMERS?
Social media has been amazing to reach out to fellow crafters, sharing my projects and products via TV and magazines is fantastic but social media allows me to connect one on one with customers and find out exactly what they want and get feedback on my products and projects as I go
WHAT HAVE BEEN YOUR BIGGEST CHALLENGES SO FAR WITH RUNNING YOUR BUSINESS?
Having so many ideas is always a challenge, I want to do everything at once! but I was equally determined to grow my business organically with no debt. Growing so fast has also been a huge challenge – I've had to learn quickly!
HOW DID YOU OVERCOME THESE CHALLENGES?
In terms of growing the business organically, I started small and invested everything I could straight back in for the first year. We pulled in our belts, sold anything we no longer needed and just went for it! With the fast growth, I've coped by asking questions, I'm not afraid to say if I don't know something and ask an expert. I know lots of small business can find that intimidating, but that's what they are there for!
WHAT DO YOU LOVE ABOUT RUNNING YOUR OWN BUSINESS?
The freedom to shape my own future – I never would have gotten this variety and opportunity with a standard job. Now I can do anything I want – no limits!
WHAT ADVICE WOULD YOU GIVE TO OTHER ENTREPRENEURS?
Don't give up – it might not happen the way you pictured it, but that doesn't mean it can't happen at all – keep your plans flexible, take every opportunity that comes your way and be grateful for them all. Don't allow negative people to pull you down; if they are talking about you, you must be doing something right!! Also, never take no for an answer – it doesn't really mean "no" – just "not yet"!
HOW DO YOU KEEP MOTIVATED THROUGH DIFFICULT TIMES?
We all have bad days, I certainly do! I try to take a break, walk away and remind myself of the big picture. It's not always easy, but nothing worth having ever is.
DO YOU HAVE A BUSINESS PHILOSOPHY?
Be kind, be brave, work hard and always do your best.
When I face a big challenge I…
put the kettle on!
My greatest fear is…
it could all end tomorrow.
The most courageous thing I've ever done is…
take that first step with no idea how it would all end up.
If I could go back in time to when I was 20 I would tell myself…
it will all be OK, have faith.
I believe…
everything happens for a reason – it's not always obvious at first, but you'll see why soon.
The biggest lesson I have ever learned is…
never let anyone else have control of your future or your happiness.
My favourite business tool or resource is…
my phone – it connects me to everything!
My favourite quote is…
"Fortune favours the brave."
---