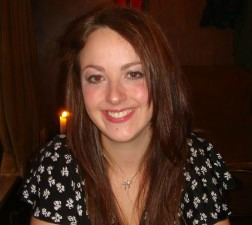 When a random acquaintance recommended copywriting to her, Roxanne Wells took advantage of the opportunity to make money with this service even though she had never heard of copywriting before. Now she has a full-fledged business as a copywriter with a team of people working with her and a life that has balance and freedom to be a mom to her three children as well. Read how she did it below…
Roxanne Wells // UK // Love Words Copywriting Ltd // Copywriting // 30s
---
WHAT MOTIVATED & INSPIRED YOU TO START YOUR BUSINESS?
After having my third son, I was feeling a little lost. I'd written creatively for years – with some success but not enough to live on – and worked in the media (which didn't go well with young children), and I was looking for a new direction. Something that I could fit around the kids, that allowed me to be creative and write, but that paid (yes, I know, a big ask!). Amazingly, by complete chance, a random acquaintance recommended copywriting to me. I'd never even heard of copywriting, let alone studied or had any experience in it, but she got me a trial working for an agency and, once I'd winged my way through my first few projects, I was wondering why I hadn't been doing this for the last ten years! As is often the case, I saw that there was nothing stopping me from doing what I was doing as my own boss – but I'll always be indebted to that virtual stranger who took the time to encourage me and set me on this path. I try to remember that and pay it forward when I can.
TELL US ABOUT YOUR BUSINESS…
Love Words sort of evolved quite naturally. I was freelancing as a copywriter and wanted a website and business presence that wasn't just trading on my name. The business undertakes a variety of different branches of copywriting including brochure copy, website copy, SEO, blog copy, advertorial content, product descriptions, press releases and more. I also write and edit lifestyle content. In the beginning, it was just me, myself and I, but I now have a team of four other writers who I'd be lost without. They all have their own area of expertise and individual strengths, and all work flexibly around children and other commitments. It's nice to have other people to chat to and bounce ideas off too!
Love Words writes across a very broad range of subjects but I seem to have found something of a niche in the travel industry. Very early on,  I managed to land a project for a major holiday tour operator – thanks to my experience in magazine travel writing and a dash of good luck! Now I write a huge volume of content for them, across 10 different brands, including print and digital copy. I also regularly write about business, fashion, food, days out and entertainment – meals out, tickets to shows and attractions and even holidays are all very nice perks of the job! But it's not all glamour. I remember a particular job writing about how to prevent varicose veins! I also had one very interesting job early on writing product descriptions for a rather racy website. I like to keep it varied!
After three years freelancing, I recently formed Love Words into a LTD company – which was a huge and scary step for me as it seems so official and grown up! Building the business to this point, however, feels like a huge achievement and I'm excited for the next chapter!
WHAT WERE THE FIRST FEW STEPS YOU TOOK TO GET YOUR BUSINESS UP AND RUNNING?
In the early days, alot of my time was spent looking for clients. I started off responding to calls for copywriters on freelancer sites like People Per Hour and Elance and then, once I grew in confidence, began approaching businesses directly. One of my early 'speculative' contacts was a large bus travel company. I arranged a meeting with the directors to show them what I could do for their business, and how I could assist in moving their brand forward. They offered me a rolling retainer contract and I still work as their main copywriter now – just one example of when being brave really paid off for me.
WHAT HAS BEEN THE MOST EFFECTICE WAY OF RAISING AWARENESS OF YOUR BUSINESS AND GETTING NEW CUSTOMERS?
Without a doubt, the most effective way of getting new customers for me is to do an excellent job for the old ones. At least 80 per cent of my business has come through word of mouth recommendations – clients recommend me to their colleagues, or they move on to a different company and take me with them! I don't advertise, and the proportion of enquiries I get through my website is small – it can be difficult to get business when you're asking people to trust an unknown 'virtual' presence. My business has grown very naturally though onward recommendations, and the best way to get them is to make sure that I offer a fantastic service every time.
WHAT HAVE BEEN YOUR BIGGEST CHALLENGES SO FAR WITH RUNNING YOUR BUSINESS?
Time management is an ongoing challenge for me. I started copywriting not long after I'd had my third son – so throw a baby, a four year old and a five year old into the mix and you're going to find that there's never enough hours in the day. I can't lay all the blame at their door though! Working from home (and with no boss looking over your shoulder) means that the temptation to Facebook, chat and buy far too many dresses online is hard to resist! In a similar vein, knowing when to call it a night is a skill I've had to (slowly!) learn. The last three years have meant many nights sitting at the computer at 10, 11, 12pm, and many weekends spent working through. It's only recently that I've let myself take the foot off the pedal more.
HOW DID YOU OVERCOME THESE CHALLENGES?
I think letting go of some aspects of control is a real hurdle, but once I'd learned to trust others to help me, it really relieved a lot of pressure. Taking on additional writers was a turning point, and now I've settled into more of a managerial role. I've had to accept that just because I'm not physically writing 12 hours a day doesn't mean that I'm not working! Working, and even just living, to the point of exhaustion also woke me up to the fact that taking time to rest is not a WASTE of time. Any working mum will relate to the feeling of having to be 'superwoman' – and because I felt guilty about working I would cram my time not working with activities with the kids, housework, cooking – basically cramming in everything I would do in a day when I wasn't working, as well as doing a more than full-time job. Scaling back, or getting help, with everything – from my housework to my accounts – has made a huge difference and allowed me to concentrate on my top priorities, the boys, the business and, not forgetting, myself.  Now I have weekends and some evenings off. Plus, I reduce my workload as much as possible during the school holidays so that I can enjoy time off with the kids. Having a team around me that I trust allows me to do that, so I'm careful to appreciate and nurture that – remembering that it's a two way street.
WHAT DO YOU LOVE ABOUT RUNNING YOUR BUSINESS?
I love most aspects of running my own business. First and foremost is the flexibility that I have. I never have to worry about missing a sports day or a nativity or a show-and-tell day at school. I set my own timetable and that's a freedom that's completely priceless when you have children. Of course, I love not having a 'boss' to answer to – being able to come up with my own ideas and solutions both for clients and for the business. I've grown in confidence immensely in the past three years and that's due to throwing myself in the deep end and realising that I actually can swim! I get a huge amount of job satisfaction from delivering consistently for clients and seeing that they are happy with the work that we do. Getting great feedback or a recommendation is a brilliant reward, and motivates me to continue working hard to keep standards high. Because I have children, it feels important to me to pass the message to my boys that women work, that women can run businesses, that women can be successful and have worth outside of being mum or keeping a tidy house. I feel that I have a good balance between my identity as a mum and my identity as an individual, and that makes me happy.
WHAT ADVICE WOULD YOU GIVE TO OTHER ENTREPRENEURS?
Be brave. I've spent a lot of my life doubting myself but courage is like a self-fulfilling prophecy – it creates confidence! Look for opportunities and grab them. Studies show that 'lucky' people are the ones that have their eyes open for opportunities at all times. Things might not always go their way, but you've got to be in it to win it, right? I also think it's so important to do what you love and love what you do. To really be motivated to give a business what it needs to succeed, you need to enjoy the hours spent at that desk!
HOW DO YOU KEEP MOTIVATED THROUGH DIFFICULT TIMES?
If I'm having a bit of a motivational slump, I remind myself how far I've come. I think we're all a little bit scared to say 'we've done a brilliant job' because it can seem boastful, but I'm a firm believer in the power of a pat on the back. Looking back on my journey, and reminding myself how hard I've worked to get to this point, and how much I love what I do, really spurs me on to keep working hard, to keep creating opportunities and to keep growing!
DO YOU HAVE A BUSINESS PHILOSOPHY?
Doing a brilliant job is the key to success in business. Whatever you do, if you do it well, your business will grow naturally. Everyone makes mistakes, but putting the effort in to correcting them is crucial. I also believe in being myself. I don't put on a different persona for clients or colleagues. I'm just me and I'm not scared to put personality into my relationships. I think letting go of the 'school of business' airs and graces allows the people you are working with to relax and communication then feels a whole lot more natural and productive.
When I face a big challenge I…
Focus.
My greatest fear is…
letting people down.
The most courageous thing I've ever done is…
gone LTD!
If I could go back in time to when I was 20 I would tell myself…
to be brave.
I believe…
in balance.
The biggest lesson I have ever learned is…
to trust.
My favourite business tool or resource is…
iCal, notes, workflowy, dropbox – apple makes my life easier but I also love a good handwritten to-do list!
My favourite quote is…
"Dream it, believe it, work hard and achieve it!"
– X-Factor's Chico!
---