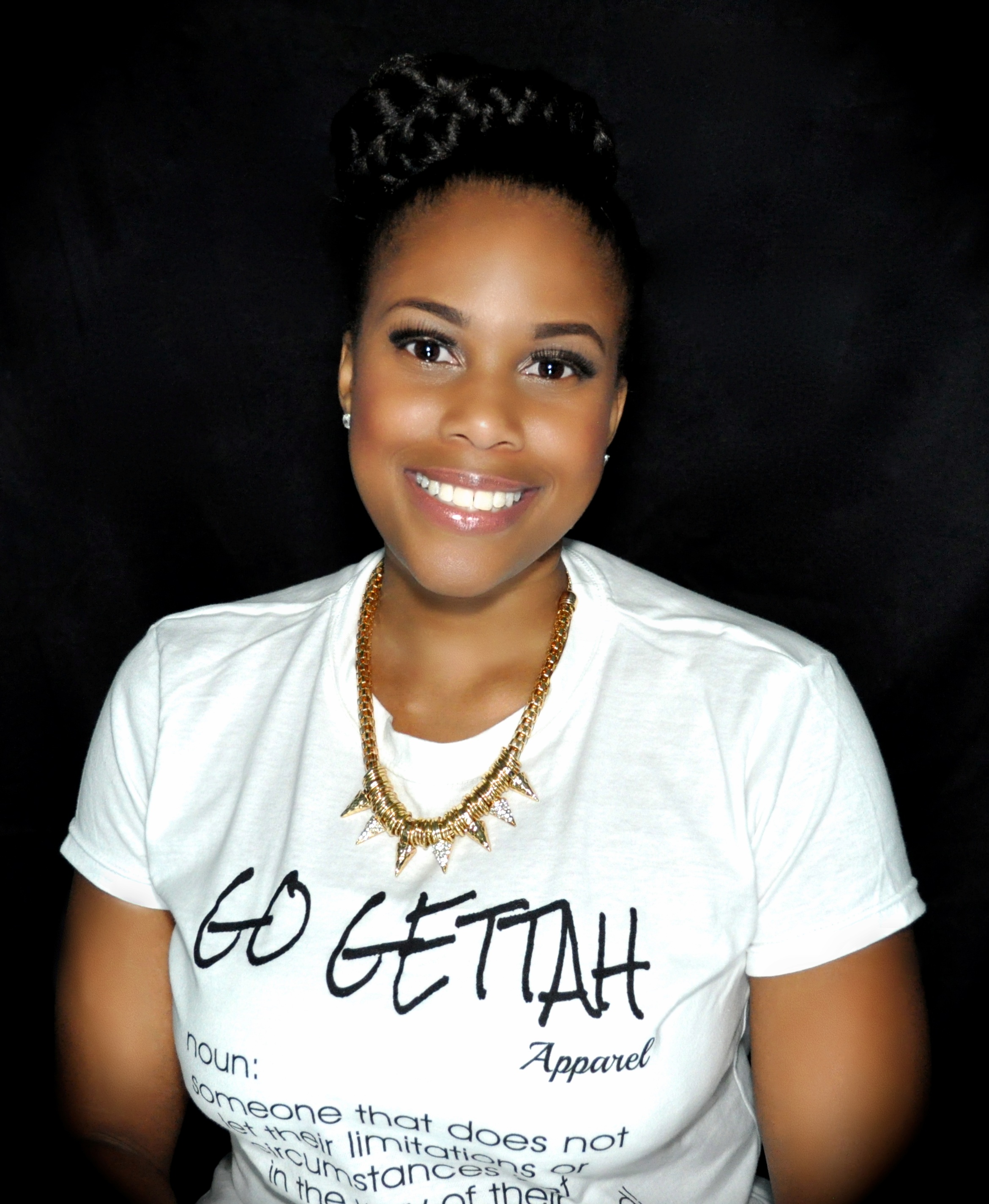 Evelyn Richardson is a single parent who was born with spina bifida and learned early in life how to not let her circumstances limit what she could do. Her "anything is possible" attitude and testimony is the power behind her Go Gettah Apparel business. Read how she did it below…
Evelyn Richardson // USA // Go Gettah Apparel // Apparel // 20s
---
WHAT MOTIVATED & INSPIRED YOU TO START YOUR BUSINESS?
I was talking with a friend and we just jokingly said, "We can have us a clothing line…lets do it!" I said OK, so I began to brainstorm and came up with GO GETTAH. Then a little later, I came up with the following definition: "Someone who does not let their limitations or circumstances get in the way of their determination to succeed."
My friend was off doing things for himself already, so I said to myself, "Even if we don't do something together, this defines my story/testimony."  What inspired me was my son and wanting to be able to build a foundation for him that he can have when he gets older. What motivated me was seeing people around me who were not afraid to take that leap of faith and make things happen.
TELL US ABOUT YOUR BUSINESS…
My name is Evelyn – "Eve" for short.  I am a single parent of a handsome, wonderful little boy, Nehemiah. I was born with Spina Bifida, a Neural Tube Defect. From birth, I never let anything stand in my way or stop me from what I wanted to do. Since I couldn't walk, I crawled and BOY! was I fast.  Since I couldn't run, I hopped. I taught myself how to swim and how to ride a bike.   I graduated from college with my BA. I've never been without anything that I needed. It may not have been what I wanted, but I am blessed.
My life story, struggles, limitations, etc. is how "Go Gettah" came about. I KNOW I am a "GO GETTAH". No matter my disability, no matter that limitation, no matter being a single parent or circumstance, "shout out to the mothers and fathers raising their kids on their own."  Yes, I have a physical disability and I am limited with doing stuff, but I do not let that get in the way of my success or happiness. I am determined to succeed for my son and everyone who said I couldn't do it and for those who need a role model or an example to look up to. This is my testimony, and I am here to share with whomever is willing to listen.   We all have the potential to be a GO GETTAH but who can say " I AM A GO GETTAH!"
WHAT WERE THE FIRST FEW STEPS YOU TOOK TO GET YOUR BUSINESS UP AND RUNNING?
I planned for 6 months and I saved up my disability checks to purchase inventory. I reached out for help to a family member on how to make my dreams a reality. I believed in myself and trusted in God, so I told everyone (even before I had inventory) that GO GETTAH Apparel was coming soon.
WHAT HAS BEEN THE MOST EFFECTIVE WAY OF RAISING AWARENESS OF YOUR BUSINESS AND GETTING NEW CUSTOMERS?
Being a vendor at events and being given the opportunity to speak and share my story/testimony.
WHAT HAVE BEEN YOUR BIGGEST CHALLENGES SO FAR WITH RUNNING YOUR BUSINESS?
The biggest challenge I have faced this far has been raising awareness of my business. I have reached only so many through events and social media.
HOW DID YOU OVERCOME THESE CHALLENGES?
I don't get discouraged. I remain calm and remind myself that I have not even been in business for a year and I have made great progress and met a lot of nice people along the way. I plan to submit my story/testimony to more places and be a part of as many events as I can.
WHAT DO YOU LOVE ABOUT RUNNING YOUR OWN BUSINESS?
I love the fact that I can be my own boss and set my own schedule, which allows me to not need a babysitter and take my son with me wherever I need to go.
WHAT ADVICE WOULD YOU GIVE TO OTHER ENTREPRENEURS?
You have already been given the power to achieve whatever you set your mind to. It may not be easy, but you can do it, I am a walking testament to that. When business is slow, look at it as a chance to get organized for the big flood of business that will be coming shortly.
HOW DO YOU KEEP MOTIVATED THROUGH DIFFICULT TIMES?
Prayer and knowing that if I give up, I am not just giving up on my myself but on my son and whomever else my story/testimony can help.
DO YOU HAVE A BUSINESS PHILOSOPHY?
"I can do all things through Christ which strengthen me." Philippians 4:13 -that's my motto.
When I face a big challenge I…
give it to God!
My greatest fear is…
I have none
The most courageous thing I've ever done is…
started my own business
If I could go back in time to when I was 20 I would tell myself…
get ready, you're going to be the BOSS one day!
I believe…
that we all have the potential to be successful!
The biggest lesson I have ever learned is…
no matter what hard times I face, God is always there with me and they too shall pass.
My favourite business tool or resource is…
my cell phone – it's how I network.
My favourite quote is…
"NOTHING IS IMPOSSIBLE, THE WORD ITSELF SAYS 'I'M POSSIBLE'"
Audrey Hepburn
---