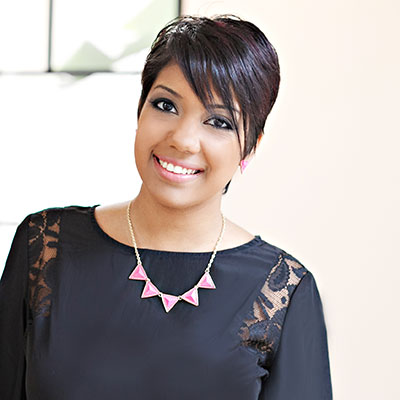 Darling Castaneda has a passion for empowering others to build businesses that embrace all of their ideas, talents, and passions.  Her commitment to authenticity is at the core of how she runs her business. Read how she did it here…
Darling Castaneda // USA // Darling Castaneda // Coaching & Web Design // 20s
---
WHAT MOTIVATED & INSPIRED YOU TO START YOUR BUSINESS?
What really motivated and inspired me to start my business was that I was my own client. I wanted to share my story and lead the way to help others achieve their dreams and aspirations while also providing services that would aid in their development.
TELL US ABOUT YOUR BUSINESS?
I am a Strategic Brand Visionary. I assist those who have amazing ideas, talents and passions but don't know what to do with it. They toss and turn all night long wanting to do SO MANY THINGS that they don't even know how it makes sense to them. So I help them hit a breakthrough moment by giving them motivation, inspiration, perspective and helping them come up with one solid concept with ALL of the ideas and talents they have. From there, I help them visually brand their business from name, tag line, color palettes, logo design, web design and beyond. It's truly the ultimate must-have for a start-up or even before starting up!
WHAT WERE THE FIRST FEW STEPS YOU TOOK TO GET YOUR BUSINESS UP AND RUNNING?
The first steps were going through the steps myself! I have been there, I know what that feels like and it took a long, hard journey of knowledge to get to where I am today. So the first step was finding the formula to get to the breakthrough. The second step was helping others achieve it, and the third was telling the masses of the success. Everything fell right into place from there.
WHAT HAS BEEN THE MOST EFFECTIVE WAY OF RAISING AWARENESS OF YOUR BUSINESS AND GETTING NEW CUSTOMERS?
Word of mouth. I can honestly say that I haven't done enough marketing as I probably should for my business. That WILL change in 2014! However, my business boomed quickly through word of mouth. Results speak!
WHAT HAVE BEEN YOUR BIGGEST CHALLENGES SO FAR WITH RUNNING YOUR BUSINESS?
My biggest challenge is the fact that with success comes responsibility. I have had to literally MICROMANAGE myself in order to organize my business and balance it with my life. I'm a mother of two young children – one is 5, the other is 2, so life can go nuts if you don't have a good hold on it. It's a lesson that keeps on teachin'.
HOW DID YOU OVERCOME THESE CHALLENGES?
I overcame these challenges through one word: Accountability! My husband is great at holding me accountable and micromanaging me when I need it. I also took advantage of the amazing apps and systems out there built for people like me who need to have everything CLEARLY organized in order to function.
WHAT DO YOU LOVE ABOUT RUNNING YOUR OWN BUSINESS?
What I love about running my own business is not only the freedom and control that it gives me over my own life but the benefits I reap through the nature of my business. I get to help people do BIG THINGS. Every single day, with every single client, I am a part of something big. That feeling is amazing. Feeling accomplished and in control of my own life: BEST. FEELING. EVER.
WHAT ADVICE WOULD YOU GIVE TO OTHER ENTREPRENEURS?
What you really want is on the other side of that huge obstacle. Every single time, it never fails. Push harder and never ever give up!
HOW DO YOU KEEP MOTIVATED THROUGH DIFFICULT TIMES?
I got back to my "why." Why am I doing this to begin with? THAT keeps me motivated. Another thing that keeps me motivated is my clients and the amazing things that I am helping them accomplish. It's a beautiful thing and I wouldn't give it up for the world. I always remember, "This difficult time is only going to bring me to better heights. Let's do this!"
DO YOU HAVE A BUSINESS PHILOSOPHY?
PASSION AND AUTHENTICITY. That's what it is all about to me. I believe that being truthfully passionate about what you do and why you do it will build the very core of any business. I also believe that being authentic about who you are is priceless in an individual or company.
When I face a big challenge I…
stop, breathe, think and follow my intuition.
My greatest fear is…
leaving this world without changing lives.
The most courageous thing I've ever done is…
be myself and ignore the outside voices.
If I could go back in time to when I was 20 I would tell myself…
follow your heart, forget what they say.
I believe…
that absolutely anything is possible if you simply look within your own passions, abilities, talents and self.
The biggest lesson I have ever learned is…
that I cannot please EVERYONE. There is somebody for everybody but not everybody is for me.
My favourite business tool or resource is…
AcuityScheduling, iCal, honestly anything and everything that Apple has for business owners is stinkin' genius.
My favourite quote is…
"The only way to do great work is to love what you do."
– Steve Jobs
---