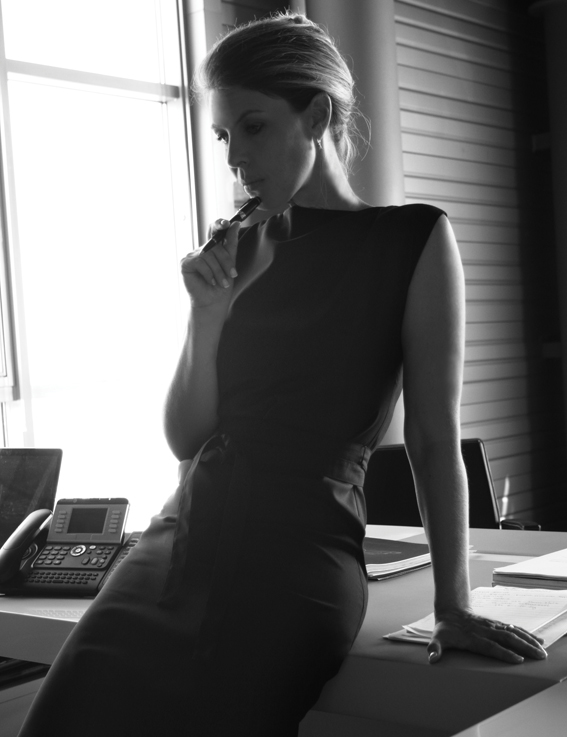 Anna Moody was crystal clear on her business idea: make stylish, well made clothes at affordable prices for women. Her story shows that when you are resolute about what you want to achieve, then even obstacles turn into blessings, because nothing can stand in your way when you flat refuse to quit. Read how she did it below…
Anna Moody // UK // British Brazilian //  Business Women Clothing // 40s
---
WHAT MOTIVATED & INSPIRED YOU TO START YOUR BUSINESS?
Expensive brands use good fabrics and designs but incorporate very expensive marketing campaigns which can add a tenfold price increase for the consumer! At the other end of the scale are cheaper brands that mass produce in sweatshop conditions and use bad quality fabrics in poorer countries. That means clothes created under horrific conditions and fabrics that are polluted with toxins for the lowest price point. BB is made in Europe. We source the finest European fabrics and still sell for a realistic mark-up.  Also 25% of all profits are given to people who need support. Our intention is to create a following of women who love style, quality, and value, and share our ethics and beliefs.
TELL US ABOUT YOUR BUSINESS…
BritishBrazilian – British (professional, modern, strict, serious) Brazilian (feminine, sassy, all-woman) was born out of the fact that I couldn't find stylish clothes at affordable prices that were well made. So putting my money where my mouth was, I've created a collection of wearable, well-made, stylish clothes that can take any woman from morning to night. Every dress can just be zipped up, accessorised, and ready to go – easy and effortlessly. Have you ever had to conduct a business meeting in scorching summer heat? You need a great dress or outfit in a great material to be able to carry that one off. The knee length has to be right or you look cheap especially if you don't have perfect legs, the neck-line mustn't show too much cleavage, the armholes shouldn't be cut too low as to show your bra, etc. Believe me it's really hard looking cool in the heat.
Then there's going to the supermarket, picking the kids up from school, taking the car for a service – I for one don't often throw on my tracksuit & flip flops when out in public, so all the collection is comfortable to wear in any situation. Stylish clothes for the busy woman and let's face it, we're ALWAYS busy. The clothes are not overpriced with a huge mark-up. The very best fabrics have been used, the clothes have been lovingly constructed by a group of women (not a factory) so they are all practically hand-made to the highest standards. The zips and buttons are the best, the designs have been engineered to fit and the sizes are true, not smaller because they're cheap or larger because they're expensive. I have measured each item and supplied you the exact measurements so if your bust is 85cm and the dress is 90cm it'll fit; if it's 80cm, it won't.
WHAT WERE THE FIRST FEW STEPS YOU TOOK TO GET YOUR BUSINESS UP AND RUNNING?
In the beginning, my goals for British Brazilian were functional in nature. Create work clothes that were a realistic price, ethically produced, and didn't go out of style. I was undeterred by my inexperience. It was a learning curve that would test my will and resourcefulness at each turn.
WHAT HAS BEEN THE MOST EFFECTIVE WAY OF RAISING AWARENESS OF YOUR BUSINESS AND GETTING NEW CUSTOMERS?
Social media. Fashion shows. Bloggers. Competitions. Sharing your successes. Word of mouth. Press releases that intrigue and inspire. Giving clothes to celebrities in return for free promotion…and leading by example!
WHAT HAVE BEEN YOUR BIGGEST CHALLENGES SO FAR WITH RUNNING YOUR BUSINESS?
My contacts in the fashion industry recommended a factory in Bulgaria to start initial production. I did some preliminary research and went forward. I now had material and a factory but there was one drawback – I had only sketches, no formal training in design or knowledge of how to get those designs into production patterns. They were a very competent factory and they said yes to everything. They accepted all my requests, but what I didn't know at the time was that they had never taken drawings and then produced patterns from start to completion. They had only ever handled production. When I got the final samples, I hated everything. They were unsellable. They were not getting me. The will was there, but they couldn't interpret the level I wanted. Out of my depth, I was crestfallen and it's doubtful anyone would have blamed me for quitting. At this point, however, I felt driven to continue and ironically it was a larger disaster that revealed a solution. When a flood destroyed both the uninsured central warehouse in the UK and all the stock it contained, an administrative loophole provided the restitution to recover my losses.
HOW DID YOU OVERCOME THESE CHALLENGES?
By the end of 2011, the Greek economic crisis was in full swing. A textile agent based in Athens suggested hiring a local clothing designer to create accurate patterns and this in turn led to the hiring of experienced seamstresses, who were now available due to factory lay-offs. It was the break I needed since, to an outsider, the initial 10 months had become a cautionary tale. Nevertheless, my commitment never waivered, and curiously, something more profound was happening. In time, it was as if each new catastrophe had a positive outcome and these events only justified and added to my sense of purpose. When a flood destroyed both the uninsured central warehouse in the UK and all the stock it contained, an administrative loophole provided the restitution to recover my losses. After my preliminary capital was spent, I forged a business plan and waited for funding. It never came. With a manufacturing deadline looming, I weighed up my options, gambled everything, and placed orders without any funds to pay for them. It's an act that is difficult to rationalize unless, like me, you quantify risk with a firm understanding that if what you are doing is right, it will succeed. As if scripted in a fairy tale, a new investor would materialise as each bill came due.
WHAT DO YOU LOVE ABOUT RUNNING YOUR OWN BUSINESS?
Of course this begs the question of whether I am an inspired, pragmatic, non-conformist or a reckless crusader treading dangerously close to a delusional ideology. One thing is clear. I am uncommitted to spectacle for its own sake and take a dim view of fashion as objects of only artistic veneration.
Mark Twain once famously said, "The two most important days in your life are the day you are born and the day you find out why." It's a quote that is emblematic of the precision that comes with a highly focused vision and it's hard not to feel that same resonance when describing my objectives. Now is a very creative and productive time in my career. I do not feel an asset or a liability to the company but the conduit to its success. It's this understanding that I feel is encoded in the label's identity and underpins its legacy  – the implication being that my clarity of purpose and the company's resulting success, by extension, can also be yours.
WHAT ADVICE WOULD YOU GIVE TO OTHER ENTREPRENEURS?
Believing in yourself and your dreams. Never giving up. Asking for help and knowing that you don't have to go it alone. Having a strong "why" and making people feel and believe what you do. Stand for something bigger than just the product. People will always buy why you do something before what you do. Surround yourself with positive people, your mum or dad is a great place to start…and never, ever, ever GIVE UP!
HOW DO YOU KEEP MOTIVATED THROUGH DIFFICULT TIMES?
Do you think I'm crazy, I do wonder if I'm a little bit nuts?  It isn't a rhetorical question and you'd be forgiven to pause and reflect before answering because my non sequitur shouldn't be mistaken for false modesty or doubt – far from it. Smart entrepreneurs distil their knowledge and experiences into personality-driven brands and that can be tricky because the marketing must connect with people who feel that, – at least on some level – something is missing from their lives. My clothing may fulfill the practical need for elegant, affordable work wear but the brand now embodies a set of deeper – some would say more personal revelations. Elements that became more apparent to me with each transition in its survival. It subtly suggests that your work clothes are not only a style choice but that inspired self-awareness has an impact in your life, and in turn, the lives of others.
DO YOU HAVE A BUSINESS PHILOSOPHY?
Yes, I'm trying to take over the world one dress at a time. :-)
When I face a big challenge I…
take a deep breath and trust my gut that everything will be as it should be. Mind mapping is invaluable.
My greatest fear is…
that I won't be able to supply the demand once all the ladies catch on to what I'm trying to do.
The most courageous thing I've ever done is…
start with and from nothing…with only my sheer belief in myself and passion for why I'm doing it.
If I could go back in time to when I was 20 I would tell myself…
Stick to what you love Anna.
I believe…
in ME.
The biggest lesson I have ever learned is…
You have to lead by example; if you don't, then no matter how hard you try, you will never be ahead of the game.
My favourite business tool or resource is…
talking to like minded women and finding out what they really want.
My favourite quote is…
"If you don't believe in what you're doing, no one else will."
---