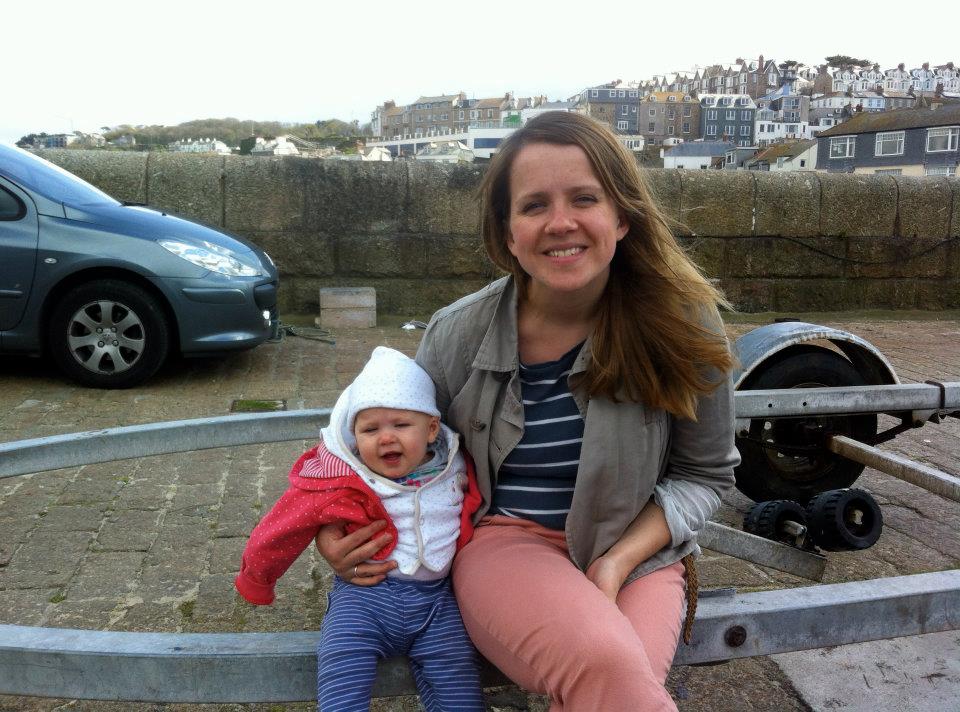 Katie Gwyther turned her love for design into a business that is inspired by her young daughter. Read how she did it below…
Katie Gwyther // UK // AlphaBino // Home Decor & Design (Children's Nursery Art Prints) // 20s
---
WHAT MOTIVATED & INSPIRED YOU TO START YOUR BUSINESS?
AlphaBino is the result of my love for design and inspired by my daughter, Emme. When I was busy nesting for my daughter's arrival in 2011, I was decorating my daughter's bedroom and couldn't find anything perfect for her walls, so I made the decision to put my graphic design background to use and create my own range of art prints for her. I wanted her room to be bright, clean and inspiring, so I decided on very pale walls with bright rainbow colour pops. After being happy with the finished result of her room, I began increasing my range of children's prints and selling them online. Since then, I've sold to other nesting mums all over the world, both online and offline.
TELL US ABOUT YOUR BUSINESS…
I began with the Animal Alphabet design and then the Rainbow Elephant Parade and then moved onto further prints – some with personalization. I began selling them through an Etsy shop and some other third party sites, but I now concentrate on using my own website.
As my designs usually end up on the walls of my own daughter's bedroom, everything I sell is designed with a lot of thought and love. I always use very simple shapes and colours so that they can be appreciated by all ages. My favourite is the first I ever designed, the Animal Alphabet (in which every letter of the alphabet is in the shape on an animal beginning with that letter). My daughter has a super-sized one in her bedroom and I love the way her reactions change to each letter as she gets older.
WHAT WERE THE FIRST FEW STEPS YOU TOOK TO GET YOUR BUSINESS UP AND RUNNING?
I sold my prints on Etsy and Folksy first. For a while my only customers were in the US as Etsy is US based and definitely more popular there. But as time goes on, I am seeing more and more Etsy customers based in the UK. When I had successfully tested the waters with selling my prints online, I took the leap to set up AlphaBino up as a Limited company and applied for funding from a company called Start Up Loans for Young People. With their help, I was able to reduce my printing costs by being able to print in bulk. It also gave me the capital to invest in stock for craft markets, which are where I sell my products offline.
WHAT HAS BEEN THE MOST EFFECTIVE WAY OF RAISING AWARENESS OF YOUR BUSINESS AND GETTING NEW CUSTOMERS?
I've recently started selling at craft markets, which has really helped me connect with new customers in person and find out first-hand what they're looking for. Online, I've been using Facebook and Twitter more seriously to grow my network. I've redesigned my website and I also post to Pinterest and Instagram as often as I can. I'm getting help to promote my website online and am hoping to connect more with bloggers and other mums online in 2014.
WHAT HAVE BEEN YOUR BIGGEST CHALLENGES SO FAR WITH RUNNING YOUR BUSINESS?
Selling my prints at Christmas markets over a 5 week run-up to Christmas was much more difficult than I expected. There is a lot to think about and prepare, long days of nervous energy, and I missed my weekends with my daughter – and that was only the beginning! Processing all the orders in time for Christmas was also stressful. And of course, fitting work around being mother to a toddler can also be a challenge!
HOW DID YOU OVERCOME THESE CHALLENGES?
I enlisted some help from my family and friends which helped keep my spirits up on the long days at my stand. My two year old daughter came with me when we were setting up for one of the first Christmas markets and helped lots by pointing enthusiastically at my prints whenever a potential customer passed by!
On the up side, I learnt such a lot through just a few markets about what is important to my target customers. It also gave me the opportunity to meet and chat with lots of children about what their favourite things are and what they would like on their walls. It was like selling and market-research all in one!
At the moment, the best time for me to concentrate on my business is in my child-free days when my daughter is at nursery and also in the evenings.
WHAT DO YOU LOVE ABOUT RUNNING YOUR OWN BUSINESS?
The reviews I get online have always been positive, but nothing could have prepared me for the amazing feedback I received during my first season of craft markets. It made all the difference to be told face-to-face how much people appreciated my designs, and even to meet some of the little recipients! Although running my own business can be as full-on as my old job in a busy Advertising agency which I left after having my daughter, I can be much more flexible with my working hours. I find it so much more rewarding making an income from my own designs and spending time with my daughter as well, so I'm a very happy mum!
WHAT ADVICE WOULD YOU GIVE TO OTHER ENTREPRENEURS?
Find a business mentor who can help support you through the slightly scary process that is launching your own business! I was put in touch with mine through the same scheme that gave me my funding (Start Up Loans for Young People) and he gave me help writing my business plan and guidance on so many aspects of running a business that I previously knew nothing about.
HOW DO YOU KEEP MOTIVATED THROUGH DIFFICULT TIMES?
I enjoy reading the feedback I get from my customers and friends on my designs and love seeing how much my daughter grow ever more interested in the prints hanging on her own bedroom walls. One of my favourite moments so far has been when a customer sent me a picture of her daughter opening her personalised print. She looks over the moon in the photo, so receiving that photo was worth a hundred written reviews to me! It also made all the difference to be told face-to-face how much people appreciated my designs at the markets I sold at, and even to meet some of the little recipients!
DO YOU HAVE A BUSINESS PHILOSOPHY?
I hope to inspire and educate little minds (including my daughter's) through bright, colourful imagery that stands out from other designs on the market.
 When I face a big challenge I…
research and learn how best to approach it then see it as a chance to improve my business. Or I ask for advice for someone who's already been there.
My greatest fear is…
having unhappy customers. I make a real effort to make sure my customers are happy and that they receive their print without any problem when I'm shipping abroad.
The most courageous thing I've ever done is…
decide to work for myself instead of for someone else.
If I could go back in time to when I was 20 I would tell myself…
running your own business is as demanding as working for someone else, sometimes more so, but it can definitely be more rewarding!
I believe…
in doing something I love which will inspire other people as well!
The biggest lesson I have ever learned is…
hard work, research, and effort pay off.
My favourite business tool or resource is…
having a mentor
My favourite quote is…
"Do more of what makes you happy!"
---