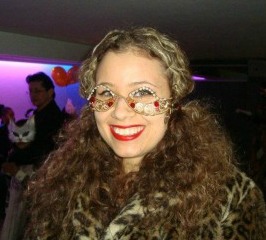 Katie-Eula Thompson found an outlet for her creativity through designing and making her own jewellery for herself, family, and friends. Now, she's taken steps to transform her hobby into a business and is well on her way to helping other women feel fabulous and connect to their authentic selves through her unique luxury jewellery and accessories. Read how she did it below…
Katie-Eula Thompson // UK // Zorluna // Jewellery and Fashion // 30s
---
WHAT MOTIVATED & INSPIRED YOU TO START YOUR BUSINESS?
I first started designing and making my own jewellery as a way of creating pieces that I couldn't find elsewhere.  I've always been a creative person and I love incorporating unique pieces into my own personal styling. I knew in my heart that I wanted to take this to the next level and start my own fashion line.  Plus the thought of being stuck working for someone else in a job I hated was motivation enough.
TELL US ABOUT YOUR BUSINESS…
Zorluna is a luxury jewellery and accessories brand inspired by decadence, glamour and the mystical. Infusing crystal healing, sacred symbology and some whimsy, I create Goddess Adornments that are both beautiful and meaningful so that each piece has a story to tell.  The pieces are colourful, bold and fun – just the way I think life should be. Zorluna is more than just a jewellery brand.  It's about a lifestyle and connecting to all aspects of yourself in Mind, Body, Spirit and Style.  I'm so passionate about this, which is evident in our blog and recently launched Goddess Clique.  My ultimate aim is to inspire women to feel fabulous and connect with their true authentic self, that is their inner Goddess.
WHAT WERE THE FIRST FEW STEPS YOU TOOK TO GET YOUR BUSINESS UP AND RUNNING?
By the time I started Zorluna, I had already been making jewellery for friends and family for a while, so my first few steps were to learn about running a successful business and not an expensive hobby. I started to read as many business books as I could, attended business talks and workshops and started connecting with other small business owners.  I then created a website for myself so that people could view and purchase my work. The next step after that was to start promoting myself outside of my comfortable circle of family and friends, so I set up a Facebook and Twitter account expecting the business to roll in. When it didn't, I knew I had to go back to the basics of business marketing and learn some more.  It's a constant learning curve, but it's all worth it.
WHAT HAS BEEN THE MOST EFFECTIVE WAY OF RAISING AWARENESS OF YOUR BUSINESS AND GETTING NEW CUSTOMERS?
Word of mouth has definitely been the best way so far of raising awareness of my business and this all stems from offering a great all round service. What also helps is making sure that I offer a great product that I have made a conscious effort to go the extra mile in everything that I do. Little things like creating a little inspiration certificate for each item so that the customer knows the story behind their jewellery and making sure my packaging is both beautiful and useful…these are things that your customers remember and want to talk about to their friends.
WHAT HAVE BEEN YOUR BIGGEST CHALLENGES SO FAR WITH RUNNING YOUR BUSINESS?
It took me a while to realise that my biggest challenge was actually believing in myself and not the fact that I run my business solely by myself (although that's a close second). Realising that I was the one holding myself back with negative beliefs about myself and what I could achieve has been quite a revelation and has led to one of the most transformational times in my life.
HOW DID YOU OVERCOME THESE CHALLENGES?
I knew I had come too far to give up and I knew in my heart that I wanted to succeed, so I started to seek out ways to boost my confidence. That's how I first came across the amazing Female Entrepreneur Association. It was so refreshing to finally hear other business owners being honest with the challenges they face and to know that I wasn't alone in how I was feeling. I then made a conscious effort to be around people who were supportive of me and my business as this really helps spur me on to keep going when things get tough.  I also set up a small accountability group with two other amazing business women that came into my life at just the right time. What I have realised is that even if you run your business single-handedly, you can't do it alone.  You need support from somewhere, even if it's having a few words of encouragement from some great friends.
WHAT DO YOU LOVE ABOUT RUNNING YOUR OWN BUSINESS?
As well as the fact that I get to do a job that I absolutely love, I also love that having my own business means that I am in charge of my own life.  It's scary when you first think of that responsibility but it means that the possibilities and opportunities are endless. I also love that I am able to help other people in a way that resonates with both my customers and myself.
WHAT ADVICE WOULD YOU GIVE TO OTHER ENTREPRENEURS?
I hear so many people wanting to start a business or a project but are waiting until the right moment because they don't have enough money, the best equipment, the perfect website… I know in the past (and occasionally now) I have put off doing something because it isn't perfect.  Really, that is just fear talking. Nothing is ever perfect and things are not set in stone.  You can change things up as you go along. You'd be doing that anyway; if you didn't, you'd never grow! My advice would be to just go for it and do the best you can with the resources that you have.  Be creative, you'll find a way and the rest will eventually come.
HOW DO YOU KEEP MOTIVATED THROUGH DIFFICULT TIMES?
I look back and see how far I've come and everything that I have created from basically nothing.  So often we look at what we haven't done and forget to see just how much we have achieved. Success doesn't happen overnight.  It might look like it to people outside, but there's lots of work that goes on behind the scenes. I also make it an everyday practice to surround myself with inspiring people, words, and objects.  I practice affirmations every single day, as I believe that they are so powerful in helping create a positive mindset.  I even send an affirmation out every week via my blog and newsletter.
DO YOU HAVE A BUSINESS PHILOSOPHY?
Be authentic in everything you do – it speaks volumes. I really noticed a big change when I had the courage to just be me. As Oscar Wilde said, "Be yourself. Everyone is already taken."
When I face a big challenge I…
go for a walk, clear my head, and listen to my intuition.
My greatest fear is…
living a life full of regrets!
The most courageous thing I've ever done is…
stop listening to all the naysayers and believe in myself.
If I could go back in time to when I was 20 I would tell myself…
if you don't follow your heart now you'll still feel the same way when you get to 30.
I believe…
With the right mindset, you can achieve anything you want.
The biggest lesson I have ever learned is…
to be your authentic self. Doors start to open when you are true to you.
My favourite business tool or resource is…
other honest, kind, like-minded business owners.
My favourite quote is…
"What other people think of you is none of your business."
---