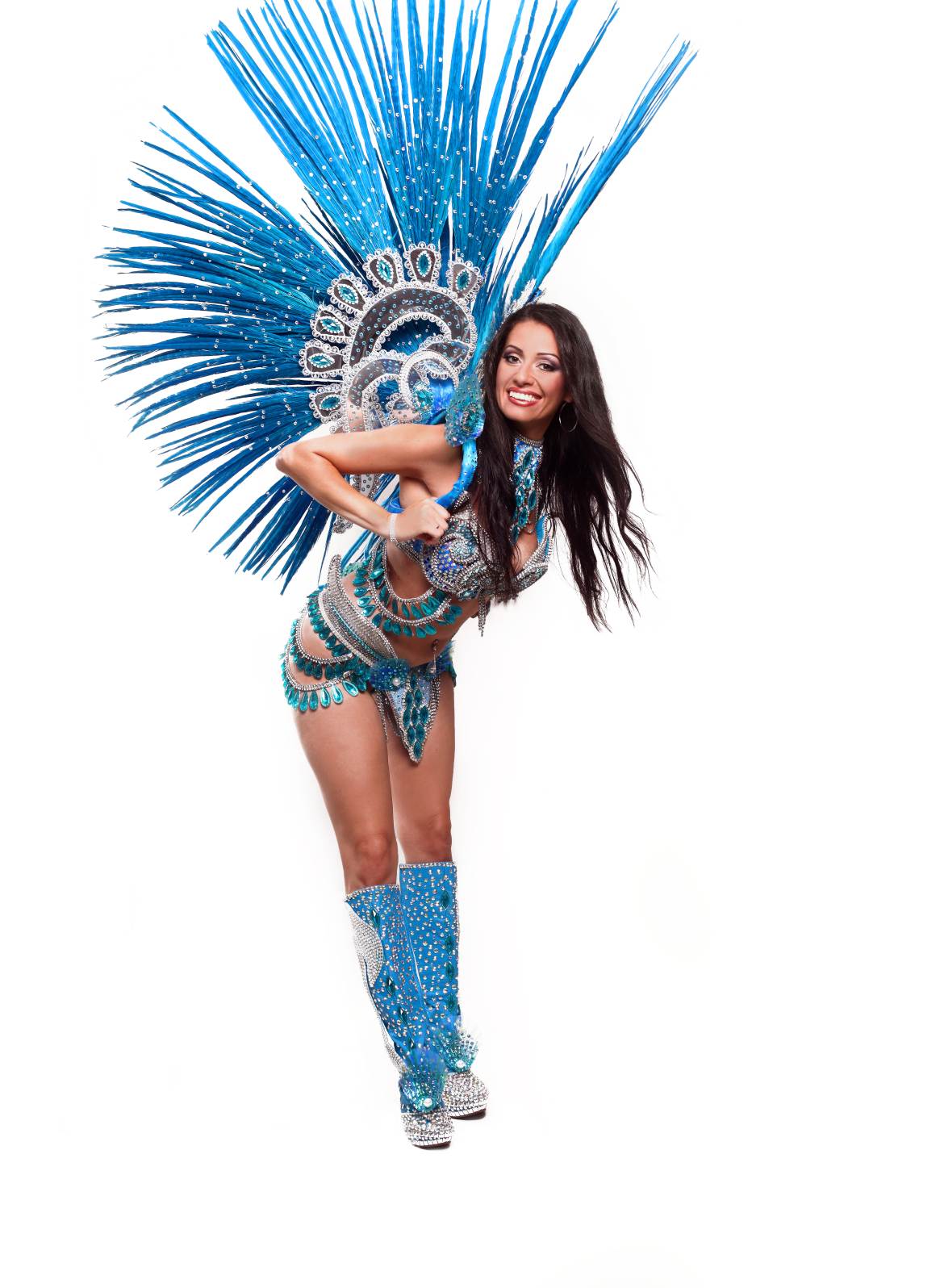 Lia Muniz wanted to share the confidence and beauty she experienced in dance with others. She started her business, Studio Samba, while she was still working full time as a flight attendant! Read how she did it below…
Lia Muniz // Australia // Studio Samba // Dance/Entertainment/Travel // 30s 
---
WHAT MOTIVATED & INSPIRED YOU TO START YOUR BUSINESS?            
I started Studio Samba because I saw a void in the market. I saw that there were so many dance companies that were only focused on teaching "steps" and getting students to learn "routines," but as a dancer myself and someone with a passion for dance, I knew that there was so much more to dance than just learning "steps." So I started Studio Samba as a place where people could get together, get fit, make new friends, get inspired, learn about the culture behind a dance, take time out for themselves and see the beauty in this world through dance.
TELL US ABOUT YOUR BUSINESS…
Studio Samba is all about Sharing the Gift of Dance and Travel with the world! The business has evolved so much since we first started. After hiring a space to teach classes once a week, I saw the need to create a space where people could really come together to dance, so that's when I set up our first dance studio offering group and private classes in Brazilian Samba Dancing and Belly Dancing. We then added the services of teaching Wedding Dance choreographies and hosting Hens Parties. I also wanted to expand the idea of learning about culture through dance, so for the last 3 years, I have also hosted dance tours to Rio de Janeiro Brazil for Carnival, India and Hawaii! With our growing network around the world, I set up our Online Dance School, Skype classes and filmed the Samba Instructional DVDs so people can take classes and connect with us anytime, anywhere. Our blog does a similar thing – it connects dancers and non-dancers alike around the world which I just love.
WHAT WERE THE FIRST STEPS YOU TOOK TO GET YOUR BUSINESS UP AND RUNNING?   
As I am from Rio de Janeiro, Brazil originally but am based in Melbourne Australia, I first registered for an ABN (Australian Business Number) and then I hired out a dance space once a week. That changed to multiple times a week in the first year. I was still working as a full time flight attendant as well!
For advertising, I printed out flyers and put the flyers up in different locations around Melbourne. I set up my classes in the city centre to attract people to take dance classes straight after work.
WHAT HAS BEEN THE MOST EFFECTIVE WAY OF RAISING AWARENESS OF YOUR BUSINESS AND GETTING NEW CUSTOMERS? 
My website! About a year after running up my classes, my boyfriend offered to set up a simple website – that's when the enquiries started coming in. With my website, I was able to show the range of services I offered and that's when I started getting invited to perform at different events.
WHAT HAVE BEEN YOUR BIGGEST CHALLENGES SO FAR WITH RUNNING YOUR BUSINESS?       
My biggest challenge so far has been my mindset. For most of my life, I was someone with very low self-confidence, low self-esteem and body image issues. I realised that whenever I was dancing, I felt happy with myself, my body and my life. I figured that if I can feel all of this when I dance, then how many other people's lives will benefit from it too! Through dance, I started to believe in myself again and now I want to share this with others.
HOW DID YOU OVERCOME THESE CHALLENGES?     
It took me about a year to change my mindset. I got a business coach who not only helped me to set up systems and structures in my business so I wouldn't get overwhelmed, but also focused on my mindset and my belief in myself. When we put together the new systems that were now in place with my new powerful and determined mindset – that's when things really started to take-off and my business started to go from strength to strength.
WHAT DO YOU LOVE ABOUT RUNNING YOUR OWN BUSINESS?
I love that the sky is the limit – literally! I have the ability to dream and come up with new endeavors and projects, tweak existing services and listen to my students' needs to help build this beautiful community of people who love to dance and travel.
WHAT ADVICE WOULD YOU GIVE TO OTHER ENTREPRENEURS? 
To believe in yourself. Even if no one else believes in you, even if you are told you cannot do it and that you are no good and to not bother trying. Believe in yourself and keep going. Also, listen to your body. If you need a break, take it, or do what I do and dance around in your lounge room to some fun music! (As you can see I'm a bit crazy and I don't take myself too seriously now!)
HOW DO YOU KEEP MOTIVATED THROUGH DIFFICULT TIMES?
Besides dancing around in my lounge room (hahaha!!!), I am learning to do something small for me each day, like going for a walk along the beach or doing some yoga. By taking a bit of time out, it gives me a chance to relax a bit, so when I'm working, I can focus so much better on my work.
DO YOU HAVE A BUSINESS PHILOSOPHY?
Yes – I have a Mission Statement:
My mission is to touch the lives of as many people around me and around the world as I can, showing them the beauty of dance and culture through travel while providing an outlet for people to feel amazing about their bodies, take time out for themselves, make new friends and experience the beauty in this world through dance and travel.
When I face a big challenge I…
break it down into smaller projects and tackle each one separately – then I take a break after each one is completed!
My greatest fear is…
comparing myself to others and not believing in myself. This is not healthy and is definitely what I used to do.
The most courageous thing I've ever done is…
leave my high flying job to work on my own business full time and to speak up about my body image and self confidence issues (and both have made me stronger).
If I could go back in time to when I was 20 I would tell myself…
let it go, have fun and don't take myself too seriously!
I believe…
in myself and in dance!
The biggest lesson I have ever learned is…
not to compare myself to others. Each person has their own journey and path to live and I can only be the best person I can be.
My favourite business tool or resource is…
My mind and body – if I feel happy and healthy then I can achieve anything!
My favourite quote is…
"I make my own sunshine!"
---