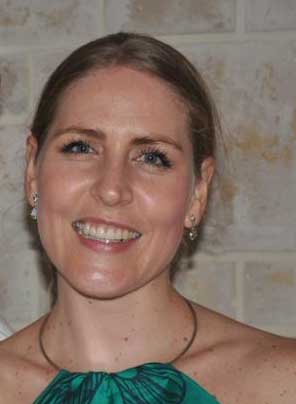 Natasha Page-Wood shares a story that many female entrepreneurs can relate to – she is working at her job while building an entrepreneurial venture on the side with the goal of being able to eventually work full time in her business.  Read about her journey below…
Natasha Page-Wood // Ireland // zhivagos Emporium // Online Retail // 30s
---
WHAT MOTIVATED & INSPIRED YOU TO START YOUR BUSINESS?
When I left Uni and started working, it didn't take me long to realise that working for someone else wasn't for me.  I've never had an inspiring job or worked for an inspiring organisation and none of my roles have given me the opportunity to express my talents and be creative.  Although I haven't yet quit my day job (as I'm only just starting out), having my own business has been one of my goals for a good few years.
TELL US ABOUT YOUR BUSINESS…
Zhivagos Emporium is all about sourcing the best in contemporary, handmade design from Southern Africa to showcase on the world stage.  By starting small and showcasing a single artist's brand, we aim to slowly bring you more of the continent's best brands from its talented designers and artists. It's aimed at individuals with discerning taste and style who appreciate well made, top quality designed goods.  It's for those with a truly aesthetic eye who are looking for something unique which can be tailored to suit their individuality.  Our items appeal to people who appreciate the art behind the craft and the story each item has to tell.
We carry the Luli Pulani footwear brand which features beautiful handmade shoes currently on show which incorporate all of the above described elements for today's modern woman always on the go.  Made by an up and coming designer from Cape Town, South Africa, Luli Pulani's contemporary design ranges include pumps, ballet flats, brogues, ankle boots & sandals.  A new release of limited edition styles are introduced each season.  Luli Pulani is infinitely one-of-a-kind. The Luli Pulani brand prides itself in comfort and grace.  Strongly patriotic, it's manufactured by hand in South Africa.  An eclectic mix of beautiful leathers and striking fabric prints combine to create small, exclusive ranges of women's shoes.  Luli Pulani started out by combining a small range of one-of-a-kind pumps and ballet flats using upcycled fabrics & leather and has evolved to introduce different styles and shapes. The small ranges are aimed to keep the shoes personal, unique, and intriguing. In the future, Luli Pulani hopes to launch different styles of women's  handmade shoes such as wedges as well as an accessories range to include wallets, handbags, and belts.
WHAT WERE THE FIRST FEW STEPS YOU TOOK TO GET YOUR BUSINESS UP AND RUNNING?
I bought some stock from Luli Pulani and set up stalls at a few markets around Dublin.  More recently, I've set up a website and I am learning all about the world of e-commerce and how to market, promote, and sell online.  It's a whole new ball game!  Social media is of course one of the essentials and I'm now set up on Facebook and Pinterest as well.
WHAT HAS BEEN THE MOST EFFECTIVE WAY OF RAISING AWARENESS OF YOUR BUSINESS AND GETTING NEW CUSTOMERS?
As I am still in the very early days of my business, I'm still trying to get the word out there online.  Facebook seems to be the most effective so far, as well as the markets I sell at offline.
WHAT HAVE BEEN YOUR BIGGEST CHALLENGES SO FAR WITH RUNNING YOUR BUSINESS?
Raising awareness online and selling the value of handmade items at a profitable price!  Reaching the correct niche.
HOW DID YOU OVERCOME THESE CHALLENGES?
I'm still learning as I go and I haven't yet overcome these challenges.  I'm gaining some great guidance from the Female Entrepreneur Association, for which I am infinitely grateful. :)
WHAT DO YOU LOVE ABOUT RUNNING YOUR OWN BUSINESS?
The entire learning process – discovering new sources of information all the time.  Being creative on social media.
WHAT ADVICE WOULD YOU GIVE TO OTHER ENTREPRENEURS?
Be fearless and just do it! Take that leap of faith and never give up.
HOW DO YOU KEEP MOTIVATED THROUGH DIFFICULT TIMES?
By tapping into resources like this website for motivation and making friends along the way who are are in the same boat – building a reliable support network.
DO YOU HAVE A BUSINESS PHILOSOPHY?
At the moment it's very random & short: "Just keep swimming" – Dori (Finding Nemo). :) Maybe that's one of the challenges I need to face to build a successful business – flesh out my business philosophy!
When I face a big challenge I…
procrastinate.
My greatest fear is…
not being able to build a profitable business so that I can quit my day job.
The most courageous thing I've ever done is…
 left home (South Africa) to live overseas.
If I could go back in time to when I was 20 I would tell myself…
be fearless!
I believe…
 in Africa.
The biggest lesson I have ever learned is…
to love myself…well, still trying to learn!
My favourite business tool or resource is…
Facebook.
My favourite quote is…
"The most beautiful thing we can experience is the mysterious. It is the source of all true art & all science. He to whom this emotion is a stranger, who can no longer pause to wonder and stand rapt in awe, is as good as dead: his eyes are closed.'"
– Albert Einstein
---