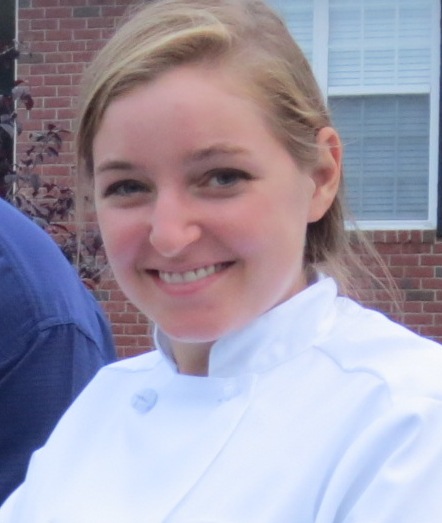 Sarah Bogan is on a mission to help people regain the art of healthy cooking.  Read how she did it below…
Sarah Bogan // USA // Whisking Apprentice // Culinary Arts // 20s
---
WHAT MOTIVATED & INSPIRED YOU TO START YOUR BUSINESS?
I grew up cooking. When I went to college, I was shocked by how little my peers knew about cooking and nutrition. Cooking has become a lost art, and with obesity on the rise, it is now more important than ever to teach people how to make simple, yet delicious meals. That is when my idea for Whisking Apprentice, a culinary school for home cooks, was born. I developed my second, equally major project – SOS: Surviving On Stamps, after discovering a link between obesity and low-income. What started as a blog, is now well on its way to becoming a reality t.v. show about families on food stamps struggling to eat healthy. The show provides education and inspiration for anyone facing similar struggles.
TELL US ABOUT YOUR BUSINESS…
Through Whisking Apprentice, busy moms learn how to make quick, nutritious meals; single men discover how to navigate a kitchen, and children of all ages overcome their selective eating habits. I work with dietary restrictions as well so that even celiacs enjoy amazing dishes. My private lessons, group classes, and cooking parties bring the fun back into cooking! SOS: Surviving On Stamps covers the philanthropy side of my business. I volunteer time to teach those who cannot afford lessons but desperately need help learning how to cook healthy on a minimal budget. I am also in the process of writing a cookbook for food pantries to hand out to those they serve.
WHAT WERE THE FIRST FEW STEPS YOU TOOK TO GET YOUR BUSINESS UP AND RUNNING?
To gain experience conducting classes completely on my own, I offered free lessons to college students and faculty members, making sure to gather feedback at the end of each session. I then bought my domain name, set up a website, developed the logo, and ordered business cards. For my t.v. show, I sought out individuals with connections to producers and simply asked them if they would pass my idea along – and they did!
WHAT HAS BEEN THE MOST EFFECTIVE WAY OF RAISING AWARENESS OF YOUR BUSINESS AND GETTING NEW CUSTOMERS?
An integral part of generating business is through local networking groups. Group members are able to gain a deeper understanding of all the services I provide, and my continual presence keeps me in the forefront of their minds for referrals. Additionally, interacting on social media and posting valuable content is great marketing for my business and boosts my website's SEO.
WHAT HAVE BEEN YOUR BIGGEST CHALLENGES SO FAR WITH RUNNING YOUR BUSINESS?
The biggest challenge I had to overcome was maintaining a positive attitude when business was slow or I had cancellations. Although business still fluctuates, it no longer affects my disposition. I have learned to view the difficult times as periods that will eventually lead to great days to come.
HOW DID YOU OVERCOME THESE CHALLENGES?
Surrounding myself with positive people helped me overcome negative thoughts. Also, hearing fellow entrepreneurs describe their own battles made me realize I was not alone.
WHAT DO YOU LOVE ABOUT RUNNING YOUR OWN BUSINESS?
I love being 100% in charge of my goals and what I want to accomplish. The projects I tackle are ones that I myself have chosen – not my boss. Therefore, I am able to bring utmost passion to my business.
WHAT ADVICE WOULD YOU GIVE TO OTHER ENTREPRENEURS?
You must believe in yourself and your work. How could you get others to believe in you if you do not even trust yourself? Find your passion, and let it shine through in your business.
HOW DO YOU KEEP MOTIVATED THROUGH DIFFICULT TIMES?
Positive surroundings make all the difference. When I am struggling, I call the most hopeful people I know for encouragement. It works like a charm!
DO YOU HAVE A BUSINESS PHILOSOPHY?
Give a man a fish, he eats for a day; teach a man how to catch a fish, he eats for a lifetime!
When I face a big challenge I…
break it up into mini successes until the entire challenge is overcome.
My greatest fear is…
not adequately balancing work and family.
The most courageous thing I've ever done is…
board an airplane knowing I accidentally bought a ticket to the wrong country – while traveling solo.
If I could go back in time to when I was 20 I would tell myself…
do not worry about college grades so much.
I believe…
in dreaming big.
The biggest lesson I have ever learned is…
I can do anything I set my mind to accomplishing.
My favourite business tool or resource is…
fellow entrepreneurs – they understand exactly what I have and will go through.
My favourite quote is…
"The only real stumbling block is fear of failure. In cooking you've got to have a what-the-hell attitude."
– Julia Child
---