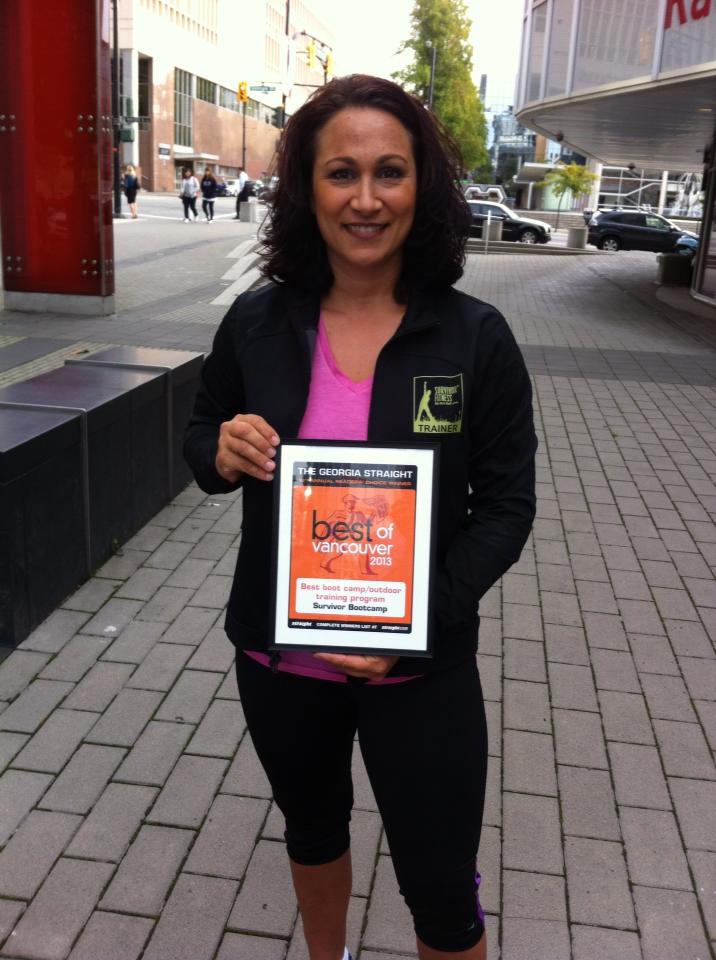 Daniela Duva has an incredible story of determination and transformation. She went from a life of making ends meet as a waitress with two young children to succeeding amazingly as a fitness trainer of Survivor Bootcamp. Read how she did it below…
Daniela Duva // Canada // Survivor Bootcamp // Fitness // 40s
---
WHAT MOTIVATED & INSPIRED YOU TO START YOUR BUSINESS?
8 years ago, I was a waitress. I had been doing that for 15 years at that point and was fairly happy. The money was OK and I was living a mediocre life. Then I got pregnant with my second child. I had every intention of going back to waitressing after my maternity leave ran out…then the bomb dropped. My father was diagnosed with a brain tumor and my mom told me that I would have to find childcare because there was no way she could watch my children for me anymore for a while.  I had a few months left on maternity leave…what on earth would I do? We could never survive on my husband's income alone and childcare for two children was very expensive. I was doomed…or so I thought. But that was just the KICK IN THE ASS I needed to get my ass in gear.  I enrolled in a cheap online course to get my Group Fitness Certifcation so that I could teach the step classes I so loved and take my children with me to the childminding (which was free for me).  I planned to teach two classes a day and make a little extra $$$. Then…( see below)…
TELL US ABOUT YOUR BUSINESS…
I was looking on cragslist one day and saw "bootcamp instructor needed; $30/hour; 6am." Oh that was for me!! A perfect time because no one would miss me and $30 an hour? Might has well have been a million! I had an interview but got the "shrug off." I bugged and pestered the owner for 2 months until he told me "there's a location next to your house. Why don't you call the franchise owner and ask HIM for a job?" So I did. I pestered and bugged him too until they hired me! That was 7 years ago.  My journey at Survivor Bootcamp started (www.survivorfitness.com). Survivor Bootcamp is an outdoor fitness company that runs at several locations across Canada. They are run by different franchise owners.
WHAT WERE THE FIRST FEW STEPS YOU TOOK TO GET YOUR BUSINESS UP AND RUNNING?
Well, after teaching at the East Vancouver location for a year, my clientele grew.  It GREW and it GREW!  So I made an offer to the franchise owner to buy him out. He agreed to let me buy only 49 percent (smart bugger!). After two more years, I was teaching up to 6 bootcamps a day (talk about trainer burnout) and my clientele continued to grow.  After much persuasion, I finally bought out my very 1st franchise! YAY! I was ecstatic! I felt like I won the lotto! Woohoo!
Survivor Bootcamp was an already established business by that time. There were several locations running. Well, fast forward to 2013 and my business was doing INCREDIBLE!  Our company had won the best outdoor bootcamp 6 years in a row; I was doing private bootcamps for many prestigious schools and companies; I had local politicians, news reporters, firefighters, Vancouver Police and so many nighbours in my classes that I barely had anymore room! I loved it! This wasn't a job, it was a BLESSING! So, this past summer of 2013, the owner of this company was moving out of state. I thought I would make her an offer to buy out this company and after throwing some numbers back and forth…SHE AGREED! As of July 15th 2013, I was the sole owner of Survivor Bootcamp. Yay!
WHAT HAS BEEN THE MOST EFFECTIVE WAY OF RAISING AWARENESS OF YOUR BUSINESS AND GETTING NEW CUSTOMERS?
Well quite honestly, word of mouth is my best advertising.  I treat my clients as I would treat any family member…with value and respect (and an occasional slap to keep them in line. Haha). Advertising is one thing but I need to actually GET OUT THERE and show people my face. They will remember that more than any advertising.
WHAT HAVE BEEN YOUR BIGGEST CHALLENGES SO FAR WITH RUNNING YOUR BUSINESS?
My biggest challenge so far has been managing my time.  If I don't manage it well, then I will compromise my health and family. These two things have to be first, or everything will suffer in the long run.
HOW DID YOU OVERCOME THESE CHALLENGES?
I budget my time. I make a list of how to manage my time. For example, I do all my admin work in the morning. After that, everything else can be done by my iPhone. Emailing, banking, transfers, etc. I try not to go on the computer after that and ABSOLUTELY never check any messages, emails, etc. after dinner.  I am sure to get one hour of my own exercise in each day even if its just a walk with a few push-ups/dips.  I also nap/meditate 1 hour each day.  If "mom" doesn't put herself first….the whole family will be unhappy. It rubs off that way! It's a learning experience for sure.
WHAT DO YOU LOVE ABOUT RUNNING YOUR OWN BUSINESS?
What do I love?? Gee, where to start! I LOVE that I only work 2 hours a day and make more money than my husband, haha. The roles have changed. Because of this incredible opportunity I was given, he has now quit his job and become the "house husband" and I am the breadwinner. I love it!  I also love being outside in the fresh air and having my wonderful community to exercise with.  I plan to do this until I am 95, if I live that long! I love my hard working franchise partners – I feel we are truly a team and I hope to add more partners in this year to come! I could go on and on forever.
WHAT ADVICE WOULD YOU GIVE TO OTHER ENTREPRENEURS?
Find a mentor – don't be too "proud" to do this. Find someone who has what you want and model them. Learn from them…pick their brain and learn.  Always be open to learning, even when you think you know it all. We can all learn from our peers. Sometimes you can avoid stupid mistakes that way. Make a plan and stick to it and don't spend too much $$ advertising – it can backfire on you. There are other ways to do it.
HOW DO YOU KEEP MOTIVATED THROUGH DIFFICULT TIMES?
I exercise.  I have created a community of like-minded individuals and we all have one thing in common: EXERCISE!  It reduces stress and anxiety and creates a wonderful sense of well-being. There's nothing like a brisk run in the cool, fresh air! Follow that with a coffee and a few jokes and it's euphoria! I have surrounded myself with positivity and that boosts my energy. Take out all the negative people, they will bring you down.
DO YOU HAVE A BUSINESS PHILOSOPHY?
Yes, I do. If you treat your customers/clients with the utmost respect and value them and their business, then they will come back.  Advertising will get you customers. But, it's UP TO YOU to keep them.  Same thing goes for your employees. Treat them with the respect they deserve – don't be a pompous ASS of an employer, haha.
When I face a big challenge I…
don't make any decisions right away. I wait and think about it before I decide…the right answer usually comes to me.
My greatest fear is…
 getting injured. I will have to teach my classes from a wheelchair or crutches!!!
The most courageous thing I've ever done is…
 apply for welfare for one year when my first son was a baby. I was a single mother at that time and had to swallow my pride for a year.
If I could go back in time to when I was 20 I would tell myself…
to brace myself for an incredible ride in life. It would be starting shortly…
I believe…
good things DO NOT come to those who wait. We can be waiting all our lives for the perfect moment to do something… it won't come. SO DO IT NOW!
The biggest lesson I have ever learned is…
from my children. They have forced me to be responsible and to chase what I wanted in life quicker. I feel much of where I am today is because of my beautiful boys.
My favourite business tool or resource is…
facebook. Don't underestimate the power of social media. It's like a 'word of mouth' tool if you use it the right way.
My favourite quotes is…
 ' SHUT UP AND DO IT' – me ok I don't know these quote things are everywhere.
---