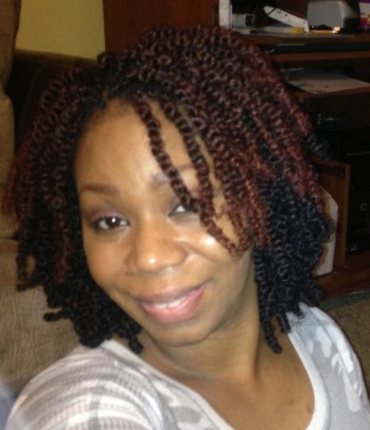 Tiffany Copon left corporate America and is now in control of doing life her way. She's started a business with a unique product for babies after filling her own child's needs. Read how she did it below…
Tiffany Copon // USA // Bebe PODPants // Consumer Goods // 30s
---
WHAT MOTIVATED & INSPIRED YOU TO START YOUR BUSINESS?
My reasons for starting my own business are many, but the main reason was due to losing my job because of a disability. Of course, the company I worked for claimed otherwise, then EEOC had to get involved, then, three long years later, EEOC issued a determination in my favor. That experience made me determined to try my best to never allow a company, or anyone for that matter, to have that much control over my livelihood. The loss of that job cost me my home and my savings – to name a few of my possessions, but, more importantly, my dignity and emotional stability for a short while. I'm now in control and working towards my dreams.  As in the words of the great Frank Sinatra song My Way: "I faced it all and I stood tall; and did it my way."
TELL US ABOUT YOUR BUSINESS…
Introducing Bebe PODPantsTM – the brand name for a new patent pending infant clothing garment. It offers busy parents a unique and functional alternative to baby pants, socks, and shoes used for when babies (newborn to six-months old) travel in an infant car seat or stroller. Bebe Pod PODPantsTM is the answer to quality, convenience, and comfort for dressing a baby quickly for the parent on the GO with baby in TOW!
Bebe PODPantsTM is a trusted option for mothers, fathers, grandmothers, grandfathers, or other caregivers for your special little one to provide a unique design, warmth, soft fabric, comfortable fit, and easy care item constructed with 100% Combed Ring Spun Cotton fabric and our proprietary QuickBuckleTM Access Slot that allows the lower buckle of an infant car seat or stroller's harness system to fit through the garment to properly secure the baby. The story behind Bebe PODPantsTM is simple: I am a busy mother of five and quickly realized that necessity was also the mother of invention when I needed to accomplish my daily tasks with my 2-month old riding along, in addition to making sure he was warm, comfortable, and safe.  So, in a stroke of inspiration with some fabric from my fiancé's t-shirt and the elastic from my pajama pants, I put my old sewing machine to work and thus Bebe PODPants were born.  MANY modifications later, the development of what has been tested and proven as a great alternative to ordinary baby clothing came to be.
WHAT WERE THE FIRST FEW STEPS YOU TOOK TO GET YOUR BUSINESS UP AND RUNNING?
The very first few step were applying for my US Patent, because within the first few months of using the Bebe PODPants with my son, other moms of babies would ask me where I got mine from.  I was sure that someone had come up with this idea, but after researching, I was pleasantly surprised that they hadn't and I did! My second step was contacting US based textile and manufacturing companies as it was extremely important for this product to be made in the USA!
WHAT HAS BEEN THE MOST EFFECTIVE WAY OF RAISING AWARENESS OF YOUR BUSINESS AND GETTING NEW CUSTOMERS?
Social media, i.e. Facebook, Twitter, etc…have been my marketing angels.  Being so wrapped up in the product creation, an inventor/creator totally forgets that you need people to buy your product.  Oh yeah, and did I forget to mention, marketing can get super expensive when contracting a marketing firm.  However, staying relevant on social media itself is a full-time job: finding engaging info to post on your pages, interacting with people daily in addition to running your business…it's tough, but planning made it manageable.
WHAT HAVE BEEN YOUR BIGGEST CHALLENGES SO FAR WITH RUNNING YOUR BUSINESS?
My biggest challenge is getting the necessary funding for the business.
HOW DID YOU OVERCOME THESE CHALLENGES?
I overcame this challenge by selling off things that I did not need in my home.  I figured if I haven't used it, then it needed to go.  I look at it this way: I could always re-buy things when the business began to turn a profit.
WHAT DO YOU LOVE ABOUT RUNNING YOUR OWN BUSINESS?
I love being in control of my own destiny, having my own hours, and spending time with my family.
WHAT ADVICE WOULD YOU GIVE TO OTHER ENTREPRENEURS?
If you want it bad enough, sacrifices will have to be made.  Nothing worth having is without sacrifice.  Be it time, possessions, money, or relationships.  People who want you to succeed with understand your grind and help you.  They won't give ultimatums like, "It's me or the business."
HOW DO YOU KEEP MOTIVATED THROUGH DIFFICULT TIMES?
I step away from the issue at hand and I laugh.  Really, I go to YouTube and find funny videos and laugh my head off.  Then come back with a clear head and deal with it.  That's all you can do.
DO YOU HAVE A BUSINESS PHILOSOPHY?
I do what I need to do, so I can do what I want to do.  That can be applied to almost every aspect of life.
When I face a big challenge I…
educate myself about the challenge so I can make the best decisions.
My greatest fear is…
going back to work in cut-throat corporate America.
The most courageous thing I've ever done is…
put all my lil "eggs" in this basket (my business).
If I could go back in time to when I was 20 I would tell myself…
to invent this product sooner!
I believe…
that with hard work and dedication, anything is possible.
The biggest lesson I have ever learned is…
a friendly face could be an enemy's mask.
My favourite business tool or resource is…
the internet. With so many sites, it's easy to find out anything you need to know. Cross-reference info from different sites to separate the truth from the bs.
My favourite quote is…
"If you are committed to creating value and if you aren't afraid of hard times, obstacles become utterly unimportant. A nuisance perhaps, but with no real power. The world respects creation. People will get out of your way."
– Candice Carpenter, founder of iVillage.com
---