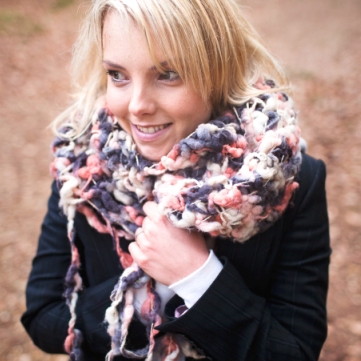 Gemma Regalado-Hawkey left her "soul-destroying" job to start her own web design agency. Read how she did it below…
Gemma Regalado-Hawkey // UK // Jane&Philbert // Web Design and Development // 30s
---
WHAT MOTIVATED & INSPIRED YOU TO START YOUR BUSINESS?
After several years of soul-destroying job after soul-destroying job in the web design and development area, I just wanted to be free and independent to run my own show. It was something that I always wanted, but hadn't allowed myself the confidence to try and make it happen. My career is in a heavily male-dominated arena, and I often found that I was being paid less and having to work twice as hard to be seen as "just as good" as my male colleagues. I felt like my unique values weren't appreciated, so I quit my job one Friday in October 2010 and started my first business the following Monday with no clients, no website, and only a scrap of confidence – I also had just found out I was pregnant.
TELL US ABOUT YOUR BUSINESS…
I run Jane&Philbert, a boutique web design agency specialising in helping female entrepreneurs make a bold impact on the web. I have two separate areas that I work within; on the one hand, I design and build beautiful, unique and functional websites which are created to match the personality of the business with their target audience. On the other hand, I help bootstrapping entrepreneurs to "uniquify" their own website in accordance to their own tastes through my video crash course called, "Pimp that WordPress Site" and through my straight-talking, sass-mouthed blog (it's not for the faint of heart!). This side of my business is what I plan to grow during 2014 – offering workshops and more in-depth courses.
WHAT WERE THE FIRST FEW STEPS YOU TOOK TO GET YOUR BUSINESS UP AND RUNNING?
Jane&Philbert was the second business that I started, so I learned from the mistakes of my failed first business pretty quickly. It started as a side-project selling pre-designed logos through Etsy. All I did was create a few simple designs and load them onto Etsy, and it worked well because I knew that the audience I wanted to target would visit online shops like Etsy.  I then bought the domain, set up my email address, pointed this at my Etsy shop until I was ready to start a WordPress website and blog, which happened in early 2013. From there, I set up a mailing list, and started growing and connecting with my tribe. In February 2013, I created my free video crash course, and I was away!
WHAT HAS BEEN THE MOST EFFECTIVE WAY OF RAISING AWARENESS OF YOUR BUSINESS AND GETTING NEW CUSTOMERS?
Getting the hell out of my house and meeting people! With my first business, I found that I sat at my computer frustrated and clicking the "refresh" button on my inbox wondering WHY no one was banging my door down begging me to design their site. Yeah, pretty silly when you read it. Connecting with people locally, or even at events in London, helped my network start to expand. I also made an effort to get promoted in the media. Most notably, I entered The Guardian Small Business Showcase and was ecstatically pleased that my entry was accepted and showcased on The Guardian website in October 2013. Earlier this month, I was invited by Mumsnet to come and speak at their exclusive Mumsnet Blogfest after they got wind of my free video crash course. I was able to meet some truly amazing bloggers and website owners as well as other industry professionals and help them out with running their daily website running issues. I plan to speak at many more events as this proved a wonderful way to elevate my brand, and it's something that, although buttock-clenchingly scary, I really enjoy.
WHAT HAVE BEEN YOUR BIGGEST CHALLENGES SO FAR WITH RUNNING YOUR BUSINESS?
Juggling a young family and a business has its challenges! I often found it hard to separate "work" and "family" because I worked from home from the dining room table. I'd get frustrated with the need to manage clients and work with childcare and feel guilty if I wasn't spending enough time with my family.
HOW DID YOU OVERCOME THESE CHALLENGES?
I stopped pretending that I could and should have "balance." Managing a business is important to me, but my family is the people who love and support me (especially my husband who also was able to financially support me while the business was growing) are my priority. I realised that I needed designated family time during which I'm not attached to a phone or computer, so I set aside my weekends and one weekday where I can be truly present. I also ensure that my husband understands that my work time is precisely that – I'm not "mum" or "wife," I'm a business owner during those hours. Sometimes it doesn't work, especially when I have deadlines, or large influxes of work, but I don't beat myself up, I just absorb what I can and outsource what I can't. I also moved my office to a spare room, meaning I now have my own little haven away from Play-Doh-in-keyboard catastrophes and it represents a real boundary to both me and my family.
WHAT DO YOU LOVE ABOUT RUNNING YOUR OWN BUSINESS?
I am running my life on my own terms, and helping other female entrepreneurs feel confident with their online presence. It makes me feel proud that I have achieved something I once thought I could never do.
WHAT ADVICE WOULD YOU GIVE TO OTHER ENTREPRENEURS?
You will learn A LOT about yourself, more than at any other time. Be sure to completely immerse yourself in you. Find out what makes you tick, stop putting yourself second and embrace the crazy that makes up who you are.
HOW DO YOU KEEP MOTIVATED THROUGH DIFFICULT TIMES?
It's hard, and I find that actually indulging yourself in the "Woe is me" for maybe half a day is best. Really be honest with yourself and get it all out. Sh*t happens, but pretending it's not there is just about the worst thing you can do. You reach a point when you realise that you've indulged yourself enough, and then you can get back into it.
DO YOU HAVE A BUSINESS PHILOSOPHY?
Never, ever, never, never, NEVER, never, EVER, NEVER pretend I am anyone but me. Work my butt off. Please myself. Deliver exceptional services.
When I face a big challenge I…
find a like-minded entrepreneurial friend, buy them a coffee and go over it with them.
My greatest fear is…
losing my mind.
The most courageous thing I've ever done is…
start a business and become a mum in the same year.
If I could go back in time to when I was 20 I would tell myself…
stand up and believe in yourself. People look for leaders, and you can be one.
I believe…
in a thing called love. Just listen to the rhythm of my heart…
The biggest lesson I have ever learned is…
if you are trying to sell to everyone, you'll sell to no-one.
My favourite quote is…
"Fall down seven times. Get up eight."
---