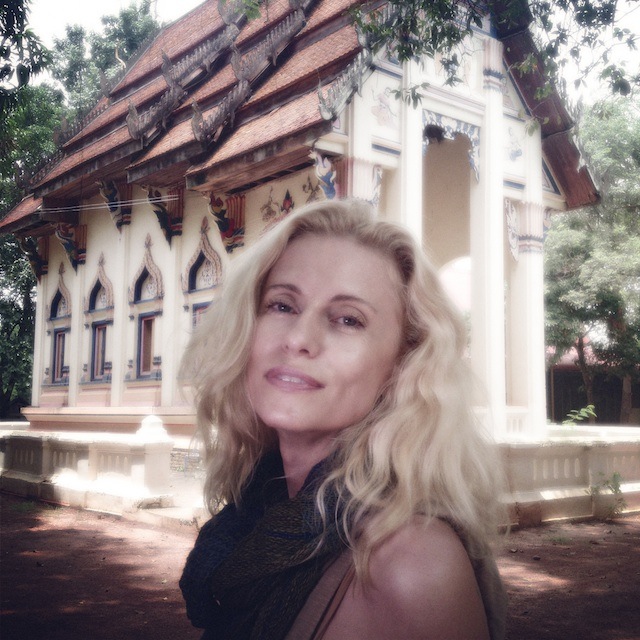 A sabbatical in Bali led Alexandra Du Sold down an exciting and new career path. She left her demanding job in finance and embraced the adventure of starting her own business in a foreign country. Read how she did it below…
Alexandra Du Sold // UK // APOCCAS // Fashion & Social Enterprise // 40s
---
WHAT MOTIVATED & INSPIRED YOU TO START YOUR BUSINESS?
In 2010, I took a sabbatical from a demanding job in finance. I lived in Bali for a year to gain a fresh perspective on life, to connect with myself. Random visits to a nearby indigo-dye village community reignited my passion for colour and textiles. But it wasn't until I sought and found the traditional master weavers in Thailand that I became infatuated with learning every little detail, from silk and cotton farming to yarn dyeing and weaving the intricate artisanal styles associated with the ancient ways. I knew then that it was time for a career change. The matron weavers with their love for nature and community had set in motion an unstoppable desire in me to start a socially and environmentally responsible business that would lend a voice to near-forgotten art of textile hand looming in Ancient Siam.
TELL US ABOUT YOUR BUSINESS…
APOCCAS is a luxury fashion accessory brand. Our heirloom silk scarves and throws are hand woven by women artisans in rural Thailand. We cut out intermediaries and work directly and fairly with organic silk farmers and cotton growers, expert spinners and traditional dyers and weavers. Following old-age traditions worth preserving, we use botanical ingredients to achieve our yarn colours. We believe in empowering those who matter most: women artisans who deserve economic independence for themselves, their children and their communities. It's our way of telling the world that fashion and luxury on one side and sustainability and social responsibility on the other no longer reside at opposite ends of the spectrum.
WHAT WERE THE FIRST FEW STEPS YOU TOOK TO GET YOUR BUSINESS UP AND RUNNING?
Everyone, who knows and loves Thailand, will agree that overcoming cultural and language barriers is a mission in itself but making the acquaintance of the master weavers of Isaan and the North of Thailand is a whole other story. I befriended and, even more hurriedly, unfriended middlemen, I spent restless hours on night busses, I ate fried crickets to honour a village matron's hospitality, and slept uncomfortably on floor mats with too few blankets in freezing January temperatures right above a pig pen and a brood of rambunctious roosters. But it wasn't until I learned a new language that involved wild hand yet gentle gesticulations and the proper use of a smile that I finally gained access to the hearts of those weaving goddesses I had chosen so that APOCCAS could be their voice in a sentient world.
WHAT HAS BEEN THE MOST EFFECTIVE WAY OF RAISING AWARENESS OF YOUR BUSINESS AND GETTING NEW CUSTOMERS?
The possibilities are vast and we pursue a variety of methods, from excellent PR to fashion distribution platforms but, for us, one route to market stood out in 2013. We ran a successful crowdfund campaign on Indiegogo to presell our new-season collection. Crowdfunding really starts with friends and family but if you build up the right momentum and the platform favours you, then you are well situated to win the crowd. The most important thing to put your brand on the map isn't just raising awareness, it's to sell to random people, and we were fortunate to find customers of most ages in all corners of the globe.
WHAT HAVE BEEN YOUR BIGGEST CHALLENGES SO FAR WITH RUNNING YOUR BUSINESS?
The 'joys' of becoming an entrepreneur often seem insurmountable. Nothing prepares you for the journey or the myriad of its taxing parts. The most important advice to build a business – triple bottom line or otherwise – came from Ernesto Sirolli: build a solid foundation by recognising you can't do everything yourself. Find the right team to manage growth and learn how to delegate are lessons that are nearly impossible to learn from a book. The word "challenge" often doesn't even scratch the surface of what's coming, but when the reward finally kicks in and small rays of success appear on the horizon – then you know the rough roads travelled have all been worth it.
DO YOU HAVE A BUSINESS PHILOSOPHY?
It is rooted in the four pillars that APOCCAS is founded on: women's empowerment, sustainability, heirloom luxury and "feel-goodism".
 When I face a big challenge I…
focus on remaining centred, and by that I mean keeping the alignment of a clear head, gentle yet determined voice and a compassionate heart.
 My favourite quotes is…
"To thine own self be true."
William Shakespeare
---