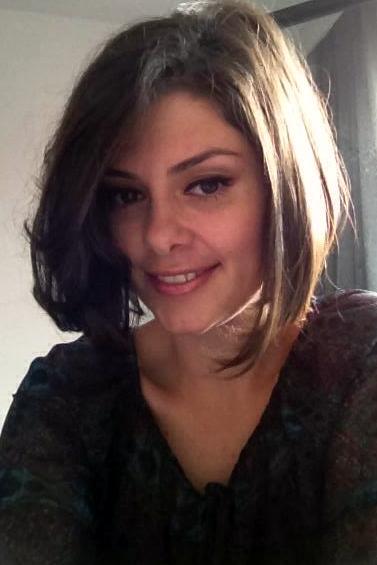 Roxana Badea has created a business that helps people through a variety of services focused on personal development and wellness of mind, body, and spirit. Read how she did it below…
Roxana Badea // Romania // Centrul de Dezvoltare Personală și Relaxare ASTERI // 20s
---
WHAT MOTIVATED & INSPIRED YOU TO START YOUR BUSINESS?
Since I was a little girl, I've wanted to act in a way that would have an impact. At the age of 21 years old (there are moments now when I laugh at myself looking back and realizing how young I was, but how brave I was at the same time), I decided to start my own business. I was led by the desire to improve myself and to offer quality services to people who wanted to change something in their lives in order to be good to themselves.
TELL US ABOUT YOUR BUSINESS…
My business is now, after 4 years and a half, in a big house of 100 sm in the heart of Bucharest, Romania in a very old area with amazing architecture. I grew this project for personal development (psychotherapy, coaching, NLP, psychology, workshops, theater classes, clynical psychology) and relaxation (wellness – bamboo massage). Now there are services like psychotherapy (Sandplay Therapy, Play Therapy, Analitical Therapy), coaching, Emotional Freedom Techniques, Laughter Yoga, massage (with professional equipment) and events about dance and personal development. Now, in November 2013, it is the first and the only center of personal development and relaxation in Romania putting together all of these services for body, mind, and spirit.
WHAT WERE THE FIRST FEW STEPS YOU TOOK TO GET YOUR BUSINESS UP AND RUNNING?
The first location of my business was the apartment where I've spent all my childhood. My parents trusted in me so much that they offered me all the support to start my own business in a 2 room apartment. In fact, I was collaborating with a psychologist and I was the organizer of events and doing, at the beginning, the work of a secretary because I didn't have the experience or the knowledge (know-how) of management or leadership. So, the start was basic, like any start, and I've learned a lot since then.
WHAT HAS BEEN THE MOST EFFECTIVE WAY OF RAISING AWARENESS OF YOUR BUSINESS AND GETTING NEW CUSTOMERS?
Networking. In the first three years of my business, I had difficulty talking about my business. Even though I was present at many conferences and workshops in this field and I was known through my formation (psychologist), I didn't associate my business with me.
WHAT HAVE BEEN YOUR BIGGEST CHALLENGES SO FAR WITH RUNNING YOUR BUSINESS?
I've decided to start my business immediately after a crisis in June 2009, and I was lucky to have financial and moral support from my parents, because they saw me determined and passionate about this field. But since then, even now in the present, there are people telling that it won't last because it's a new field in Romania and we don't have a mentality for this. If this is true, I want to be a pioneer. I want to change that mentality!
HOW DID YOU OVERCOME THESE CHALLENGES?
I've started this business believing in people, and how could this happen if not beginning with trusting in myself, first of all? I've went to many formations training (coaching, NLP, Laughter Yoga, Sandplay Therapy, analitical Therapy) just to define myself as a person, as a professional, and as a leader – to form my own vision and way of (re)acting. So, I've worked more and more. I created connections with people and I've never got upset over my business if something was going wrong – I just asked myself: what do I have to do to improve it?
WHAT DO YOU LOVE ABOUT RUNNING YOUR OWN BUSINESS?
I love the contact with people, to meet them, to know their story and to offer them the instruments that I've gained in the last 5 years and thousand hours of theoretical and practical experience. I love working with people: we have some temporary (shorter or longer) collaboration with professionals from different fields of personal development. I adore challenging myself and improving myself through the feedback of my team. I love to challenge young people and my team – which I will like to increase in the next 5 years. My business will be composed of my team – because they have energy and dreams!
WHAT ADVICE WOULD YOU GIVE TO OTHER ENTREPRENEURS?
Believe in yourself even if there is no one else believing!  Your passion and your strength will fulfill you and your dream. One day I had an insight: even if a dream seems to happen just like that, very quickly, in fact, behind the scenes, it's a lot of work, hope, passion, and a whole process of transformation. Yes, it's true: a journey begins with the very first step!
HOW DO YOU KEEP MOTIVATED THROUGH DIFFICULT TIMES?
I keep in my mind my dream which has a deadline. Because, as you know, it is said that a dream without a deadline will remain just a dream. I am writing down the issues, the solutions, my needs, and my desires. I differentiate them very well!
DO YOU HAVE A BUSINESS PHILOSOPHY?
YES! I can't imagine a business without a philosophy: if you want something you have to work and not wait for results but BUILD them yourself!
When I face a big challenge I…
ask myself what does this have to do with myself; what can I learn about me in these moments.
My greatest fear is…
to have a great fear.
The most courageous thing I've ever done is…
be myself! :) Also, I've volunteered in a neurosurgery hospital and I was working there for several months with people who, after an accident, were paraplegic or tetraplegic.
If I could go back in time to when I was 20 I would tell myself…
read and learn more; trust more in yourself and do not fear anything; work harder!
I believe…
in myself no matter what!
The biggest lesson I have ever learned is…
that communication is better than silence or passivity – both personal and professional!
My favourite business tool or resource is…
creativity!
My favourite quote is…
"I am young, it is true; but to noble minds, worth is not measured by the count of years."
– Rodrigue Pierre Corneille Le Cid
---