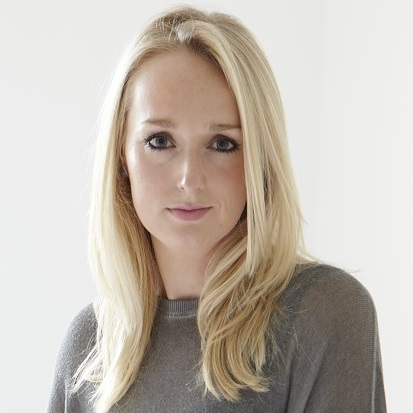 Jenny Hughes quit her job and spoke to six banks before persuading one to help her launch her dream business. Now she owns a successful home and gift ware store. Read how she did it below…
Jenny Hughes // UK // Home & Pantry // Retail // 20s
---
WHAT MOTIVATED & INSPIRED YOU TO START YOUR BUSINESS?
I grew up in an entrepreneurial family and always knew I wanted to set up my own business. After completing my business degree, I worked in consultancy in order to get the right business experience and I also worked on the side at my favourite interior stores, traveled, and planned my dream business – Home & Pantry. In 2010, feeling totally uninspired in my corporate city job, I finally decided to hand in my notice and take the leap to follow my dream of opening Home & Pantry. Having only recently moved to London and in the midst of a global recession, it was a huge risk. I had to speak to six banks before persuading one to take a chance on me. Thankfully, the risk paid off and I have never looked back.
TELL US ABOUT YOUR BUSINESS…
Home & Pantry is a gorgeous boutique selling rustic and vintage style home and gift ware. It is inspired by a mix of my favourite stores, Anthropology, the white company, notonthehighstreet.com, and Avoca. Everything about the store is well thought through – from the beautiful bespoke home and gift ware products to the customer service and visual display. Opening in a difficult financial climate, we recognised early that customers not only wanted something unique and value for money but they also wanted a great shopping experience – something which many high street retailers were not offering.
Since setting up in April 2011, we were inundated with requests to send products all over the word so we knew that the next step would have to be an online store. In June this year, after a lot of hard work, we launched homeandpantry.com, a full ecommerce site which aims to replicate the unique shopping experience that you receive in our store. Embracing current social media trends, we have created a unique element to our site in the form of a social pin board page, our "GET INSPIRED" section. In this page, customers can browse interior trends, read our interior, food and lifestyle blogs and get DIY tips and home styling advice. We initially launched to our mailing list of 4000 customers but our sales have been growing week by week.
WHAT WERE THE FIRST FEW STEPS YOU TOO TO TO GET YOUR BUSINESS UP AND RUNNING?
I wrote a detailed business plan which involved market research, footfall analysis, and a financial plan. My local council "Hackney Business Venture" were really supportive and helped me with my plan to get it ready for the bank. Having already quit my job, I had no security to show the banks and with very little savings, I was determined to secure additional funding to get the business off the ground. My uncle, who is also an entrepreneur, advised me to be relentless and to speak to at least 6 banks before giving up on bank funding. He was right, the first 5 were immediate declines and the 6th really read and understood the business plan and wanted to lend me the money.
I knew that Angel in Islington would be the perfect location with the right mix of independent boutiques and a great customer catchment. I counted footfall, quizzed local shop owners, and finally found the perfect store to rent. I called the landlord immediately and after hard bargaining on rent we agreed a lease. To cut cost,s I roped in all my friends and family in to help get the store painted and merchandised. I also took the risky move of only stocking the shop and not the stock room and this way I could gradually fill the stock room as sales came in. I opened the store that week on a busy sunny Saturday, invited press, and had my friends handing out flyers. It was a big success!
WHAT HAS BEEN THE MOST EFFECTIVE WAY OF RAISING AWARENESS OF YOUR BUSINESS AND GETTING NEW CUSTOMERS?
Being a new business we've had to do all our marketing and advertising ourselves on a very small budget. I became friendly with local journalists and emailed them content for editorial features – something that has worked really well. Social media has also played a huge role in raising awareness of our boutique. We closely follow Melanie Duncan and Amy Porterfield who give amazing webinars on online marketing. We have implemented a number of their strategies for Facebook and Pinterest and have seen great results. Given the growth of social media, we make sure that the in-store displays always look great and encourage our customers to photograph them. One of the best things we ever did was set up a guest book in store where we collect everyone's email at the till. We have built up a list of almost 5,000 quality email address and send out regular newsletters promoting products, events, online news, and all our favourite blogs, etc.
WHAT HAVE BEEN YOUR BIGGEST CHALLENGES SO FAR WITH RUNNING YOUR BUSINESS?
1) Keeping motivated is always a big challenge especially at the times when you have to complete work which is not the most exciting or when things seem to be building up. 2) Staying focus on the most important activities and not getting distracted. 3) Hiring the right people who fit with the team and the company's needs. 4) Decline in footfall due to the difficult economic climate and the growth of e-commerce.
HOW DID YOU OVERCOME THESE CHALLENGES?
1) To keep motivated, I ensure to have a strong support network around me. My fiance, friends and family has been amazing. They drag me out for a drink when I'm stuck to the computer and remind me that it will all be worth it. 2) I find that writing lists each day, delegating work, and minimizing distractions are key to getting important tasks completed. Using clever resources such as buffer to schedule our social media posts is a great way of reducing the risk of getting distracted by Twitter and Facebook. 3) When hiring staff remember you have to work long hours with the person so it's important that the personality fits for you and the business. Be clear on the skills you need this person to have before you hire. Hire people with skills that you lack, this way you can focus on the things that you are best at and they can add value to the things you cannot. 4) Inspired by Mary Portas' government review regenerating the high street, I set up a local business committee for our street with the main aim of increasing footfall. Following Mary Portas' advice we set up a Sunday farmers market and ran street events. I also negotiated reduced advertising in the tube station for local shops.
WHAT DO YOU LOVE ABOUT RUNNING YOUR OWN BUSINESS?
I love a lot of things about running my own business. I love that my own success is up to me and the harder work, the more reward I get. I love making my own decisions and having the flexibility to change my mind if something isn't working. I love sourcing products and being able to pick things that I adore. I have had a lot of family illness recently and I love having the flexibility to fly home to visit family when I need to. Most of all, I love that no two days are the same and that I am learning so much every day. Although there are still some really difficult days, I never have regrets and am happy knowing that I am following and living my dream.
WHAT ADVICE WOULD YOU GIVE TO OTHER ENTREPRENEURS?
1) Always trust your gut. There are so many things that, on paper, stack up, but if your gut is telling you something different, then trust it. 2) If you don't ask, you don't get: This has been an amazing piece of advice that always works for me. I have asked for discounts on rent, for free products, for free displays, for free editorial in magazines etc. You will be surprised what you can get when you just ask for it. 3) Get a business mentor. My uncle is a successful entrepreneur so I call him any time I need a second opinion or some advice. Experienced entrepreneurs have had to learn things the hard way and love sharing their advice with you. This advice is like gold dust and can save you a lot of time and money in the long run.
HOW DO YOU KEEP MOTIVATED THROUGH DIFFICULT TIMES?
I get some motivational recharging in. This involves sitting in front of the computer watching back to back motivational videos. Videos by Tony Robbins, Robin Sharma & the Female Entrepreneur Association are my favourites. Do it first thing in the morning or before you go to bed so that you are ready and back on track for the day ahead.
DO YOU HAVE A BUSINESS PHILOSOPHY?
Our Home & Pantry business philosophy is "delivering happiness." We think of every customer as friends and family. It is never about just a sale for us. I want our customers to share our beliefs and feel connected and inspired when they enter our store. I really believe in the law of attraction and treating people how you want to be treated. We are so lucky we seem to attract the nicest customers who make our day more enjoyable and tell all their friends about us.
When I face a big challenge I…
don't get stressed. I stay positive and think everything happens for a reason and if this doesn't work out that something better will come along or happen instead. Even if something really challenging happens, you will always learn from it, so its win-win!
My greatest fear is…
being bored. I always need to feel challenged and that I am learning new things.
The most courageous thing I've ever done is…
move to London, quit my job, and open a shop on a shoestring budget in a very difficult economic climate.
If I could go back in time to when I was 20 I would tell myself…
believe in yourself. Everything happens for a reason!
I believe…
if you really, really want something, you'll find a way; if not, you'll find an excuse!
The biggest lesson I have ever learned is…
if someone working for you is not working out, then you need to make the difficult decision to let them go. Keeping the wrong person in your business can be extremely costly. I have learnt that the hard way.
My favourite business tool or resource is…
Female Entrepreneur Association, Amy Porterfield Online Podcasts, Melanie Duncan Newsletters, Robin Sharma YouTube Videos, Tony Robbins YouTube Videos
My favourite quote is…
 I have 3!
1) Visualize it. (I'm a big fan of The Secret by Ronda Byrne and it's scary how much this technique actually works) 2) If your dreams don't scare you then they're not big enough. 3) Some people want it to happen, some wish it would happen, and others make it happen. This quote is on one of the best selling signs in our store. It's very true!!
---