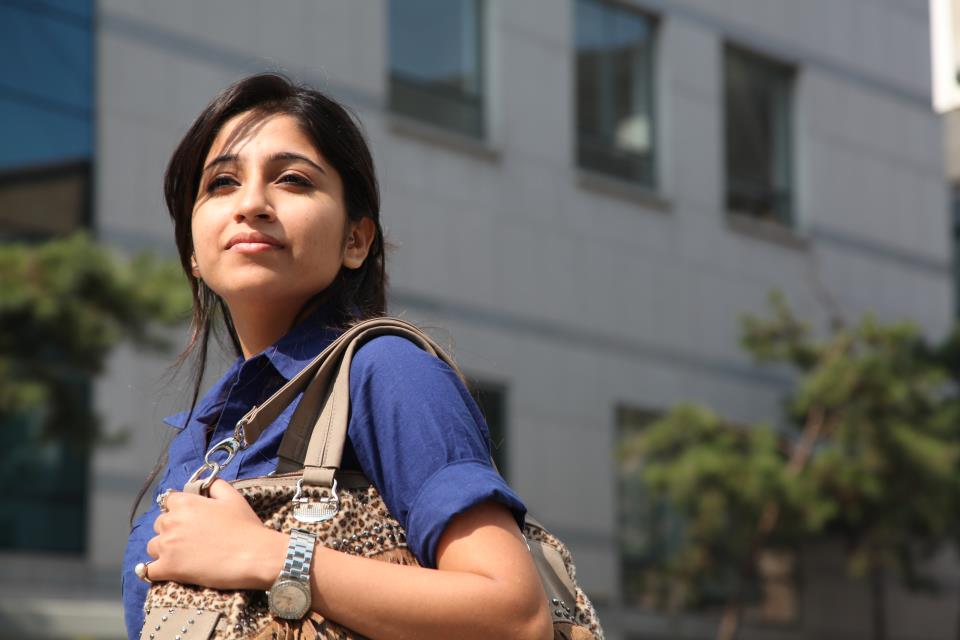 Smriti Nagpal has a passion for working with deaf people in India, so she built a business that showcases their remarkable abilities and products. Read how she did it below…

Smriti Nagpal // India // Atulyakala // Online Retail // 20s
---
WHAT MOTIVATED & INSPIRED YOU TO START  YOUR BUSINESS?
I once went to an NGO for my personal shopping and I met Amit Vardhan, a deaf and mute artist. Amit told me that he had done his Masters in Visual Arts and that his talent was being wasted in the NGO. He urged me to find him a better, meaningful job where he could bring out his creative best. I belong to a background where sign language was as essential as speaking. I have grown up in such an environment. I have never seen a brand in India that sells products that cater to the interests of deaf people. I wanted to create a brand where my products are cool and quirky, but created by deaf people. People who work at Atulyakala create stuff that spellbound us. Deaf art is still new in India, and through Atulyakala, we want to promote this genre.
TELL US ABOUT YOUR BUSINESS…
We are a group of creative professionals who believe that there are untapped abilities in the deaf community. We utilize passions, encourage personal creativity, and believe in a two-way creative process between deaf artists and mainstream professionals. Collaborating with deaf artists, we convert innovative ideas into products catering to an urban market.   India, unarguably, has the largest Deaf population in the world. There are around 18 million Deaf people in India. We wish to create a creative a culture that explores, represents, and celebrates the Deaf Culture of India. We strive to provide a better work environment and a safe space for Deaf artists to illustrate their skills through various media – to live a life with dignity and pride. We believe that the introduction of Sign Language in a fun, interactive way can help people appreciate, understand, and learn it, as well as accept the Deaf as undifferentiated parts of the larger society.
WHAT HAS BEEN THE MOST EFFECTIVE WAY OF RAISING AWARENESS OF YOUR BUSINESS AND GETTING NEW CUSTOMERS?
Atulyakala is a total online platform. We sell products through various online markets, including our own website. Social media has been a major support for us. We have received an overwhelming response from social media.
WHAT HAVE BEEN YOUR BIGGEST CHALLENGES SO FAR WITH RUNNING YOUR BUSINESS?
Deaf art is not known in India. Introducing something that people are not aware of is a challenging task. Besides, the state of Deaf people in India and awareness about Indian Sign Language is very minimal here. My biggest challenge was to convince my family and friends about what I am trying to do and face all the stereotypical notions and try to break free.
HOW DID YOU OVERCOME THESE CHALLENGES?
I followed my heart. I believe in dreams. I believe is taking risks .
WHAT DO YOU LOVE ABOUT RUNNING YOUR OWN BUSINESS?
My journey of picking up sign language started unconsciously while I was growing up with two of my siblings who are hearing impaired.  If I had to talk to them, my hands would start moving. It was something I inherited from them. I used to sign every day and my hands would never stop. It became an integral part of me. I feel atulyakala is just an extension of myself. I love working with deaf people and working for them. I love how I use my hands all day just to communicate with them .
WHAT ADVICE WOULD YOU GIVE TO OTHER ENTREPRENEURS?
It's very important to love your work. So choose something you love, not something you are forced to do. Once you are determined about the work you are doing, nothing really seems impossible.
HOW DO YOU KEEP MOTIVATED THROUGH DIFFICULT TIMES?
Motivation is, however, absolutely necessary in order to keep your enthusiasm high and help you do your job correctly and accomplish tasks on time. If you are feeling apathetic and unmotivated in this period of your life, then concentrate and list the reasons and purposes for doing a certain job, even though at the beginning they may not seem very convincing or obvious. In a very short time you will discover the true ones.
When I face a big challenge I…
face it with a determined mind and a happy heart.
My greatest fear is…
loosing my family.
The most courageous thing I've ever done is…
when I ditched all other opportunities and started my own social enterprise – "atulyakala."
If I could go back in time to when I was 20 I would tell myself…
well I am 23, so not much of a difference.
I believe…
in dreams and bringing the change.
The biggest lesson I have ever learned is…
If you do dare, you can change anything in this world.
My favourite business tool or resource is…
experience.
My favourite quote is…
"Believe you can and you're halfway there."
---