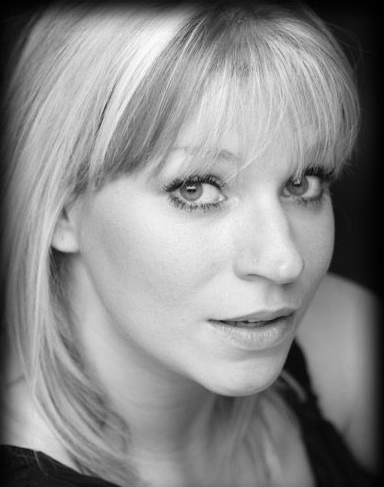 Marika Rauscher realized that if she was going to succeed at a high level as a professional singer, then she needed to take a leap of faith and let go of her secure monthly income from her job and step into a new world of making a business out of herself and her singing ability. Read how she did it below…
Marika Rauscher // UK // Marika Rauscher – Soprano // Music & Entertainment // 30s
---
WHAT MOTIVATED & INSPIRED YOU TO START YOUR BUSINESS?
Having spent years auditioning for opera companies and getting more knock backs than opportunities to sing for the right people (let alone land a singing job!), I became disheartened about the reality of the sustainability of my career choice as an opera singer. At the time, I was working full-time doing Human Resources for City Banks to fund myself whilst pursuing my dream of singing and reached a point where I was trying to juggle two lives / careers, working all day, singing and gigging evenings and weekends, using my holiday leave to go for auditions, go on tour and do productions, etc. to keep building my singing credentials and get my foot in the door. I couldn't sustain that forever. Being only one person, something had to give, and it wasn't going to be my dream of being a singer! So almost three years ago, I made the jump and went 100% freelance as an opera crossover singer!
TELL US ABOUT YOUR BUSINESS…
I'm an international award winning opera crossover soprano and cabaret artist. I perform and tailor bespoke music packages for Weddings, Corporate Events, Private Engagements, and I do recordings for Commercials and Film Soundtracks. Also, I have recently launched my own debut album: "A Broken Heart" produced by Opera Room Recordings, and am even singing for HRH British Royalty in December 2013! How exciting is that! I also deliver private singing and instrumental lessons for adults and children in between performance engagements, so I still have my feet firmly grounded.
WHAT WERE THE FIRST FEW STEPS YOU TOOK TO GET YOUR BUSINESS UP AND RUNNING?
I distinctly remember getting my website up and running as my first priority. I then quickly realised that I wasn't clear about what services I actually offered, so I quickly enrolled in a Sales, Marketing and NLP course to solidify my business sales packages, turning myself from the artist into a business.
WHAT HAS BEEN THE MOST EFFECTIVE WAY OF RAISING AWARENESS OF YOUR BUSINESS AND GETTING NEW CUSTOMERS?
For me – word of mouth is the best! Although Twitter has also worked immensely in my favour – having been retweeted and hence won the backing of serial entrepreneur and BBC dragon: Theo Paphitis (#SBS – Small Business Sunday) and CEO of Ann Summers: Jacqueline Gold #WOW – Women on Wednesday) through Twitter – I was also nominated for The Wedding Industry Experts Awards, and have won in the category of "Best Solo Musician" ranking 2nd in the World and in the Top 50 Wedding Professionals in England amongst Wedding Planners, Florists, Cake Designers and other Wedding professionals. To date, I am the only ranking Singer worldwide!
WHAT HAVE BEEN YOUR BIGGEST CHALLENGES SO FAR WITH RUNNING YOUR BUSINESS?
Educating and getting people to understand that I am a business, and that, as a business, I charge and get paid for my services and do not sing as a hobby, is a constant battle.
HOW DID YOU OVERCOME THESE CHALLENGES?
Being self-represented and having to source my own work, spreading the word is a big challenge. Therefore, getting exposure by doing Interviews on Radio, TV, featuring on other people's Blogs, using Facebook, Twitter, LinkedIn, YouTube and all the social media platforms available, building up my credentials of whom I have worked with, highlighting established venues I have sung at, winning awards and being affiliated with celebrities like Theo Paphitis and Jacqueline Gold has certainly opened doors for me in overcoming some of the challenges faced!
WHAT DO YOU LOVE ABOUT RUNNING YOUR OWN BUSINESS?
I love the independence, the flexibility and joy I get from sharing something I am truly passionate about, which also makes other people happy. It's like a gift that keeps on giving!
WHAT ADVICE WOULD YOU GIVE TO OTHER ENTREPRENEURS?
Never give up on your dream, but don't be misled in thinking that running your own business is a walk in the park. You'll work harder and longer hours than you have ever done before – but the rewards are certainly more satisfying as an outcome! Also never forget that YOU are unique, so don't be afraid of really using your personality in your business!
HOW DO YOU KEEP MOTIVATED THROUGH DIFFICULT TIMES?
I read a quote once that says: "There is no shame in failing, only in never having tried." That quote has never left me! It keeps me motivated, as in my mind there is always something I haven't tried, be it a new performance package, a new client demographic, or a new marketing strategy….the list is endless! Keep going! Keep trying!
DO YOU HAVE A BUSINESS PHILOSOPHY?
Yes, I do. Give more than what people expect! My business is not an ego trip for me as a Singer. The Diva has no place here (she may only appear on stage occasionally!) My philosophy is how can I make events, weddings, and personal moments like Birthdays, Anniversaries, Engagements, etc. and memories magical and worth it for YOU as the client?! I am merely the muse taking you on the journey to a desired destination. It's my job to find out what that is and make it happen!
When I face a big challenge I…
remind myself that someone has given me this challenge because they believe I can do it! That, in turn, reminds me to believe in myself, stop freaking out, get the job done, and deliver 110% to ensure I don't fail them, myself, or my business!
My greatest fear is…
regret! Without a doubt. It's been my driving force ever since I can remember. I never want to turn back and say "what if…"
The most courageous thing I've ever done is…
step out of full-time employment and let go of a secure monthly income to pursue my business 100% as a freelance singer!
If I could go back in time to when I was 20 I would tell myself…
stop wasting time trying to please the expectations of others, stop doubting yourself, your abilities, and listening to the doubts of others! It's your life and your dream!
I believe…
it's never too late! The more you do of what you're doing, the more you get of what you've got! Luck is also self-generated!
The biggest lesson I have ever learned is…
patience and knowing that rejection is not only a closed door or negative. It is a redirection, opportunity or an opening to something else. Things don't happen over night. I've learned that I need to sow the seed, nurture it and then allow it time to grow! I've learned not to discard things when I don't see immediate results.
My favourite business tool or resource is…
People! All you lovely People! I always saw asking for advice or help as a sign of weakness. I thought that people wouldn't take my business seriously if I admitted these things! In opening up to others, sharing ideas, and asking for advise or help on a few occasions has left me humbled in the outcome, response, and business opportunities! People are without doubt my biggest business resource and tool! Simply put, without people, on all levels, I have no business!
My favourite quote is…
"You must do the thing you think you cannot do"
– Eleanor Roosevelt
---