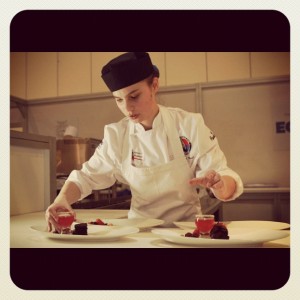 This story is about…
Name: Antonia Morosi
Location: UK
Company: Honey & Thyme Private Catering
Industry: Catering
---
What motivated you to start your business?
I've always had a lot of goals and targets throughout my school life and made sure I did the best I could getting my Professional Chefs Diploma at Westminster Kingsway College.
The main drive was the fact that I struggled a great deal at school.  Before I started senior school, I found out that I was dyslexic and was truly pushed from a young age to always think of new ways to retain information through my school years. I wanted to prove to all my teachers and peers that dyslexia doesn't have to put a stop on your career – unless you let it…which I wasn't going to let happen. I was lucky enough to get a lot of extra support in my GCSE exams and got some good results.
While growing up, sports was my life.  I lived and breathed to play football and run around a track a million times.  I got a good adrenaline rush from it all, since I wasn't any good in the classroom.
I realised my strengths were sports, art and food technology, which weren't the most academic subjects to do at school! But when I realised that I didn't want to pursue anything in the sports world and end up with a muscular body, I turned to my other hobby of cooking. I didn't think much of it – only as a love for baking and cooking in my spare time for family or friends…never a career choice.
My mum knew that I was a fan of Jamie Oliver and did some research as to where he studied and found out that he did his diploma at Westminster Kingsway college in London. We saw that there was a 'Junior chefs academy' course for young teenagers and I decided to take a bold jump to do the 10 week course and meet a whole new bunch of kids who all shared the same love for food as me. It was extremely nerve racking and I remember being given my first chef's jacket and it was way too big for me and to this day, I still haven't grown into it. I enjoyed every Saturday spent at the college and decided straight after the course finished that I really wanted to be a chef for the rest of my life.
So I enrolled into Westminster.  My application was accepted and I went into the college for the interview and was shaking like a leaf. You have to do a fruit and vegetable test identifying every ingredient. You also have to do a taste test with dried jellies and recognize the flavours. Then you go into your 1 on 1 interview with one of the lecturers and I was so shy and quiet.  I showed off every achievement that I got at school but I didn't get a good vibe from the end of the interview. I thought I completely stuffed up my chances of getting in and didn't sleep for about a week.  Ironically, a week later, I got a quick letter in the post saying they had offered me an unconditional offer. I was over the moon.
Come September 2010, I started my 1st year of college and it was a ride of trying to impress all my lecturers and make sure that I soaked up every last word in class. I passed my exams and went through to 2nd year and absolutely loved having to constantly prove that I was worth being put through. A few weeks into the year, I got chosen to represent the college in their competition team. My first competition was 'Major Series' and it was a long one which went on for 2 years and I won silver. Meanwhile, I was being watched by one of the 3rd year lecturers to work with his team for the 'Nestle Toque Dor Awards' as their commis chef. We won the award in 2012 and I was so proud to be part of the team and learn so much in a few months. Straight after my year were told there was a 'British Turkey' competition happening, so I teamed up with my friend Laura Hogger (and now business partner) and we got through to the cook-off in Birmingham in 2012 and won the starter course which went onto being served at the Savoy Hotel London for 280 people in their ballroom for the likes of Matthew Pinsent and TV Chef Phil Vickery. I then went onto doing several other competitions with 'Masterchefs of Great Britain' and 'Blue Dragon' products.
After all those competitions, I passed my 2nd years exams and moved swiftly into 3rd year which was a big jump taking on more responsibility and running a section and managing a team of chefs with mixed abilities. My last year of college was very fun and you really learn a lot about yourself in a close working environment. Sadly, I work in a male-dominated industry and I had to contend with a lot of boys not accepting me as an equal in the kitchen. I had a few problems with boys in my year trying to sabotage my food and saying very rude remarks but I didn't let it get me down. I knew when I went into the industry you have to deal with situations like that and all woman in the corporate world have to contend with it. But they got their own karma without me having to play with fire back at them. The more I work with men, the more I realised how mature women are for their age, which is great for running your own business.
Tell us about your business…
My business is a partnership and we work as a team to produce fine dining/Michelin standard food for clientele in their own home. I was lucky to work in several establishments in London that really helped me stand out from the crowd from a very young age. My first work place was The Ritz Hotel London at the tender age of 15 years. Then I went into work for The Goring Hotel while the Middleton's were staying there for the royal wedding. I did a few placements at The Corinthia Hotel, Coutts Bank, RAC Club and Le Gavroche. I worked part time at Opera Tavern – the chic tapas restaurant in soho which was great fun. I then went onto work at Dinner By Heston in Knightsbridge which was just named '7th Best restaurant in the world'.
So after having worked in so many brilliant places, I made the bold choice to team up with Laura Hogger to turn our skills and style of cooking into a business venture. So far we have been cooking for footballers and celebrities.
What were the first few steps you took to get your business up and running?
The first steps we took to getting the business started were getting into social media like Facebook and Twitter and setting up our own website. We are sponsored by some great industry names and we're part of the 'Craft Guild of Chefs'.
What has been the most effective way of raising awareness of your business and getting new customers?
The most effective way to raise awareness of our business has been word of mouth of social media. We would love to get even more clientele!
What have been your biggest challenges so far with running your business?
The biggest challenge so far with starting up the business was doing all the PR and paperwork and getting our name out there and getting people to take us seriously.
How did you overcome these challenges?
The best way we overcame these challenges was to just not let anyone get us down. The first year is always the hardest year. Nothing worth working for will fall into place instantly.
What do you love about running your own business?
We love the fact that we are our own boss and get to be in charge of every little detail – down to the last plate of food we cook.
What advice would you give to other business owners?
The best advice I could give to someone else would be don't ever give up on something you're willing to work your life for. Life is too short to just give up when things get too tough.  That's what makes us stronger and teaches us what not to do next time.
How do you keep motivated through difficult times?
When things get tough we mainly just think of new ways to build up clientele and make sure we haven't missed anything important and constantly build up our contacts and network.
What's your favourite quote?
'All good things come to the those who wait.'
Who inspires you?
My main inspiration is all my lecturers at college and my parents. Without them I wouldn't know half of what I know now!
Do you have a business philosophy?
Our business philosophy is that we are keen to educate people's palettes on food they may have never tried or seen. We want to show that our skills can be showcased at your next dinner party or event.
---