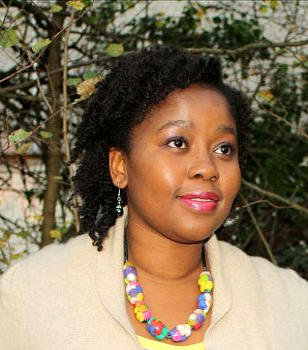 Woman of the Week 6th February 2012
"After graduating from university I struggled to find a full-time job. I had been told my whole life that if I worked hard, got good grades, graduated from a top university etc then I'd easily land my dream job after graduation. The dream job never came and I felt useless. Funnily enough, during this same period my hair was breaking and I was desperately trying to find a product that could help moisturise my hair. I began researching hair products and the ingredients that are commonly used in them and was shocked to find that so many products contained carcinogens (ingredients that are directly linked to cancer). I was appalled and thought, 'there must be something better.' After speaking with friends who also shared their distress about finding good products, especially ones that worked on frizzy and curly hair, I realised that there was potential for me to create products myself and start my own line." Read Victoria Olubi's inspiring story below.
---
Tell us about your business…
My business is www.mycurls.co.uk and it's a natural hair line for women with curly, frizzy and afro textured hair. The mission of My Curls is to provide products that are free from harsh chemicals and ingredients that are unhealthy for the hair, skin and overall health.
What is a day in the life of you like?
My day consists of a variety of things; packaging and shipping products, fulfilling orders, emailing customers, liaising with contractors and planning for weeks ahead etc. I try to be as pro-active as possible and usually have a large to-do list.
What have been your biggest challenges so far with running your business?
My biggest challenge initially was funding because I started the business with hardly any money. I approached banks and looked into getting investment but generally businesses and banks are still very reluctant to lend to young entrepreneurs. However, I've been fortunate to have a supportive family who provided me with advice and still do.
How did you overcome these challenges?
Being a business on a budget has actually been a blessing because it has helped me to master the art of frugality. I've been very resourceful and have used my skills as well as those of family members and friends to help me get things done without spending too much money. Even though the business has grown and I could potentially spend more on certain things, I still try to keep expenditures as low as possible.
What advice would you give to other business owners?
Where do I start? The first thing is that building a successful business will probably take twice as long and cost twice as much as you initially anticipated so be prepared. The second thing is to have a circle of support. For instance, being an entrepreneur can be quite a lonely experience so it's always good to have people around (whether off or online) who can support you.
How do you keep motivated through difficult times?
I read a lot of motivational, self-help books which are filled with advice on how to preserver during difficult times. For instance, one of my favourite books is As A Man Thinketh by James Allen and I'd highly recommend that everyone reads it whether you're an entrepreneur or not. I've also learnt over the years is that happiness is a skill, you have to work at it and make a conscious decision everyday to be optimistic.
What's your favourite quote?
"Our deepest fear is not that we are inadequate, our deepest fear is that we are powerful beyond measure." Marianne Williamson
Who inspires you?
My mum, aunt and grandma because they're three of the strongest women I know. I'm also hugely inspired by Oprah.
Do you have a business philosophy?
Serve not sell. In business we're often lead to believe that it's all about the hard-sell but I've realised that it's far better to give customers value and serve them because that's ultimately what will keep them coming back and spreading the word about your business. I hope that as my business grows it will always strive to serve and provide excellence.
---
Country: United Kingdom
Company Name: My Curls
Website: www.mycurls.co.uk
Industry: Hair Care
Age Group: 20s
Twitter Name: www.twitter.com/mycurlsuk
Facebook Fanpage: www.facebook.com/mycurls