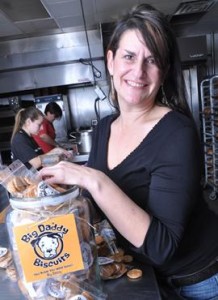 Female Entrepreneur of the Week, 21st May 2012
"After being laid off from my job, my father passing away and my home being broken into I needed to find a new direction in my life." Read Lauren Janis' story below.
Tell us about your business…
We make all natural and organic dog biscuits. Some of our ingredients are sourced from local farmers so that we can support our loconomy.
We sell in local farmers markets to retail locations such as Whole Foods. Specializing in four different dog biscuits which two help with specific.
What is a day in the life of you like?
Mornings are deliveries and checking stock at stores, checking email.
Afternoons could get a little crazy, for I am either packaging, labeling all the biscuits or could be packing the car for the 6 weekly farmers markets we do. Dropping packages at the post office, meeting with my team Twice to three times a week and in the evenings I bake. On the other nights, I would be returning emails, spending time with my family or resting to gear up for another fun filled day!!
What have been your biggest challenges so far?
Trying to grow my business with my own money. Not wanting to get a loan.
How did you overcome these challenges?
Just growing my business slowly so that when new opportunities happen I am able to grow without struggling and wondering if I will make things happen.
What advice would you give to other business owners?
You have to be patient and passionate about what you are doing. If you like to work hard, get ready, for it is harder than one might think however, the rewards are ten fold.
How do you keep motivated through difficult times?
I make sure I surround myself with people that motivate me and help me keep my focused. It helps me get a new perspective on what I can/might be able to do. Sometimes just taking a long with with the dog helps clear the mind and get the juices going again.
What's your favourite quote?
George Jung- Movie"Blow"
"May the wind always be at your back and the sun upon your face. And may the wings of destiny carry you aloft to dance with the stars."
Who inspires you?
All of my friends that are doing the same thing that I am. Having a second chance at a career and taking the chance. It is hard and I respect us all especially in this bad economic time that we are going through.
Do you have a business philosophy?
Work hard play hard and always give back!!
---
Country: USA
Company Name: Big Daddy Biscuits
Website: www.bigdaddybiscuits.com
Industry: Pet
Twitter Name: bigdaddybiscuit
Facebook Fanpage: www.facebook.com/bigdaddybiscuits