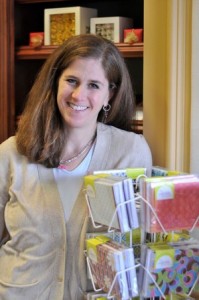 "I was motivated to start my own business to show my three children that mom can do anything she wants and can be successful at it. My love for all things design also urged me to pursue my dream of starting my own business." Read Shara Danziger's story below.
Tell us about your business…
I opened Shara's Paperie in 2004 with the goal of bringing new, designer invitations into the marketplace along with serving as a personalized gift shop for the Memphis, TN market. Since then, Shara's Paperie has become Memphis' premier location for custom wedding invitations, creative stationery and personalized gifts. Withnthe success of this brick and mortar store, I launched my Confections line in 2008 on shopconfections.com to provide the sweetest line of new designs and products.
What is a day in the life of you like?
I balance my days by getting up early with my three children to get them ready for school and then I head over to my store, Shara's Paperie. Typically, I work full-time there, but on occasion I must leave for car pool duty. I have wonderful employees who keep the store up and running while I must step out. Then, after driving back and forth, I can return home for the night and enjoy my husbands cooking. Luckily, I have a husband who loves to cook to take away an extra step from my day!
I represent the women entrepreneurs out there who are balancing careers and motherhood at the same time. With three children, I had to create a new found energy to commit to both family and business. However, never content to stay "stationary", I am able to manage my hectic life while pursuing my passion with designing. Being a family woman, I am able to create many fabulous and functional household products since I know the ins and outs of family friendly products.
What have been your biggest challenges so far?
As a shop owner, I am dedicated to my business and helping my customers in any way. However, sometimes panic has struck with a phone call saying my house is flooding from the upstairs and I must come quickly. This stressful occurrence as well as several other emergencies have forced me to leave my shop to tend to issues.
How did you overcome these challenges?
Overcoming these sudden challenges have taught me to relax. Even in stressful situations, I still know that I have a wonderful staff who are trained to help any customer who comes in requesting the most elaborate invitation design ever thought of.
What advice would you give to other business owners?
In times of stress, take a step back for a moment to relax. Then, the answer you're looking for will most likely appear before your eyes to solve any problem that may arise. Taking those small moments for yourself can go a long way.
How do you keep motivated through difficult times?
I am motivated at all times to show my kids that mom can do anything she puts her mind to.
What's your favourite quote?
"Design is the search for a magical balance between business and art; art and craft; intuition and reason; concept and detail; playfulness and formality; client and designer; designer and printer; and printer and public." -Valerie Pettis
Who inspires you?
All other mom entrepreneurs inspire me. I love sharing stories with other business women to gain tips and pointers on how they manage their lives.
Do you have a business philosophy?
Success is measured in two ways:
First, you must be proud of your work and know that you were successful in creating your best work possible.
Second, success is measured by pleasing the client. With the combination of both of those, you have success.
---
Country: United States
Company Name: Confections by Shara's Paperie
Website: www.shopconfections.com
Industry: Personalized gifts, stationery and invitations
Twitter Name: @sharaspaperie
Facebook Fanpage: www.facebook.com/confectionsbysharaspaperie