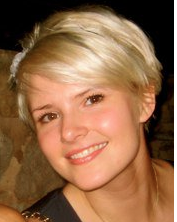 "If I want to work for 14 hours one day and 3 hours the next then I can do it! My aim was also to avoid being tied down to a specific geographical location as I love to travel. " Read Jodie Cook's inspiring story below.
Tell us a little bit about yourself and your business.
I run a social media management business, so I work closely with my clients to create online marketing strategies for their businesses, which use social media platforms such as Twitter, Facebook, LinkedIn and blogging. I then take charge of rolling out these strategies, creating content and distributing this via the social media platforms. I act as a customer service function to feed back queries and suggestions to my clients. I also provide monthly analytics reports so my client partners and I can assess our performance based on our goals. I also provide training sessions so that individuals and companies can run successful social media campaigns internally.
I run every aspect of the business at the moment including networking, client work, financial accounts, marketing, admin… everything!
What was your main motivation behind starting your business?
I wanted the flexibility and the independence that entrepreneurship brings. If I want to work for 14 hours one day and 3 hours the next then I can do it! My aim was also to avoid being tied down to a specific geographical location as I love to travel. When I was much younger I wanted to be an air hostess, and then after discovering I loved English at A level, a magazine editor. I now combine creative writing with selling and engaging with people, all of which I enjoy very much. After university and a subsequent graduate scheme I knew that I wanted to work for myself and coming from a family of entrepreneurs helped me make this a reality.
What's a day in the life of you like?
It changes day to day, but may involve networking events, meeting clients or prospects, and then doing client work. I like to change scenery so I work from home, in cafes and at a friend's office in town too. I usually go for a run on my own in the morning or go with my running club early evening, then later on meet friends or go out for dinner.
What challenges have you faced? 
One challenge I have faced is the nature of social media which is constantly developing and advancing, so being a social media manager involves a lot of on-the-job learning and trying out new tools with my clients. Most books written on the topic of social media are out of date before they are even printed, so it is more important than ever to keep abreast of what's going on. However, on the flipside of this, there is no definite list of 'what to do and what not to do', so I enjoy experimenting with new ideas seeing how well certain campaigns have done.
How have you overcome the challenges?
I research! I read articles and keep up to date with techy blogs and press releases detailing advancements and features. I am lucky that I have clients who are happy to let me get on with their work, so I am able to try out new ideas and social media campaigns and measure their success to inform my next ones. I also write blogs with new developments and tips, to share my new knowledge with others.
What is your biggest achievement so far?
In November I spoke for 30 minutes in front of an audience of 50 people on the topic of 'Social Media for Membership Organisations', and then had 15 minutes of questions afterwards. It was in London for a client event of a website creation company called Pixl8. The experience was quite daunting at first. A few minutes into my presentation I started to relax and enjoy myself and I have subsequently received some really positive feedback from viewers. Pixl8 have now invited me back to speak at their next conference.
How do you balance work with relaxation?
I run with a running club, and I make sure I schedule going out with my friends, boyfriend and family on evenings and weekends – for meals, to the cinema, shopping, etc. This helps me unwind and put work to one side.
How do you keep motivated through difficult times?
I remember that if it was easy to be successful then everybody would be doing it, and it's not, so it's going to be hard work. I know that I need to work hard to get results and that keeps me going.
Who inspires you?
The people who inspire me are the people who are not afraid to take risks and try new things, even if people doubt them. I try to surround myself with positive people who say 'yes' much more than they say 'no'. I also enjoy reading the stories of self-made entrepreneurs.
What advice would you give to other entrepreneurs?
Don't take too much advice, learn from your own mistakes and listen to your intuition.
What's your favourite quote?
"The Holstee Manifesto." Google it!
Do you have a business philosophy?
I believe that you get out what you put in, and that ultimately it's you in charge of your own life. I think it's easy to blame situational factors (the weather, your mood, your financial situation, other people) and forget that your business and your life is your responsibility.
What's your goal for the next year?
I would like to do some more public speaking. I would like to hire a team. I would like to organise a set of training workshops. I would like to have a really nice relaxing holiday somewhere warm and sunny. I would like to meet more interesting people and continue my adventure!
---
Connect with Jodie