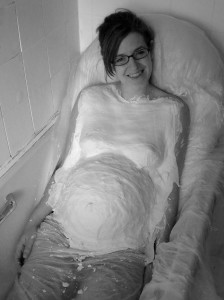 Female Entrepreneur of the Week 2nd April 2012
"I knew that there would be nothing better than earning money by doing something that I love and that is flexible enough to fit in around the needs of my young daughter." Read Rachel Wooldridge's story below.
---
What does your business do?
Skinprints creates bespoke sculptural art work, cast from your body! Specialising in pregnancy bump casting baby casting, and family hands to record those special moments forever!
The perfect unique gift for baby showers, wedding, anniversary and birthdays. Gift vouchers available.
High quality decorative finishes, including; paint effects, gold/silver leaf, bronze effect, collage, text, personalised images and decorative designs. Services available include:
Pregnant Bumps, Baby hands & feet, Torsos, Wedding hands, Family group hands, Gift vouchers and more.
What was your main motivation for starting your business? 
About 6 weeks before my first baby was due to be born I was made redundant from my position as Children and Families Services Director, when the charity that I worked for closed. After 10 years of working in Early Years, this gave me some unexpected time to consider how and when I wanted to go back to work after having my daughter.
I have a degree in Ceramics and Glass Design, which is when I first discovered life-casting and used the technique to create sculptural garden pieces. Just before my baby was born I decided to cast my own bump and then went on to cast my daughter's hands and feet once she had arrived. I was then asked by a couple of friends to help them cast their children and got some great feedback, which is when I started to think about starting my own business. I knew that there would be nothing better than earning money by doing something that I love and that is flexible enough to fit in around the needs of my young daughter.
What's a day in the life of you like? 
I look after my daughter full time, except when I have bookings with clients when I am helped out by family members and close friends, so the majority of my day is taken up with playing and getting messy. My day started early so that I could send some emails before my daughter woke up. Once I had bathed her I made her breakfast and whilst she ate that and watched her favourite TV programme, "Something Special", I updated some of my pictures on Facebook, did some online networking and sent some more emails. After playing together for a little while I took a call from someone about some possible collaborative work and arranged a meeting for this weekend.
This afternoon my daughter had to go for a vaccination, we then went to the park and dragged each other round the shops. Once we were home I put her down for her nap and here I am again working away while she sleeps. Tonight is my partner's childcare night so he will be keeping her busy while I work once he gets in from his full day at work.
It's a hectic lifestyle, but no day is ever the same which keeps me on my toes!
What have been your biggest challenges so far? 
It has proven to be a lot more difficult than I anticipated to raise awareness of my services. This is something that I am really working all out on to ensure that I have enough sales going through to sustain me and get me to where I want to be by the time my daughter starts nursery in about a year.
My work life balance is just starting to settle down. It is really difficult to carry on working when a toddler is begging you to play with them and I often end up feeling guilty one way or another as there is always work to be done.
How did you overcome these challenges?
I am really lucky to have the help and support of my partner and other close family members and friends who have helped repeatedly with everything from childcare, to craft fairs, to being my casting assistant. My father looks after my daughter from lunchtime once a week and my partner collects her after work which enables me to work late into the night at my studio. I am now learning to accept that my own happiness also depends on how successful I perceive myself to be and if I am not making myself happy then I certainly won't be making anyone else happy. It is therefore essential that I allocate specific time to building my business to allow me to focus on the job in hand, instead of being pulled in ten different directions at every minute of the day!
In terms of brand awareness I am currently looking at various different ways of linking up with complimentary services to collaborate on marketing by promoting one another. I have realised that this is something which takes time and an awful lot of 'putting yourself out there', in as many different mediums as possible.
What advice would you give to other business owners? 
Don't be over ambitious with your initial forecasting; whatever speed you would cautiously expect your business to grow at, halve it and then you might get close to a realistic plan.
Use your existing network; talk to everyone and anyone about what you do and you will realise that a lot of your friends and family will have contacts that you never knew they had.
Ask for help when you need it. Whether there is something that you know you aren't the greatest at doing, or you just feel like you need some moral support ask those around you for help, it will always make you feel better!
How do you keep motivated during difficult times? 
I focus on my reasons for starting the business; that it is a great product that people can treasure for a lifetime and that it allows me to be flexible about my daughter's childcare. If I want to continue to put smiles on people's faces and spend as much time as possible with my daughter then I have to make this a success, failure is not an option!
What's your favourite quote? 
"We do not choose to be born. We do not choose our parents. We do not choose our historical epoch, the country of our birth or the immediate circumstances of our upbringing. We do not, most of us, choose to die, nor do we choose the time or conditions of our death. But within all this choice of choicelessness, we do choose how we will live; courageously or in cowardice, honourably or dishonourably, with purpose or in drift. We decide what is important and what is trivial in life. We decide that what makes us significant is either what we do or what we refuse to do. But no matter how indifferent the universe might be to our choices or decision, these choices are ours to make. We decide. We choose. And as we decide and choose, so are our lives formed" (Joseph Epstein).
Who inspires you? 
I am inspired by countless people, most of whom are "real" people who I know. Every one of my friends and family are inspirational in one way or another and I hope that a little bit of each of them rubs off on me!
---
Check out our website www.skin-prints.co.uk, stalk us on Twitter @SkinprintsUK, or like us on Facebook by searching "Skinprints" for all our latest photos and offers.